Authors interview Authors: AUGUST 2009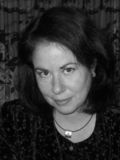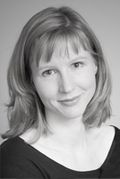 Laurel Zuckerman
interviews
Janet Skeslien Charles
on her novel to be released this September, MOONLIGHT IN ODESSA.
LZ: Janet Skeslien Charles, you wrote Moonlight in Odessa, a novel inspired by the women you met when you were teaching English in the Ukraine. What made you want to write this story?
JSC: I couldn't believe how women were advertised on International Marriage Broker sites. Many times, the photos look like they belong in Playboy. I'd always thought of mail-order brides as a fringe activity that very few men looked into. Yet when I started to research and asked friend about the subject, nearly everyone had at least one person in their family or a friend or neighbor who had found a woman through an IMB. The internet has facilitated the business and there are an estimated 4000 to 6000 women who enter the United States each year on a fiancée visa. Many of the women I interviewed were desperate to leave their country, and desperate in a completely different way once they moved to America. I wanted to capture both kinds of desperation.
LZ: How did you research your subject? Were you ever tempted to go undercover as an email order bride yourself ?
JSC: I spent a lot of time interviewing women who moved to America to marry and American man. I also looked at dozens of International Marriage Broker sites such as A Foreign Affair at www.loveme.com and spent time reading posts in forums by men who were in the process of meeting women or dealing with problems once the woman had arrived in America. I found most of the men to be very generous with their time in giving thoughtful advice; however, a few posts from a minority of the men scared me with their 'My way, or back to Russia' attitude. Finally, I read the newspapers. Sadly, several women who used IMBs have been killed by their American husbands. I wanted authentic material for the book, so I asked a friend to go on-line for me. She corresponded with several men and got married to one last year. I was the matron of honor at the wedding.
LZ: Many of the women you knew have had very difficult lives. Did they help you with the book? How did you go about creating your characters and bringing them to life?
JSC: I didn't tell anyone I was writing a novel. The characters brought themselves to life. Over successive drafts, I was surprised by the characters and their actions. I had plotted out many twists and turns, but most often did not follow the story book I'd created.
LZ: Do you still speak Russian? Are you planning to go back? Do you stay in touch with the women you knew in Odessa. Where are they now?
JSC: The more I speak French, the less I speak Russian. I'd love to go back for a visit.
LZ: You have lived in Montana, Odessa, and Paris. Which is the best place for writer? And why?
JSC: Many people come to Paris to write the Great American Novel, but I would say that it is easier to write in Montana. More space, more quiet, and better access to the market in terms of literary magazines, etc.
LZ: You have led writing workshops at Shakespeare and Company. Do you have advice for aspiring writers—and workshop leaders?
JSC: Too many young writers feel that an MFA is the only way to become a writer. Each year we see a few bestsellers from young writers from prestigious MFA programs, and that gives the impression that an MFA will get you the contacts and the help you need to get a lucrative book deal. Yet each year there are thousands of other MFA graduates who don't get book deals. I think that writers need to focus on writing and polishing their work and to learn about the business side of writing. They need to learn how to write a strong query letter and synopsis. I spend a lot of time researching markets such as magazines and literary journals. It is time consuming but important to do. Writing instructors must nurture and encourage their writers.
LZ: Any advice for men wanting to order brides?
JSC: There seems to be a lot of false advertising for email-order brides. On IMB sites, the prospective brides are often shown as docile women. All people want to feel valued and lead rich lives, and this includes making friends, learning English and making connections with others through hobbies and work. Most men understand this, but the few who expect their new brides to cook and clean for them and stay home all the time will certainly be disappointed.
LZ: What is your next project?
JSC: I am working on another novel set in Odessa.