US Senators visibly had difficulty questioning Facebook CEO Mark Zuckerberg, so WIRED has come to their rescue with the four questions they should ask (reproduced or paraphrased below):
How does Facebook track users when they're not on Facebook?

Does Facebook behave like a monopoly?

Show us (on a laptop here and now) how to change the privacy settings on a Facebook account.

Has Facebook's focus on growth hurt users? How?
 See the WIRED article by Natasha Tiku  FOUR QUESTIONS CONGRESS SHOULD ACTUALLY ASK MARK ZUCKERBERG for a complete analysis. Of course, just because the question is asked doesn't mean it's answered, as Zuckerberg's non-answer to Senator Wicker's reasonable question shows: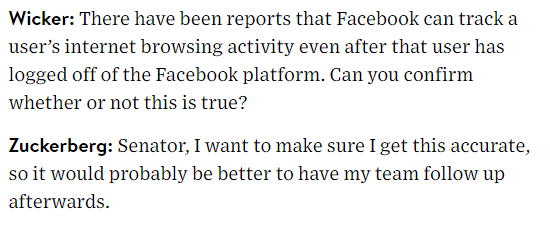 (Was he testifying under oath?)