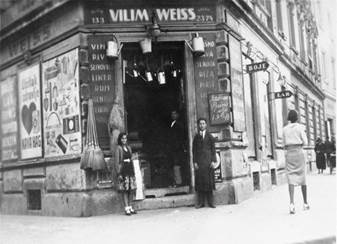 Gideon Taylor is the Chair of Operations of the World Jewish Restitution Organization (WJRO). He kindly agreed to answer some questions about the WJRO, its mission and the challenges it faces in today's world.
A Talk with Gideon Taylor on the work of the WJRO, and the importance of memory, history and justice.
a Paris Writers News Interview*
______
LZ: Who are the people the WJRO is trying to help, and what is its role?
Gideon Taylor: The World Jewish Restitution Organization (WJRO) works for the restitution of private property and for compensation to Holocaust survivors, their families, and for Jewish communities.  
Following the collapse of the Communist regimes in Eastern Europe, the leading international Jewish and Holocaust survivor organizations established WJRO to address the restitution of Jewish property and to remind the world that the time has come to address the enormous material wrongs caused to European Jewry during the Holocaust.
WJRO represents world Jewry in pursuing claims for the recovery of Jewish properties in Europe (other than Germany and Austria, which is dealt with by a sister organization, the Claims Conference). We carry out this activity through negotiations with governments and public advocacy
A key development in Holocaust-era restitution happened in 2009, when 47 countries endorsed the Terezin Declaration on Holocaust Era Assets. The declaration set out standards for the return of, or compensation for, Jewish private, communal and heirless property taken during the Holocaust.
At the end of this year, the US State Department will issue a report to the Congress required by the Justice for Uncompensated Survivors Today Act, known at the JUST Act, which was passed unanimously by the US House and Senate and signed by President Trump. The report will review the progress of the signatories of the Terezin Declaration on the restitution of Jewish assets seized during the Holocaust. This will be an important opportunity to shine a spotlight on the campaign for restitution for Holocaust survivors and their families.


When did you start working with WJRO? Why? What is your role within WJRO?

I began my career in Jewish communal service at the American Jewish Joint Distribution Committee (JDC). I later went on to serve as Executive Vice President of the Claims Conference and then went to work in the private sector. In 2013, in a lay capacity, I became Chair of Operations of WJRO.  I lead our team which negotiates and strategizes with leaders from Jewish communities around the world and top government officials, ambassadors, and other representatives from European countries to seek justice for the wrongful seizure of the homes, businesses, and other cherished properties of millions of Jewish people during the Holocaust.

Property restitution cannot repair what happened during the Holocaust.  The lives that were lost cannot be returned.  There is nothing that can compensate for what was endured. But we can work to provide Holocaust survivors with a sense of acknowledgement and recognition for what they endured.
In which countries do you work?

We meet and negotiate primarily with countries in Eastern European and the former Soviet Union, as well as other countries in Europe with unaddressed issues. Recently issues have emerged in Western Europe.
 
For example, WJRO visited Luxembourg as part of a delegation led by the US Ambassador to Luxembourg and the US Special Envoy for Holocaust Issues that included leaders of the Jewish Community of Luxembourg, to meet with Luxembourg's Prime Minister Xavier Bettel to discuss international efforts to address outstanding Holocaust-era property issues.  The delegation and the Prime Minister agreed to form a working group composed of representatives of the Government of Luxembourg, WJRO, and the Jewish Community of Luxembourg to begin discussions as soon as possible to formulate a process to address these issues.

On August 1, the Dutch National Railway – Nederlandse Spoorwegen (NS) – announced the application process for a program to compensate Dutch Holocaust victims, or their surviving spouse or children, for NS's role in deporting Jews to Nazi death camps during World War II. More than 75 percent of Dutch Jewry was deported and murdered in the Holocaust, most of them transported to their death by the NS.  WJRO acknowledged the announcement as an important step.  At the same time, WJRO urged the NS to accept the NS independent advisory committee's recommendation to address those not covered by the compensation program including more than a hundred thousand people who perished.

What has been your greatest satisfaction?

This work is not only about recovering property. Capturing the stories of survivors is a central part of what we do. In April, WJRO launched a six-week international social media campaign – #MyPropertyStory – to focus on survivors' lives before the Holocaust to show how their homes, land, businesses, and personal possessions are powerful links to their past.

Tens of thousands of people participated in the campaign from around the world by posting their stories through videos, photos, or statements via Facebook, Twitter, and/or Instagram. Survivors, their families, and others shared stories of lives that were forever changed by the Holocaust. Their postings showed that behind every property there is a story.

The campaign shined a light on the injustice suffered by millions as a result of what was wrongfully taken from them during the Shoah and its aftermath. On Holocaust Memorial Day, (Yom HaShoah) WJRO highlighted the #MyPropertyStory campaign with a gallery of postings from the campaign on its website: https://wjro.org.il/mypropertystory/.

Have you encountered obstacles, Where, when, why?

The scale of devastation and displacement from World War II was enormous.  Six million Jews were murdered in the Holocaust.  Families were wiped out.  Jewish communities were destroyed. After the Holocaust, more than a dozen Eastern European countries were ruled by Communist governments who nationalized property.  

Some of the obstacles are because of the loss of documentation of assets. But the greatest obstacles are often the resistance of governments and companies to acknowledging the past.
For example, before the Second World War, with the rise of Nazism, many Jews in Central and Eastern Europe sought to protect a part of their assets by depositing money in Swiss bank accounts, and their valuables in Swiss safe deposit boxes. To encourage such transfers, in 1934 the Swiss even strengthened special banking secrecy laws which facilitated preservation of the anonymity of depositors. After the war, when the survivors attempted to reclaim their assets, they were ensnared in a web of bureaucracy that refused to recognize that death camp survivors, or the heirs of those who perished, could not furnish customary documentation such as death certificates.  Although, in the decades following the Holocaust, Switzerland was repeatedly asked to investigate and disclose bank accounts owned by and not returned to Holocaust victims, the banks only reluctantly surveyed their records and reported only a few hundred accounts.  Finally, a campaign that commenced in 1995 forced Switzerland to look further into the issue of the dormant bank accounts of Holocaust victims and led to a broader investigation which revealed the extent of Switzerland's role as a depository of plundered Jewish and Allied property.
 
More than 36,000 Swiss bank accounts were revealed to have been owned by, and not returned to, Holocaust victims or their heirs.  As a result of litigation in the United States courts, a $1.25 billion settlement ultimately was reached.  The litigation and settlement expanded the categories of claims to be compensated, so that not only were bank accounts to be returned to their owners, but compensation also was provided for two categories of slave laborers (those enslaved by German entities, the value of which passed through Swiss banks and other Swiss entities, and those enslaved by Swiss-owned companies); refugees who were denied entry into or expelled from Switzerland, as well as refugees who were admitted but mistreated in Switzerland; and those whose assets were looted, with the proceeds of this looting transacted in or through Switzerland.  

The settlement distribution process, which was overseen by the U.S. federal court, has been completed, and over $1.287 billion in compensation (more than the $1.25 billion settlement) has been distributed to more than 458,000 survivors and certain heirs. Ultimately, this was about finding a way to recognize history and acknowledging the past.



How were these obstacles overcome or resolved?

WJRO played a major role in negotiations with the Swiss government and banks culminating in the settlement. Beginning in September 1995, WJRO and the World Jewish Congress negotiated with the Swiss Bankers Association on restitution issues.  Research was pivotal to understanding the scope of restitution claims and the historical background. Documents were located confirming the banks' destruction of wartime records and holding of a "Nazi account" and that Nazi-plundered gold had moved through Switzerland and other nations.

WJRO's participation in congressional hearings and work with the Clinton administration resulted in the establishment of the Independent Committee of Eminent Persons (the Volcker Committee, led by Paul Volcker, former Chairman of the Board of Governors of the United States Federal Reserve System) to audit dormant Swiss bank accounts and an American inter-agency task force to investigate the seizure, retrieval, and disposition of Nazi and other assets during and after World War II.  The inter-agency task force published a report confirming that tons of Nazi gold came from Jewish victims and was transferred to or transacted through Switzerland.  Intensive advocacy led to the settlement with the banks.


Are there obstacles that you have not been able to resolve?

WJRO continues to urge Poland to pass a comprehensive national private property restitution law.  Poland is the only country in the European Union not to have such a law.  Holocaust survivors and their families, as well as non-Jewish property owners, continue to wait for justice for the wrongful taking of their property.

This is an issue of deep importance to Jews around the world – before the Holocaust, Poland had 3.3 million Jews, and around 3 million were killed in the Holocaust.  

There is strong international support for Poland to address this issue.  We have seen this most recently and powerfully in the United States.  In August, an overwhelming eighty-eight US Senators signed a bipartisan letter urging Secretary of State Mike Pompeo to "act boldly and with urgency" to encourage Poland to resolve the issue of private property restitution to Holocaust victims. This came after Secretary of State Pompeo spoke poignantly in February during his first official visit to Poland: "We also appreciate the importance of resolving outstanding issues of the past, and I urge my Polish colleagues to move forward with comprehensive private property restitution legislation for those who lost property during the Holocaust era."

What do you feel is the biggest misconception about the work you are doing?

One of the biggest misconceptions about the work that we do on behalf of Holocaust survivors and their families is that it is all about the money. It is not.  It is about memory, history, and justice.  Governments and companies refusing to return property or to compensate those from whom they profited is a form of Holocaust denial – and, especially while Holocaust survivors are still alive, we all have an obligation to ensure that the effort to secure justice goes on. 
_____
For more information on WJRO see: https://wjro.org.il/
* November 16, 2019