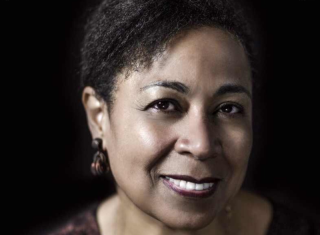 The 5th Latin America and Caribbean Week in France (La Semaine de l'Amérique latine et des Caraïbes) goes until June 10th, with an exciting array of literary and cultural events in Paris and other cities.
Jamaican author Alecia McKenzie led a discussion of Caribbean literature at the prestigious ESSEC Business School on Thursday, May 13. She was joined by fellow Jamaican Dr. Sondré Colly-Durand, a researcher and lecturer.
McKenzie and two students did readings from her prize-winning collection of short stories Satellite City and her novel Sweetheart. McKenzie also gave insights into the writer's craft, getting the master's students to write short pieces that emphasized point of view. She later said that she was impressed by the students' contributions.
This is the second time that McKenzie has taken part in the annual Semaine de l'Amérique latine et des Caraïbes. She said that France has seen a growing number of translations of books from the anglo-Caribbean region and from Latin America, reflecting readers' interest. Trésor, the translation of McKenzie's novel Sweetheart, was awarded the Prix Carbet des Lycéens in 2017.
In a three-hour interactive presentation, Colly-Durand discussed the poetry of Nobel laureate Derek Walcott. The Caribbean literature session formed part of the "Great Novels and Short Stories from the English-Speaking World" course, created by the director of the Languages and Cultures department Michael Kouklakis and American writer Curtis Young, both of whom attended.