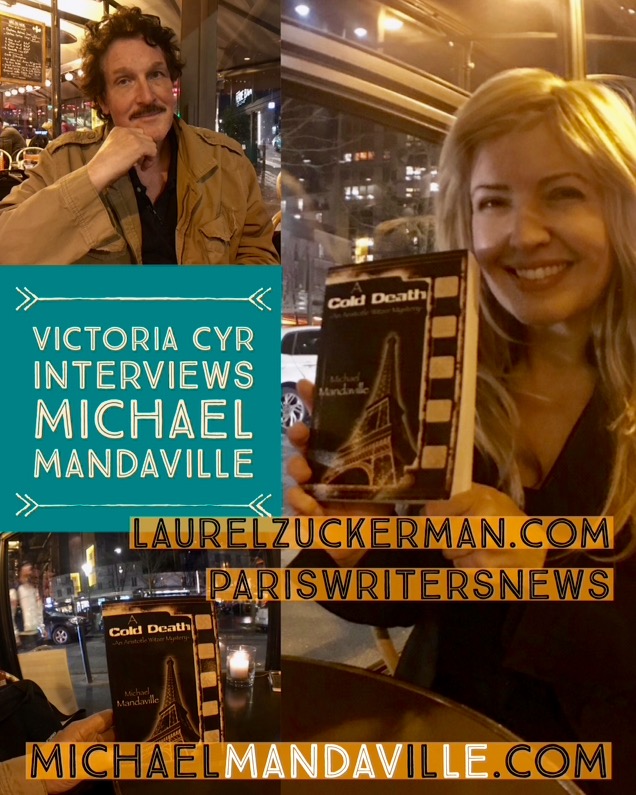 Recently Victoria Cyr had the pleasure to meet with writer, filmmaker and producer Michael Mandaville at a charming cafe near Edgar Quinet. 
 a Paris Writers News interview
Victoria Cyr: What inspired you to write your novel "A Cold Death -- An Aristotle Witzer Mystery" and set it in Paris?
Michael Mandaville: I actually saw an article which I still think I have some place which talks about a hidden movie theater in the tunnels under the Trocadero. That little article was so intriguing. Apparently the civil authorities were completely unaware that there was a mini movie theater under there complete with electricity and a bar. People would go there to watch old movies particularly the people who loved the underground tunnels in Paris. Of course, I also mix in a fair amount of some World War II history because I'm a World War II history junkie and the plot starts on its way! 
 Was it challenging to find the right locations for the story?
 The locations are not really the problem. Finding exact elements around the location by doing research, visits, using Google maps was the key. I have been to — at one point or the other –- most of these locations. But there are some places where I extrapolated what I'd read or discussed with some people about the underground, and then used a writer's imagination to work out what would be in the various catacombs and underground areas.
 Congratulations, I understand it's being turned into a series that will be filmed in Paris — can you tell us a little more?
 Well, we're in the formative stages of the process. Like any costly media project, it takes some time to assemble all the data. So I finished up working on the pilot based upon the novel. I could also break down the novel further into the remaining nine or so episodes. We are talking to several people about the talent, the budgeting process, and other resources that would allow us to shoot here in France.
My background is primarily motion pictures where I worked on all the" Taken" movies with Luc Besson's company so I understand quite a bit of the process that's for darn sure. One of the elements that I'm trying to do is the balancing in my head between the creativity of writing and the necessity of working within budgetary bounds. For example, when you write a certain location or set into the novel or a TV show, then you want to try and come back to that in some way or use a set if it can be modified because that's a cost-effective strategy for doing media projects. In today's world with the advent of mass streaming programs, many companies want to do things for a specific price. So, I do have an advantage in terms of the creativity plus the ability to understand the budget process. 
How did your experience working with Luc Besson deepen your connection with Paris?
For one thing, I now have friends over here that I can talk to and ask a lot of questions whether it has to do with filmmaking, the Paris filmmaking scene, the European sensibility, etc. When you work with people in the film it's usually a very short intense period of time. You get to see people at their best and their worst. And that's when you get to really make friendships that are deep and affirming because you've got a chance to really see what kind of person this is under this kind of pressure. In addition, you also could see people who are very creative…not just at their craft of cinematography and production design, but also very good at problem-solving.
You're also writing a sequel to "A Cold Death" -- when will it be published?
I am aiming for later this year or early next year. It depends if I have a film that I have to work on in the meantime. But I do write quite a bit and fast, especially once I get it into my head on the direction I'm going. For the most part I look at it as a job where you have to report for work every day and accomplish so many tasks. So in that regard I am a diligent little factory worker pounding away on my keyboard.
As a filmmaker and director, how does this influence the writing in your novels?
What I like to think is that I am using my filmmaking capabilities to create a story which is both visual and exciting for the audience — the story itself should be as we call it — a page turner so that the essence of the plot compels one to move forward quicker and quicker. That being said, I am also a lover of history and endlessly curious about how history has informed the present. That's when I allow the novelist to take over and write about whatever interests me as small diversions into areas of interest. 
In "A Cold Death" one of the characters worked at a chocolate factory so I dive into the history of chocolate because it interests the character and they are proud of their time spent in making chocolate. Now that was an interesting moment, but that's what the character wanted to say. One of the characters in my novel Mrs. Fauntleroy talks endlessly and will go on for pages and pages. I needed the scene to be about three or four pages with her discussing an item with the main character, but darned if she just wouldn't be quiet in the scene and so it extended to nine pages in that particular draft. I believe I cut the scene back to four pages maybe five or so, but it was so pleasant as a writer just to let her talk for a little bit! That's when you know your characters are coming alive because you are the medium through which they talk — and you can shut them up!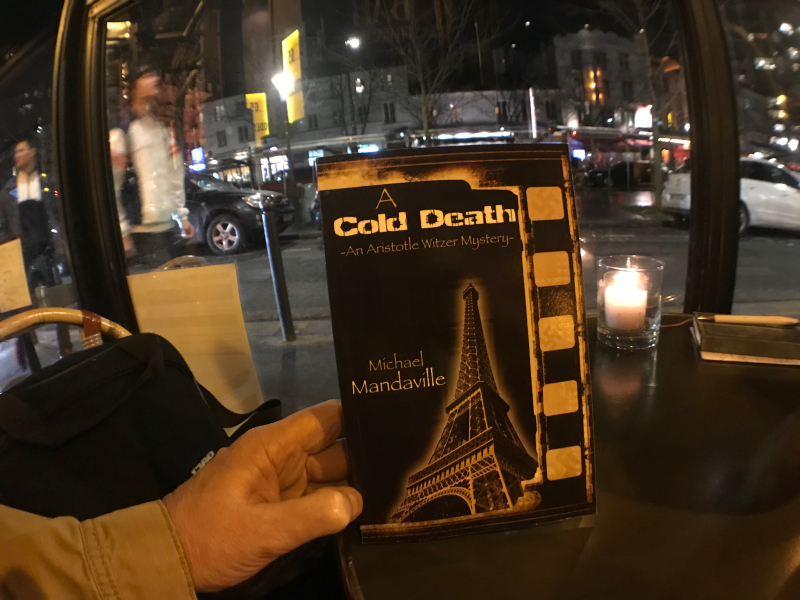 I read that you have a degree in philosophy. Does this influence your writing, and if so, how?

Philosophy, for one thing, is probably a pretty dangerous background to have. For one thing you look at characters in people and see what drives them. What is their philosophy of life? Is it entirely based upon physical attributes of pleasure or the mental attributes of accomplishment? Or something in between? Does the person live a life dedicated to a particular ideal? I think in many ways that's helped me examine or always remember to examine – the motivations, point of view and ideals of that individual. And by ideals I do not necessarily mean a good person. A criminal has certain ideals – just not the one's most of society would agree with.
The other interesting part about philosophy is that you break down people's arguments into logical components and questions, then you find out how poorly constructed their arguments or belief systems are. Many are based upon cultural norms, acquired belief systems without substance, or the last several decades rise of political correctness so that we have a" social contract" where you must remain within the norm or be verbally ostracized by your peers. So the question is do your characters have a logic to their system or do they want to do something despite it being illogical? In addition, the use of logic and philosophy has helped create puzzles for plotting and I found it very useful there.
What is your approach to writing on a daily basis?

I write every day, one way or the other. It might be writing down notes in several pads that I always have going on or a more formalized process of outlining or still a more dedicated work on a script or a novel. It's just a compelling habit that I have now which is also quite therapeutic, creative and – wherever I am – productive. I certainly can feel comfortable in any place in the world, just working away on my own little idea which I have done from virtually every place I've ever visited.   
I tend to work with various methods. There is the nonlinear brainstorming part where I'm just scribbling away things and lines in letting the pieces of the puzzle come off the page and through the pen. And then there's the outlining part where I put it in a sequential order. And then where I can also start fleshing out everything in terms of certain scenes to see how to bring it alive. The fun part of writing in that arena is that sometimes I've written a scene in the middle or the end of the beginning which is this little anchor point that allows me to launch the bigger picture.
As a writer and filmmaker, what are the 10 essential items you won't travel without?
Good one. I have to have certain kinds of pens which I like that have a wide tip. This is the Pilot G2 #10. Those are my favorite pens to write with so I definitely have to have a good handful of those. So being a sneaky writer, I will say that I need five of those with me at all times so I can only answer five more essential items. I definitely need a pad that will fit in my pocket which is a spiral-bound index card set. The index cards are strong enough to take a beating, whereas thin little pad paper will tear off and not last. I also always have a notebook which is always a grid and never lined paper. And that way I could think out of the box and not" stay between the lines". 
Filmmaking wise, I have my camera on my iPhone which is better than a bulky camera in many ways. I've added to it with the unique little lens system which allows me to have fisheye, polarizer and wide angle. That is incredibly useful. The last item is always going to be some kind of physical map of the location where I am at. Even though we have the convenience of an iPhone and Google maps, it's not the same as holding a map in your hand and being an explorer. There is something old school about having a physical map and having to learn it. You also keep opening up the same map over and get to know it. That allows you to make better and deeper connections with the space I think. From a military standpoint, they call that learning the ground that you're going to be fighting on. And if you're writing about Paris or any other physical location that is the ground you are fighting on — to get your writing done!
Where can we buy your books?
You can buy them on Amazon where I would certainly appreciate you doing so and hopefully if you like the book then you will leave a nice positive review and I will take it in either English or French!
Michael Mandaville works as a Line Producer/Unit Production Manager on feature films and TV. He followed in the footsteps of his aunt, Molly Mandaville, who worked as Darryl F. Zanuck's script consultant for thirty-five years during Hollywood's Golden Age. He has worked on films such as "Taken" produced by Luc Besson, "Havoc" with Anne Hathaway, "The Kiss" with Terence Stamp and Billy Zane, and "American History X" with Edward Norton. He's written several scripts and novels. 
About Victoria Cyr
Victoria Cyr is a Paris-based American poet, actress, and singer/songwriter.