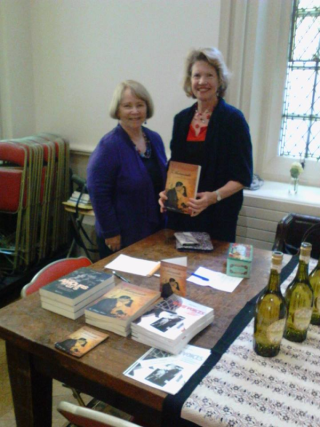 After years of research and interviews, Paris writer Hilary Kaiser wrote several notable books on the history of French women who married American soldiers after World War II.  French War Brides, originally published in hardback, has now been reissued in new ebook and paperback editions. 
Mary Duncan talks with Hilary Kaiser about writing history, and the stories of French women and American soldiers in the Second World War.
___
a Paris Writers News interview
Mary Duncan: Why did you want to publish a new edition of your book on French war brides?

Hilary Kaiser: With the new paperback and e-book published by Paris Writers Press, now entitled French War Brides: Mademoiselle & the American Soldier, I'm hoping to reach a wider reading public than that targeted by the publisher of the original hardback edition. There were academics, university librairies, francophiles, etc. Not that these audiences won't also appreciate the new formats. They will. But now all sorts of readers can enjoy the war brides' stories, as well as the archivally-researched introduction and conclusion.
You added a subtitle, "Mademoiselle and the American Soldier." What prompted this addition?
--For several reasons. First because, to my mind the term "mademoiselle" evokes the "Frenchness" of the women more than just their nationality. Also, by equating the mademoiselles with the American soldiers it makes them, as is shown in their stories, actors in the choices they made. They were not just "brides" defined by their marriages, but even as young, unmarried women and girls in France before, during and after wartime, they had minds and personalities of their own. Subconsciously, I was probably also trying to show how different mademoiselle was from the "flousy" portrayed in the raucuous WW1 song "Mademoiselle from Armentieres, parlez- vous." Finally, I liked using the term "American soldier" in the title rather than GIs because French women also married American soldiers of WW1, who were called doughboys.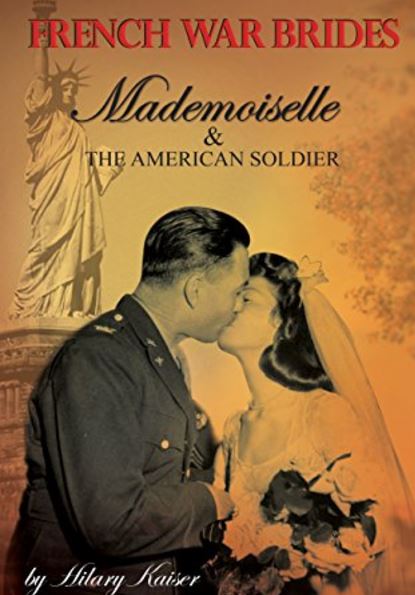 How did you become interested in this subject?
--It was in the back of my mind for years because in the early Sixties when, as an adolescent, I first moved to Paris with my parents, our concierge told us a story about how she had had a relationship with a GI and had had a child by him. In fact, later while at university, I imagined what happened and wrote a short story about it. Then in the 1990s, while interviewing US veterans in France for another project, I thought to myself that their wives probably also had interesting stories to tell. I later interviewed two of these women but the very first interview I did of a French war bride was of the mother of an American friend living in Paris who was visiting from Kentucky. This woman had a great story to tell and really sparked my interest in the whole subject.
 Please explain "Oral History" and why you chose this research approach.
--Oral history is about listening and asking questions.  I've always liked asking questions, and think I've become, over time, a  pretty good listener. At one point when I was young, I thought I wanted to be an investigative journalist, but as it turned out, I became a teacher and then a professor instead. But teaching also requires asking questions and listening to answers. Even though for my dissertation at the University of Paris I did a lot of interviews and handed out over a hundred questionnaires, it was only in the early 1990s that I discovered what "oral history" was all about. This was when I attended an international oral history conference at Columbia University and took an introductory course on how to conduct "ethical" and meaningful interviews that could be preserved for posterity. I joined both the IOHA (International Oral History Association) and the American OHA (Oral History Association), attended other conferences, read lots of oral histories, and learned about the guidelines for conducting interviews. I found all this information very useful when I later began collecting interviews of U.S. WWII veterans for my first book. Like many oral historians I felt I had a mission:I was doing history "from the bottom up" and preserving testimonies about the war experience for future generations. Later, when the idea of interviewing French war brides came to mind, I again felt this "mission" to preserve their stories for posterity, with the permission of the interviewees, of course.
How did the French War Brides differ from British, German, Italian, Japanese or other war brides?
--I think that all foreign war brides faced similar immigration and assimilation issues. To tell the truth, though, the Asian brides of WWII probably suffered the most because they had to deal with racial discrimination and were not allowed to enter the U.S. and to join their husbands until after the Immigration Act of 1952 was passed. To my mind, however, the particularity of the French war brides lies in the fact that many of the American soldiers of WWI--the doughboys who didn't marry French women themselves-- perpetuated a rather negative image of mademoiselles as being "easy" and "loose" oh-la-la girls. This reputation preceded the arrival in the U.S. of the brides after both world wars and at times created an unfavorable environment for them. It also preceded the landing of the GIs in France in 1944. This is why some authors, Mary Louise Roberts among others, have argued that many American soldiers were expecting sexual favors from French women following D-Day. The GIs didn't realize that most of the women came from traditional, church-going families.
Approximately fifty percent of the marriages ended in divorce, which corresponds to the US national average. What made the difference in the marriages that succeeded?
  -- That's fifty percent of my small sample. We probably can't generalize about all French war brides because those statistics would be hard to come by. Nevertheless, when the marriages of my sample succeeded, I was able to draw several conclusions. One was that on the whole French women of the time undoubtedly conformed to the role of the traditional homemaker, and returning soldiers would appreciate that. Without getting into stereotypes, we can probably say they were good cooks, economical and family-oriented. Also, the marriages probably lasted when the solders didn't suffer from alcoholism or PTSD, even though the latter ailment wasn't really recognized as such back then. Another factor was if the women were accepted and well-treated by their husband's families, especially by the mothers-in-law. And finally, it also helped if both the American soldiers and their French brides understood that there were cultural differences between them and that acceptance and tolerance were required on both sides
____
Author of French War Brides: Mademoiselle and the American Soldier, WWII Voices: American GI's and the French Women Who Married Them and Des Amours de GI's: les petites fiancees du débarquement, Hilary Kaiser, Ph.D,is an oral historian and associate professor emerita at the University of Paris who divides her time between Paris and Berkeley, California. She is also a playwright, a storyteller and an intercultural trainer.
Mary Duncan, Ph.D., is the publisher of the award-winning Paris Writers Press, which received a grant from the French Ministry of Culture for the translation and publication of Sade's Publisher: A Memoir by Jean-Jacques Pauvert.  pariswriterspress.com
She is also the Director of the Paris Writers Group and the author of Henry Miller is Under My Bed.  www.pariswritersgroup.net