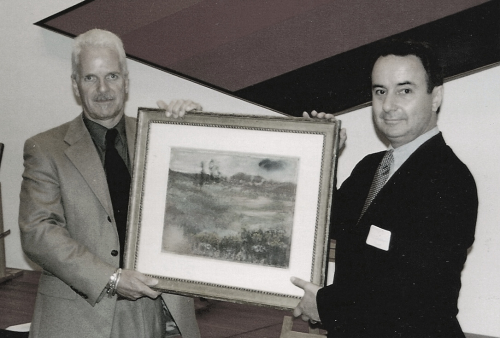 The Orpheus Clock  is both a fascinating read and an extremely valuable addition to the literature of  the Nazi era. It details two interlinked histories:  the story of the Gutmanns, a Dutch family of Jewish origin who was robbed and murdered under the Nazis, and the story of their descendants, the British Goodmans who have for decades struggled to uncover the truth and reclaim their heritage despite well-financed opposition by the indirect beneficiaries of Hitler's policies. 
Against intense opposition, the Goodman brothers fought an epic court battle to force the powerful Chicago billionaire Daniel Searle to admit the truth about the provenance of  a painting, a Degas, that had belonged to Goodman's grandparents, Friedrich and Louise Gutmann. In 1943, the Gutmanns were deported to Theresienstadt: Friedrich was beaten to death and Louise murdered in Auschwitz. 
What I discovered in Simon Goodman's outstanding book, The Orpheus Clock: The Search for My Family's Art Treasures Stolen by the Nazis, was that the immense Chicago battle was only the first of many, many battles that were to come,  each one demanding incredible reserves of time, money, effort, patience and courage, not only to recover the Gutmann/Goodman family's lost legacy of art treasures, but, equally important, to reestablish its history, which had been deliberately obliterated.
 Simon Goodman, author of The Orpheus Clock: The Search for My Family's Art Treasures Stolen by the Nazis
a Paris Writers News interview
_________________
How long have you been searching for your family's collections?
Well, it's been 20 years now. It all started when my poor father died and my brother and I inherited his old papers. From that we began to figure out what was still missing. I had thought all this had been settled a long time ago, after the war. Naively as it turned out.
I found my first painting, a Degas in Chicago in 1996. Exactly 20 years ago.
I was just reading Dark Money, about the financing of the radical right, which mentions Searle and his "Freedom Trust". Is that the same Daniel Searle you sued for the return of the Degas that had been looted from your grandparents? [nb: Searle was chairman of G.D. Searle, inventor of aspartame. He appointed CEO Donald Rumsfeld, who sold the company to Monsanto in 1985 for $2.7 billion.]
Yes. It most definitely is. So, yes, we were up against fearsome adversaries. The first thing somebody said to me when I got to Chicago back yet then with my brother was that nobody sues Daniel Searle, that he was above the law, in a sense, in Chicago, that he was so powerful, he was untouchable. But we actually proved that wrong.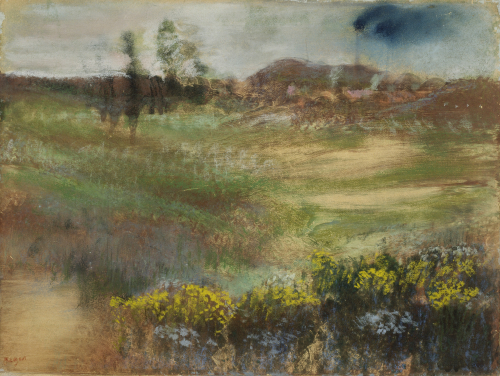 What made you decide to sue Searle? 
It was clearly our painting, and, obviously, a huge injustice had been done to my family.
We talked to him nicely to begin with - we didn't immediately file suit. But when we realized that they were becoming more and more entrenched instead of more open to negotiation, that[legal action] was our only recourse.
My brother and I never looked back. We were infused with a great sense that our family had like so many others, been treated beyond unconscionably. And when we realized that the fruits of that crime were still out there, we had to do what we could to correct that.
And that's what I'm still doing.
It bothers me to this day that things that were taken from my grandparents' home are still in museums all over the world. 
In the book you give details that one very rarely sees about the tactics that were used against you.  First Searle said that it wasn't the same painting.
Yes. Then, when we were able to show that there was only one Degas, the next thing was, of course was, "well we don't think you ever owned it."
Your grandfather's name wasn't mentioned in the provenance? [the history of ownership]
That's one of the things that bothered me when I was researching the Degas:  my grandfather's name was nowhere to be seen.
These so-called accurate, academic provenances, they're all so subjective and casual, as it turns out.  And assembled by people who often have very - what's the word? -  special interests.
A good example would be an art gallery like the Wildensteins, or a foundation they control, putting together a catalogue raisonné. From my point of view, there's a huge conflict of interest. So, yes, I was determined to get my grandfather's name reinstated. What struck me was that, more often than not, there was absolutely no provenance listed. Occasionally there would be some euphemistic line such as "the property of a lady".
What has been the role of databases in your search?
What I do today is aided enormously by Google, the internet.  I have a subscription with a company called Fold 3 which allows me to get into the US Army archives, the Ardelia Hall Collection.
She was this wonderful Monument officer who stayed behind to establish a database for all of the paperwork that the Monument Men had acquired after the war, and today most of this has been digitized. And I can find this online.
The Orpheus Clock I was able to find and prove was clearly stolen thanks to letters I found in the US army archives. In these letters, a US Lieutenant warns his superiors that a large part of the Gutmann silver collection is about to be looted again. And that, in the case of the clocks , is exactly what did happen.
If you hadn't done this research, would anybody else be finding these items and returning them to your family?
I doubt very much. Unfortunately in one aspect this is all very big business today. I've trained myself to do this on my own because in the earlier days, though we had a very good legal team and they cut us all sorts of breaks, inevitably they are still expensive. Lawyers charge lawyers' fees. There are translations, there are all sorts of expert witnesses. What I do is extremely expensive. So there are a lot of people out there who would like me to hire them, just as other families have. It's potentially big business. Nobody is going to do this for me. There is no charitable organization out there.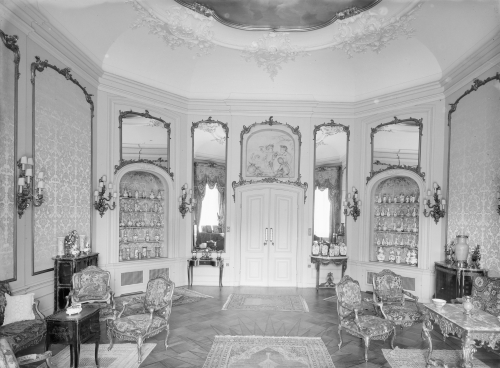 How much remains that you haven't been able to find from your family?

About a third. Each time I solve one case, I unearth another. Even though I've been able to settle, with my brother and my aunt, many cases, the list keeps growing longer. It's about 10 to a dozen good paintings, at least a dozen very valuable sculptures, and well over 300 antiques,

The third and final inventory of my grandparents' home, emptied out from the house after my grandparents were arrested, is, to this day, largely unfound.

The section on dealing with the Dutch authorities was particularly shocking. Has that all been resolved now?

Oh not at all. At the start the Ekkart commission  were very well-intentioned. But over the years they've made it harder and harder for people to claim. It's my interpretation that they'd like to close down the whole process. No. It's not over yet. Each restitution I had to fight for very hard. So each little Chinese vase takes two or three years of battle to prove our case.  And I still have a fairly significant list of artwork that I can prove were returned to Holland, where they then disappeared. My father and sister were forced after the war to buy back many objects.
To this day I don't understand why the Dutch government says it needs to be compensated for transactions that took place between a Jewish couple and a Nazi art dealer.

It took my father 10 years to get the title back to the family estate that had been taken, only to be forced to sell it immediately because it came with a tax bill. How a man in a concentration camp was supposed to pay property taxes I don't know! So anyhow my poor father was forced to resell the house immediately in order to pay tax bills.
 I have an endless list of grievances with the Dutch government, I'm not on particularly good terms with them.

[Ed: The house was purchased by the Sisters of Providence and turned into an insane asylum after the war]
Do the Dutch people know what the government is doing in their name?

No. They believe their own propaganda. How Holland fought against the Germans valiantly. I suppose something to do with the Anne Frank story. People hiding poor Jews. The reality is quite is not quite the same. There were many Dutch volunteers to the SS.
Yes there are many valiant people who did try to protect Jews Jewish neighbors, but they were just as many who are prepared to sell them for a small amount of money. The entire country benefited from the expropriation n of Jewish property
The same goes for Germany add most of the countries under Nazi rule. So today the Dutch people are usually surprised to hear my story.

The end of the war and the beginning of the peace is the part that most Dutch people know the least about.
What was the reaction to your book when it came out in Holland?

It's sold quite well but I think it makes a lot of people uncomfortable. It is now been turned down by over 20 German publishers.
The feeling we get from feedback is that it's a story they don't really want.
There's a famous book by Daniel Goldhagen called Hitler's Willing Executioners that also caused a huge controversy in Germany because the implication was that everybody benefited from this looting.  That silence was, in a sense, bought.

Germany has a federal government so it completely depends on which State  you're dealing with.  I have a battle today with a museum in Bavaria. [Editors note: Goodman is not the only one. Heirs of the famous art dealer Alfred Flechtheim have also just filed suit against Bavaria.]


What was the involvement of Karl Haberstock, number 13 on the Nazi art looter Redlist?

Julius Böhler and Karl Haberstock were the two main looters of my grandparents' home.

In archives I found reams and reams of correspondence between Haberstock and Böhler. In several of these letters Haberstock requested antiques from my grandparents' home to be transferred to his private residence in Berlin.  Towards the end of the war the Haberstocks  evacuated Berlin because of allied bombing and went back to Bavaria. The story is complicated, but after Haberstock's death his wife bequeathed the collection to a museum in Augsburg where Haberstock is considered a favorite son.

I don't have photos but I have wartime descriptions. If there were just one or two, that would be one thing, but there are a dozen in a row that match inventories of what was emptied out of my grandparents' house. Then it becomes more than a coincidence. Also, interestingly, I have the depositions of Haberstock after the war.

Haberstock and Böhler are both forced [by US officials] to relinquish some of the pieces some of their ill-gotten gains. However Haberstock never relinquished what is in his personal home - which are of course the pieces that originally transferred through his apartments in Berlin. So it's clear that Haberstock keeps these pieces after the war even though he does confess and was forced to turn over most of what he had looted.
They [Bavaria] are still fighting me tooth and nail.
It's a point where the claimant has to prove exactly everything that took place and to document everything. In some cases people can say, well that's enough, we don't have any evidence to counter your proposition.  They have nothing to counter what I'm claiming but still they demand more evidence.

When you're searching for your grandparents' belongings, you also find items that belong to other families. Do you talk with them?

Yes. Where possible. I work with the HCP (Holocaust Claims Processing) organization in New York. Ever since The Orpheus Clock book came out, I have received correspondence from people all over the world. I try and do my best.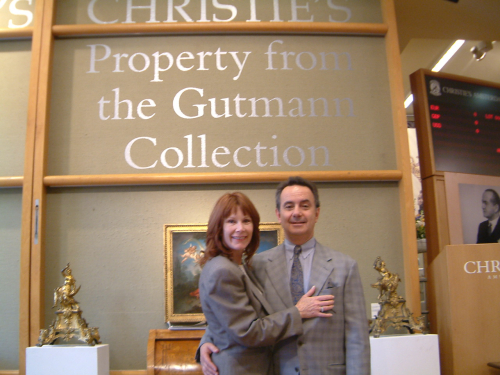 What has been the impact on your family and on your life that you devote so much time and effort to the search?

Well, at times it takes up everything. But my brother and wife and family are very supportive. In general everyone is very supportive.  My brother was as active as I was to begin with for the first ten years. But it proved too much for him on a personal level and he felt he needed to back off a little and resume his private life. And at that point I felt compelled to proceed.
I'm proud of what I've done, and I think my family are equally proud of the fact that I've been able to reconstruct along the way through these artworks our family history, who we were, where we were, why we love these things, and why we collected them. Each time I find an art piece, it gives me great insight into the family I never knew.
Why did you write The Orpheus Clock ?

It goes back to the first time I didn't find my grandfather's name in a catalogue raisonné.
It occurred to me that, apart from the murders, the theft and everything else, we seem to have been obliterated from history.

My father was a quiet, reclusive man. It's funny we had been such a big powerful family, and we are reduced to this single man, sitting in a solitary chair, with no friends left in the world, it seemed. I was angry about that. I felt I needed to restore our heritage. Not just specific artworks but our heritage in a grander historical sense.

So I started writing notes. A paragraph here, a paragraph there. One day I was lucky enough to meet these two literary agents who were so enthralled by my stories that they help me put the story together in a coherent way, with ordered chapters and 12 or 13 files.
Every time I would write a snippet I would drop it in the appropriate file box. And then, over time, the box started filling up. Of course we had to edit the lot. It was far more material than for one book. I had to leave a lot of side. Perhaps for a later book.
It's very hard work getting it right. Checking all the facts. The train number, the cell numbers, the guards names, the commandant. Thanks to Red Cross files and diaries both of survivors and posthumous diaries I was able to piece together what it actually happened in the camp. It's very specific. For all the Holocaust deniers out there, I'm very proud of that, that I was able to accurately depict what happened to at least one specific couple.
---
Simon Goodman will be speaking at the Getty in March. Past talks include clubs, Jewish organizations, Christie's, the Harvard club, and  the senior art class at a local high school in Los Angeles. 
About the author: 
Simon Goodman was born in London shortly after WWII and educated at the French Lycée in London, then at Munich University. Starting in the 1960s, he worked in the music business specializing in breaking new British artists abroad, eventually moving to Los Angeles where much of the industry was centered. He began his research after his father's death when boxes of correspondance were discovered.  Twenty years of efforts have now resulted in the return or settlement of  paintings by Francesco Guardi, Hans Baldung Grien, Salomon van Ruysdael, Jacob Elsner, Michele Rocca, Franz von Stuck, Sandro Botticelli, Auguste Renoir and more, along with about 350 antiques, including the Reinhold clock. But the work is far from finished, and Simon Goodman continues his research.
About the book:
The Orpheus Clock: The Search for My Family's Art Treasures Stolen by the Nazis by Simon Goodman  Scribner ( 368 pages | ISBN 9781451697636 | August 2015)
Related articles:
LA TIMES Nazis killed Simon Goodman's grandparents and stole their art; new book tells how he got some of it back
 See Also
Art Looting Intelligence Unit (ALIU) Reports 1945-1946 and ALIU Red Flag Names List and Index http://www.lootedart.com/MVI3RM469661
Karl und Magdalene Haberstock Stiftung  http://www.kunstsammlungen-museen.augsburg.de/index.php?id=20193