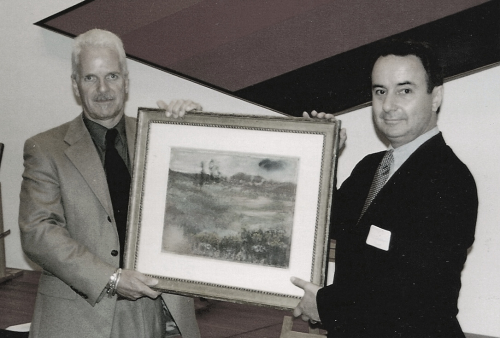 The Orpheus Clock  is both a fascinating read and an extremely valuable addition to the literature of  the Nazi era. It details two interlinked histories:  the story of the Gutmanns, a Dutch family of Jewish origin who was robbed and murdered under the Nazis, and the story of their descendants, the British Goodmans who have for decades struggled to uncover the truth and reclaim their heritage despite well-financed opposition by the indirect beneficiaries of Hitler's policies. 
Against intense opposition, the Goodman brothers fought an epic court battle to force the powerful Chicago billionaire Daniel Searle to admit the truth about the provenance of  a painting, a Degas, that had belonged to Goodman's grandparents, Friedrich and Louise Gutmann. In 1943, the Gutmanns were deported to Theresienstadt: Friedrich was beaten to death and Louise murdered in Auschwitz. 
What I discovered in Simon Goodman's outstanding book, The Orpheus Clock: The Search for My Family's Art Treasures Stolen by the Nazis, was that the immense Chicago battle was only the first of many, many battles that were to come,  each one demanding incredible reserves of time, money, effort, patience and courage, not only to recover the Gutmann/Goodman family's lost legacy of art treasures, but, equally important, to reestablish its history, which had been deliberately obliterated.
 Simon Goodman, author of The Orpheus Clock: The Search for My Family's Art Treasures Stolen by the Nazis
a Paris Writers News interview
Continue reading "A talk with Simon Goodman, author of The Orpheus Clock" »