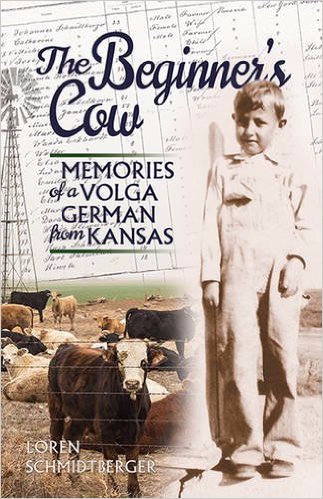 Loren Schmidtberger waited three quarters of a century to tell his stories of rural life in Kansas during the Dust Bowl years.
Now, at the age of 88, Schmidtberger is making his literary debut. Hailed for its "wry humor and gentle grace," his The Beginner's Cow: Memories of a Volga German from Kansas will be published by Truman State University Press in December.
How to write about the past, in particular a now mythical event such as the Dust Bowl? What are the challenges to launching a book project in one's eighties? What is the role of a book group? (And what in the world is a "beginner's cow"?)
A talk with Loren Schmidtberger, Professor Emeritus of English at Saint Peter's University, on leaving a record, humor, grief, American history, and the importance of book groups.
 a Paris Writers News interview
 ____________
Laurel Zuckerman: What inspired you to write this book? Why now?
Loren Schmidtberger: I wanted to leave a record, primarily for my children and grandchildren, of episodes in my life. Since I am retired and have the time and am in reasonably good health, now is the time to do it, I thought. Over time, my view of the record I would leave evolved from the simplest of formats—say, photocopying and stapling bits and pieces together in the comfort of my own study—to become the book it is today.
What is the historical background to these stories? 
The background begins with the mid-18th Century migration of Germans to Russia at the invitation of Empress Catherine the Great. There they formed colonies along the endless steppe along the Volga River. Insulating themselves from Russian influence, these Volga Germans, as they came to be called, continued their German traditions and language for well over a hundred years. Then their relationship with Russia soured, and needing more land anyway for their burgeoning populations, a large number of them migrated to the vast prairies of North and South America between, roughly, 1860 – 1900.
My ancestors were among the emigrants who formed the Volga-German settlements in Ellis County, Kansas, beginning in 1875. This was a period of great geographical expansion in the United States. In essence, the Volga Germans repeated in 19th Century America what they had done in 18th Century Russia:  that is, form largely insular, self-sufficient colonies to farm previously untilled land.
When did you write them and how?
I began writing personal essays as a way of dealing with the unexpected death of my wife of forty-seven years. That was in May 2006, and I took it pretty hard. When I told a grief counselor that I hadn't cried very often before this, she asked if I wanted to talk about one of those earlier times when I had, in fact, shed tears. What surfaced was the time when one of our milk cows, "Old White Face," was sold. A gentle cow and an easy milker, Old White Face was the first cow I milked, and I bawled my heart out when I saw her hauled away to the slaughterhouse.
I wrote up this sad experience and showed my essay to the grief counselor, who encouraged me to continue writing. I heeded her advice but continued to work on some academic writing of the kind I had been modestly successful at in my fifty-one years as a professor. But my enthusiasm for returning to academic writing languished before it ever took hold again.
About a year later, a fellow widower, Robert Harkin, a retired Chief of the New York Fire Department, invited me to join a small group who write for the fun of it. They meet weekly, and from October 2008 on, I have been writing a personal essay a week—well, most weeks—in response to a prompt assigned by the group's leader.
Incidentally, that very first essay (in slightly revised form) appears in the book as the chapter entitled "Old White Face."
Who are you writing for?
I always have the members of my writing group in mind, since I read my essays to them as they were completed and their encouragement and support was instrumental to my continuing. The membership, nine when I joined, was a cross section:  a nutritionist, a firefighter, a construction contractor, two teachers, a secretary, a graphic artist, a professor, a novelist. Death has reduced the number to six.
I usually have other people in mind, too. Almost always my siblings—those still alive at the time—especially since so many of the essays are about them. Less often my children, probably because I sense that for them there may be a somewhat jarring disconnect between my inner revelations and their perception of me.
What was the biggest joy, biggest difficulty you encountered?
My biggest joy came when I saw that my writing group actually enjoyed hearing my stories—no doubt about it.
I suppose that the most memorable moment was reading the e-mail from Truman State University Press saying they wanted to publish my collection. I got the e-mail in the evening of a day that began horribly with the news that the buyer of my house that had been languishing on the market forever, had backed out of the contract.
Where does the title come from? Do "Beginner's Cows" still exist today?
It comes from one of our milk cows, the one my older siblings and I learned to milk on—our Learners' cow, as it were. This cow was an easy milker, a gentle cow, which is why she was assigned, in succession, to the youngest, most recent child in the family to join the milking rotation. Eventually I changed the title to "The Beginner's Cow," a title that casts a broader perspective and connects the many beginnings throughout my life—from learning how to milk a cow to beginning the process of writing these memoirs.
I don't know if there are learners' cows today, though I tend to doubt it. Milking is often done by machines, and to the extent it isn't, I doubt that very young children participate in the milking, which would eliminate the need to single out the gentlest cow for newest recruits to this tedious chore.
Is there a particular challenge in writing about the dust bowl?
Yes, the topic is, well, dry as dust. Hurricanes, earthquakes, tidal waves bespeak forces of elemental grandeur. They take a man's measure, and doing so, they unleash mighty metaphors. But a dust storm? In the annals of human endurance, surviving in the dust bowl just doesn't compare. You have to juice it up a little.
Who are your literary inspirations?
I have been immersed in great writing for much of my life, but I've not had any instruction in how to do great writing myself. One exception:  In high school an English teacher gave me a little book about stylistically imitating Washington Irving. I loved his essays, but I did not follow through by taking his sentences and fitting my own facts into their structures. Is it too late to try, I wonder? I wish I could remember the title of the book or its author. It made me think it would be great to be a writer like Washington Irving, but I never tried to imitate him, or any other writer, for that matter.
In my earlier years, some "inspirations" were Poe, Edgar Rice Burroughs, O. Henry, P. G. Wodehouse, Guy de Maupassant and many others. Today they are Melville, Faulkner (Omigod yes, Faulkner, for his Compson and his Sutpen family tragedies). But I had better discontinue naming great writers for fear that it be thought that I am ranking them.
A work that has been of significant influence on my personal life is Chaucer's "Troilus and Criseyde." An author is Ralph Waldo Emerson.
In evoking the past, the world of 80 or so years ago, is there an image that stands out?
For my first 10 years, 1928 – 1938 the image would be of a dust drift almost obliterating the fence of a corral. But that's way too regional. The Great Depression was just about global, so a picture of hungry people standing in a soup line would do.
Do you think America—Americans—have changed?
Yes. For example, in just a mere decade there has been a sea change regarding the rights of the LGBT community.
Religious hostilities against certain Judeo-Christian communities have toned down. Some would say that's because religious beliefs are not taken seriously enough today to fight about. In any event, anti-Catholicism and anti-Semitism are no longer widely acceptable. But now we have anti-Islamic bigotry, although I think (or hope) that it is less widespread than the bigotries of my youth. In general, there has been a slow but unsteady movement toward recognition of social responsibility. But ask me again after the coming 2016 election.
Has teaching influenced your writing?
I hope it has been a positive influence.
Did you laugh or cry when writing these stories?
I did way more laughing—actually just a chuckle here and there—than crying. I felt a little weepy a time or two, especially when writing about my mother's being yanked out of school, and my Mary's writing of a poem about us in Old English.
Is any particular story your favorite, and if so, why?
Perhaps "Penance on the Prairie," the one in which I want to give up pinochle for Lent. That was an early one, so all my siblings except my sister Jean were still alive, and they really liked it (though my brother Virgil didn't remember the actual event). But he and the others said it represented Daddy and Mom perfectly, especially Daddy. I wasn't aware of it when writing the story, but I think it is a sympathetic presentation of a vainglorious youngster suffering from a bad case of sibling rivalry, who is blessed with wise parents. In telling the story I wasn't trying to make any kind of point. To use a turn of phrase I have come to detest, I was just "telling it like it is."
What advice would you give somebody else in his/her 80's approaching a book project?
Hurry! On a more serious note, every word processing program has a "save" feature somewhere. I recommend that people find that button and press it. Often.
What do you read for pleasure?
Whatever the book clubs I belong to assign. I just finished Dead Wake:  The Last Crossing of the Lusitania, by Erik Larson, and am starting The Paris Architect, by Charles Belfoure. Outside the book clubs, I have finally gotten around to finishing Barack Obama, The Making of the Man, by David Maraniss, which has been parked awhile next to Obama's The Audacity of Hope and Dreams From My Father. I recently read Bob Drinan, The Controversial Life of the First Catholic Priest Elected to Congress, by Raymond A. Schroth, S.J. Last week I finished The Road to Character by David Brooks, the New York Times columnist. When I ordered it, I received, because of an ordering error, Restoring the Shining Waters, Superfund Success at Milltown, Montana by a different David Brooks. Since it dealt with a water conservation project, I kept it and am wading through it a chapter at a time. I have ordered I Was Hitler's Neighbour by Edgar Feuchtwanger.
I no longer try anything of doorstopper length. I look through The Atlantic Monthly, and I sometimes follow recommendations in The New York Review of Books. But I don't even pretend to keep up with the times, and I am not at all embarrassed at how increasingly often I don't catch on to a cartoon in the New Yorker. In truth though, I never was all that interested in keeping au courant.
About Loren Schmidtberger: Born in 1928 and raised on a farm near Victoria, Kansas, Schmidtberger earned his BA from Kansas State University and his PhD from Fordham University. Dr. Schmidtberger taught at Saint Peter's University in New Jersey for fifty-one years, specializing in American literature, especially the works of William Faulkner. He was appointed the Will and Ariel Durant Professor of Humanities in 1991. He is currently Professor Emeritus of English at Saint Peter's University. The Beginner's Cow: Memories of a Volga German from Kansas is his first book.
The Beginner's Cow: Memories of a Volga German from Kansas
Series: American Midwest
Paperback: 200 pages
Publisher: Truman State University Press (December 1, 2016)
Language: English
ISBN-10: 161248168X
ISBN-13: 978-1612481685