After rave reviews for her first novel, An Unexpected Guest, which was set in Paris, the wonderfully talented Anne Korkeakivi is back with Shining Sea, a family saga set in the California and the Hebrides.
 
A talk with Anne Korkeakivi about her new novel Shining Sea, the challenges of second books, family sagas, and personal inspiration.
A Paris Writers News interview with Laurel Zuckerman
__________________
LZ: A lot of writers have trouble with the second book especially when the first book was, like your An Unexpected Guest, a major critical and commercial success. Did you have a lot of trouble?
AK: Thank you for saying such nice things about An Unexpected Guest. The truth is that all new books are a trouble! But I did waste a ridiculous amount of time worrying how to fit the inspiration for Shining Sea into a format that would provide what I imagined might be a suitable follow up. Only when I abandoned that concern and let the novel be what it wanted to be could I really get started.
What inspired you to choose this topic? 
None of the content in Shining Sea is based on anything factual in my life—neither characters nor events—but the inspiration was very personal. After my father, who was a proud WWII veteran of the US Army, died four years ago, I got to thinking about the disparity between his (and my mother's) introduction to and attitude towards armed conflict and my own, as someone who was born in the 1960s and grew up in New York City next door to Columbia University, an epicenter for the anti-Vietnam War protests. A huge gulf existed there—and yet my parents' experiences had to have influenced me; they talked about WWII, often. This knotty issue is at the core of Shining Sea. What are the ripple effects of war among civilians, and especially families? How are experiences of conflict passed down through a family? How do we pull together and pull apart?
How did you deal with the challenge of telling a family saga that takes place over a long period of time?
People seem astonished that I managed to tell a complete family saga—and it's not a small family either—over fifty years in only 288 pages, but I really didn't find this so difficult. I had a clear vision of what I wanted to focus on, what in their story was of importance to the one I wanted to tell, and, as a novelist, I don't feel unduly tempted to include extraneous information. It's possible that my background as a journalist helps me in this but, actually, I saw the book from the start somewhat like a piece of music, symphonic even, with a recurring theme but split into movements. I hope that doesn't sound pretentious, but it's really the best explanation I can give for how the book's shape took form in my head.
How specifically did I deal with the challenge, though? One practical thing I did was to create spreadsheets for every character's age in every chapter of the novel and tape them above my desk. And I cut. Cut, cut, cut. At one point in the process of revision nearly half the manuscript, several minor characters, and one POV went into the bin. That doesn't mean that the novel ever was twice as long. At its most it might have been forty or fifty pages longer than the final product. I chopped and swapped.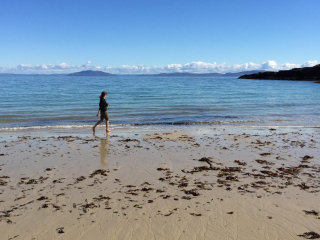 What drives you?  How did you keep your story centered at its heart?
Honestly, it's always the novel that drives me. It's there all the time, in the back of my head, like a parallel universe waiting for me to return. But I do think it is useful for a writer to sit back every once in a while during the process of writing anything, long or short, fiction or nonfiction, and ask: What exactly did I set out to say with this? What really is this about? Am I on track with that?
What for you was the most difficult part to write?
Gosh, that's a difficult question. As mentioned above, I undertook major cutting and revision of the entire manuscript until it became the novel I wanted; I always do. The hardest part to write, though, may have been the opening pages for the simple reason that opening pages have to be so faultless. (In fact, I teach a class on this.) In the case of Shining Sea, the first chapter also required an enormous amount of research--about the Bataan Death March and the plight of American POWs in the Pacific during WWII—although only a few pages in length. And they were very sad. I actually cried as I wrote them. It's no spoiler to say that the novel opens with a death.
At some point in the writing, did the story surprise you? 
You know, I approached the story knowing some specific things I wanted to have happen to some characters. The rest revealed itself to me in the process.
Who are the writers who inspire you the most? What do you learn from them?
There are a few authors whose work I always come back to, and each time I re-read knock my socks off anew—such as early Ishiguro, Chinua Achebe, Willa Cather—but I am uncomfortable with trying to make a narrow list of writers who inspire me or from whom I learn. My feeling is there's something to be learned from everything, even if it's a negative lesson. I find inspiration too from artists in other mediums, such as music and the visual arts with much to be learned about vision, balance, acuity, choice, use of detail, use of shadow, commitment to subject, etc.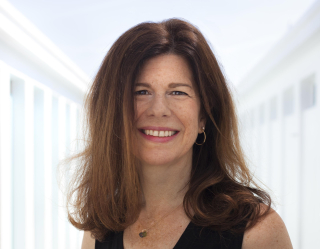 When is your book coming out and what are you going to be doing to get the word out?
Shining Sea comes out on August 9th. Since I've been in Europe while the book is being published in the US, my ability to get the word out is somewhat hamstrung. But I've written some pieces of nonfiction lately, such an op-ed in TIME magazine for its 4th of July issue and a forthcoming essay in The Wall Street Journal about five books related to the theme of "The Long Arm of War," which I hope will pique the interest of some potential readers. And this Q&A! Thanks again for thinking of me.
And, of course, I occasionally share news about the book on Twitter and Facebook, although I do try to exercise restraint with that, and regularly on my author website. I have been sharing pictures of shining seas from my far-flung travels—Scotland, Tanzania, Costa Rica, the south of France, the Balearics, etc.—every Tuesday on Instagram too. I don't know how effective this last is in terms of getting the word out about my Shining Sea, but it's fun! I wish more people would share theirs—I could look at shining seas for hours.
*** 
About Anne Korkeakivi
A native New Yorker, Anne Korkeakivi's fiction has been published in the Atlantic, the Yale Review, Consequence magazine, and the Bellevue LiteraryReview, and she is a Hawthornden Fellow and her nonfiction in the New York Times, the Wall Street Journal, the Times (UK), Travel & Leisure, Time, Ms., The Millions  and Brain, Child, recently chosen for inclusion Best Women's Travel Writing, Vol. 10. Shining  Sea is her second novel. Her debut, An Unexpected Guest, published by Little, Brown in 2012, has been translated into Italian, Serbian and Russian.
***
Shining Sea is available for pre-order at all fine bookstores and online at Amazon and other sites.
For more information about Anne Korkeakivi, you can consult her website or Twitter.
A Book Reading Guide for Shining Sea is available for bookgroups from her publisher Little Brown (see attached PDF)