Erin Byrne writes award-winning travel essays, poetry, fiction and screenplays.
Hannah Seidl sat down with Erin to ask her about travelling, writing and travel writing,
Erin Bryne: a Paris Writers News Author interview
 ___
Hannah Seidl:  You've traveled to many places throughout the U.S. and the world including South America, Morocco, and France.  What is your favorite place and why?
Erin Bryne: I am trying to cultivate an attitude that makes the place I am currently in my favorite place, whether it stretches my comfort zone, fascinates, or baffles me, because I have found that the place that repels me at first often ends up being just as beloved as the place that enchants.
Paris has always beguiled me, whether I'm having a café crème at La Caféothèque, exchanging inspiration with writers upstairs at Shakespeare and Company, doing research on the Parisian Résistance, sharing a bottle of wine on the quai, or meandering in concentric circles near the Luxembourg Gardens.
You're doing a walking tour of Paris with the American Women's Group in June. What places off the beaten path in Paris do you recommend that all tourists see?
Paths in Paris seem to be both unique and beaten somehow; it's part of the enigma of the place, whether it is the footsteps of historical figures, artists, seekers, or contented souls.  The places I love have been well worn by the likes of Sainte Geneviève, Simone de Beauvoir, Robert Doisneau, André Breton and so many others who left their wisdom and insights for us to sense.  I recommend the bridges at twilight, the oldest alleys in the Latin Quarter, Père Lachaise in the rain, and the quirky streets of Montmartre.
On the tour we will pass the last home of sculptress Camille Claudel, apprentice and lover of Auguste Rodin, and learn of her genius, the scandals that swirled around her, and her ultimate tragedy.  We'll travel back in time to 1792 in Cour du Commerce Saint-André, and trace the history of Parisian salons and soirées.. 
What advice would you give to travelers who want to get the most out of their experience in France?
My advice to travelers is the same whether they are going across the globe or to the next town.  Be open—have courage for, as Rilke wrote, "the oddest, the most unexpected, the most inexplicable things that we may encounter." 
Learn as much as you can about France before you go; immerse yourself in Prehistoric France, the Revolutions, wars, reigns and riots, right up through the Belle Epoque to the present.  Practice speaking French, even if yours falters as mine does, and take time to flâneur, to wander.
Explore everything that fascinates you, and meet people who pique your curiosity.  Attend to your own reactions, whether pleasure or disgust, admiration or avoidance, laughter or tears.  As much as you can, refrain from announcing these or setting them in stone because they often change. 
I both use and teach a process I think of as Deep Travel, based on this quote by Joseph Campbell:
The journey is overground incidentally; fundamentally it is inward, into the depths, where obscure resistances are overcome and long lost powers revivified.
Here's how it works:
We travel to a place and are touched by a specific person, image or scene.
After we return home, we continue to revisit the place in memory ... it "haunts" us, it is the precise thing we want to tell people about, and when we do, we attend to the visceral sensations we experienced when we were in the place that still remain with us.
We begin asking: What is the connection between this person, image, or scene and my own past, my loves, my experience, my longings?
We are often resistant to this at first, as travel can bring up our own truths and emotions and histories in a wildly exciting or disturbing way.  Put if we persist and continue seeking links to our own psyches, the result on the page and in life is powerful indeed.
It is utterly astounding to me that when I use this process, connections light up like a power grid.  In France there is a scintillating, scandalous or heartwarming story around every corner—at each café table, underneath every gravestone or statue (even beneath the Paris Opéra), on grand boulevards and in narrow cobbled alleys—stories of courage and betrayal, risk and royalty, despair and joy.  Find the stories that compel you and go deep to find out why.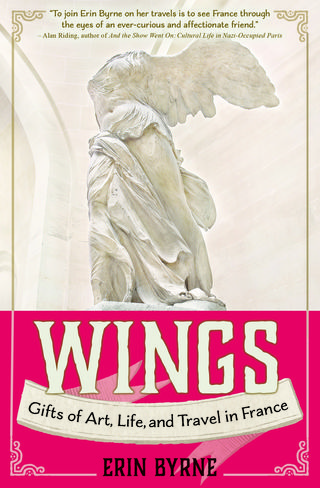 What moved you to write about France in your book 'WINGS: Gifts of Art, Life and Travel in France'?
The astonishing experience of arriving in a place for the first time only to find a pace that matched my pulse, an echo that called up my original self at a time when I did not realize she was buried, a style of communication I'd always engaged in but had seldom been reciprocated, history that infused the present, and the uncanny sense that I "fit" here.  I could hear the click, just as if I were a puzzle piece snapped into place, which is exactly how it felt. 
It was as if I found bits of my fragmented self scattered all over France, but I didn't know they were missing, as might happen with an earring that you thought you were wearing, but suddenly discover in your pocket.  It just happened over and over again and ignited a quest for authenticity, for integration, for wholeness, all of which I found here and brought home with me.
Wings is about how I was changed by traveling around France with the ghosts of artists and other historical figures—and artists and filmmakers and friends—who shared with me their guides to living.  Characters and connections and tastes, secrets and signs that became part of my DNA: Henri Cartier Bresson ignited my intuition, Sainte Geneviève offered me resilience, Montmartre held up a mirror, and Monet taught me how to set audacious goals.
 What are the primary things that have inspired you on your travels in France?
What I was drawn to at the start was history in which the pendulum swung in extreme angles and balance had to be sought again and again; a true reverence for art, literature, music, film ... for creativity; a certain very consistent dignity displayed by the people; parks that invited contemplation, and beauty unlike anything I'd ever imagined.
As I traveled again and again to France, I was inspired by the mystical way my life unfolded when I was there, and the characters who appeared along the way.  Synchronicities multiplied, uncanny similarities were exposed, and many memories tweaked. I could not stop writing about this; it energized my pen.
France essentially taught me how to open up to these mystical influences, and for a long time I attributed all of it to France herself.  But then I came to realize that I could change my approach to people I met every day as I had in the vineyards of Bordeaux, find healing at home as I had in a village in Normandy, and let go of everyday expectations in the way I was forced to while following van Gogh's trail in Arles.  When I learned to cultivate this same openness at home, I truly changed.
 Wings is dedicated to your sister Allison in a very moving dedication: "In memory of my sister, Allison who flutters her angel's wings. Listen." Would you please tell us more about her?
Allison was my childhood other half.  She was four years younger than I, sweet to my feisty, content to my curious, calm to my restless.  Ten years ago, she died of cancer at the age of 42.
I worked on Wings for eight years, with two solid years of editing, and it was not until I held the finished book in my hands and read it through that I realized that writing about all these characters coming to life—especially Winged Victory, whom I actually called a "sister in a statue"—was really my attempt to bring Allison back.  I knew her as a human being on this earth, so I didn't desire a spiritual presence, but my real flesh-and-blood sister in her sleeveless navy shirt and white keds, and in the book these characters who I call my 'magical guides' actually do what I wished she would do: come to life in a variety of astonishing ways.  I had not seen this the entire time I was writing and editing the book.
I originally wrote that dedication just wishing for a sign or sound from Allison. In the last essay in Wings, Winged Victory rustles her wings and speaks and moves.  In a way I can never explain, it was through writing the book that I truly accepted her death. The very moment I finished reading the last page, I both realized she was gone and heard Allison's angel's wings flutter; it was a bittersweet victory.
 With the anniversary of D-Day and the Liberation of Paris coming up soon, can you please tell me a little about your short film "The Storykeeper"?
René Psarolis was seven years old in occupied Paris when a USAF B17G was hit in the sky and crashed in his neighborhood.  There were three dead bodies in the plane, and as he grew up, René's curiosity about what happened to the crew members led him to spend years piecing together their stories.  Decades later, he brought two survivors back to Paris for healing and closure, and had plaques put up all over Paris for the fallen, whose family members he also invited.  René won the U.S. medal for Veterans of Foreign Wars, but this is the first time his story has been told.
Filmmaker Rogier Van Beeck Calkoen and I made the film to honor the way René collected and then offered the synchronistic and courageous stories he collected.  It had a successful festival run and continues to be shown at venues throughout the world. 
Rogier has made the film available on YouTube for the duration of my book launch - you can find it under Erin Byrne Wings, along with three short films we shot last fall in Paris.
 What are you currently working on?
I'm traveling around with Wings, which is such an amazing opportunity to meet people and discuss these deeper travel themes as well as sharing an affinity for France.
I've just finished two books which will come out in August, which are part of a series of destination-specific anthologies I edit. Vignettes & Postcards From Morocco, which contains stories and poems by Suzanna Clarke, Michael Chabon, Phil Cousineau, and an amazing group of international writers —tales that truly celebrate the traditions and culture and bright beauty of Morocco; and a new edition of the original Vignettes & Postcards: Writings from the Evening Writing Workshop at Shakespeare and Company Bookstore, Paris, Fall 2011, which is a collection of stories by the brilliant writers who gather there that Anna Pook and I put together after one of my workshops.  Vignettes & Postcards From Paris  has additional stories and poems by Don George, Billy Collins, Marcia DeSanctis and other writers from France and many places around the globe.  We will launch both books together in the Bay Area in August and in Morocco and Paris in March, 2017.
I am editing my screenplay for the short film, Siesta, with Rogier Van Beeck Calkoen, which we plan to film in Spain, and working on The Red Notebook, a novel based on The Storykeeper.
 What books currently are on your bedside table?
The Dream Lover by Elizabeth Berg, a novel about George Sand, The Queen of the Night by Alexander Chee, about the Paris Opera, and in preparation for a trip to Ireland this summer, The Princes of Ireland by Edward Rutherfurd and Anam Cara by John O'Donohue.
 Where are your travels taking you next?
After events in Paris in June, I'll be going to the Côte d'Azur and then a family holiday in London and Ireland, and back to Sausalito with my usual frequent hops to the Seattle area.  In the fall, I'll be taking my "triplet books" to Oregon, Los Angeles, New York and the East Coast, and in March, a storytelling summit in Fez and back to Paris with a troupe of sizzling writers.
 ***
About the author: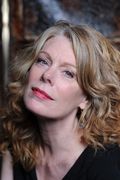 Erin Byrne writes travel essays, poetry, fiction and screenplays. Her work has won numerous awards including three Grand Prize Solas Awards for Travel Story of the Year, the Reader's Favorite Award, Foreword Reviews Book of the Year Finalist, and an Accolade Award for film. Erin is author of Wings ­ Gifts of Art, Life, and Travel in France(Travelers' Tales, 2016), winner of the Paris Book Festival Award for travel genre, editor of Vignettes & Postcards From Paris and Vignettes & Postcards From Morocco (Reputation Books, 2016), and writer of The Storykeeper film. Erin is occasional guest instructor at Shakespeare and Company Bookstore in Paris and teaches on Deep Travel trips. Her screenplay, Siesta, is in pre­production in Spain, and she is working on the novel, The Red Notebook. Erin will be presenting Wings at Shakespeare & Co. on Thursday 16th June and doing a Wings tour of Paris for AWG members and guests on Thursday 9th June.
More information at www.e­byrne.com.
Hannah Marie Seidl is an American expat living in Paris since 2000.  The former marketing and events manager at WHSmith Paris, Hannah is currently working in public relations for the Louvre and on freelance communication and events projects.