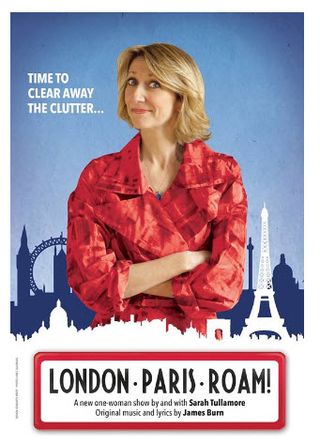 Sarah Tullamore's one-woman musical show premieres at the Paris Fringe May 24 and 29.  
_____
One globetrotting gal bares all about her life as she ponders whether to say goodbye to Paris in a brand new one-woman musical show "London – Paris – Roam !" that combines comedy, existential musings with the audience and original songs. Taking center stage is Sarah Tullamore, who's lived all over the world…and now France. But is it time, she wonders out loud, for her to pack her bags again and say Au Revoir to Paris for something new?
An interview with musical theatre writer and performer Sarah Tullamore by Paul Cassange.
Paul Cassange: Your one-woman musical show premieres at the Paris Fringe this month before you take the show to the Edinburgh Fringe Festival in August. Tell us a bit more about the show.
Sarah Tullamore: "London – Paris – Roam !" is my brand new one-woman musical show which I've co-written with wonderful original music by James Burn, following an original workshop exploration with Russell Lucas in London. The show is directed by Frédéric Baptiste (resident director of Sam Mendes' French adaptation of Cabaret at the Folies Bergère in Paris) and I'm accompanied on the piano by the amazing John Florencio. The show mixes original music with real-life experiences and questions we can all relate to…. It's the story of a "woman of a certain age" trying to find her way and where she belongs in the world...a story that should resonate with people of all ages and backgrounds. And, of course, there are lots of laughs! The show plays at the theatre Les Feux de la Rampe, as part of the Paris Fringe Festival, on Tuesday, May 24 at 8pm and Sunday, May 29 at 4pm. And I'm excited that the show has been selected to run at the Edinburgh Fringe Festival for a total of 20 performances in August 2016.
PC: The show sounds fun. How did you develop the story idea?
ST: I'd love to say I followed a precise process but it was very organic. As if meant to be. I knew it would be about taking stock of one's life and living in (and maybe leaving) Paris. With humour, emotion and sincerity. I also wanted the music to be original. My meeting with composer James Burn was crucial. We were immediately on the same wavelength and he helped me develop my mad thoughts and ideas into the songs and script that are the show today. And the rest is history!
PC:  Tell us more about the Paris Fringe theatre festival. I understand you'll be in another show that's part of the program.
ST: The inaugural Paris Fringe festival is being brought to life by a group of Paris-based international theatre-makers. There's a wonderful article by Bonjour Paris which gives a flavor of what the festival is all about. The event is bringing together 20 participating international companies and performers, and it's unique for Paris as all the shows are in English. It's an honor to perform in two of the shows that were selected by the organizers from over 100 applications. In addition to my one-woman musical show, I'm thrilled to be part of the cast of the musical "Seasons", written and composed by Elaine Pechacek and Katie Hammond. The Paris Fringe production, directed by Julia Ledl and co-produced by Squeaky Wheel Theatre Project and Broadway au Carré, plays on Wednesday May 25 and Thursday May 26 at 8pm.   
About

Sarah Tullamore is a Paris and London-based musical theatre writer and performer who has appeared in shows such as "Sister Act", "La Vie Parisienne" and "Singing in the Rain". She is the co-writer of two musical shows "Estelle Bright" and "Paris – London – Roam !"
Paul Cassange is a Paris-based contributor covering film, theatre and performing arts for Paris Writers News.
Click here to learn more about the Paris Fringe, a festival of international theatre in English - May 23-29, 2016.
More Paris Writers News Interviews
@pariswriters