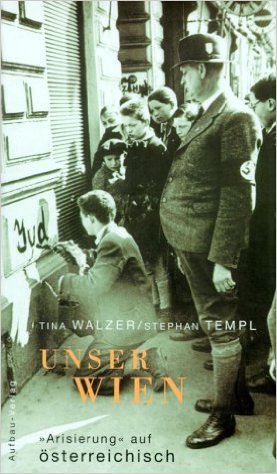 In 2001, Stephan Templ and Tina Walzer published in German a book entitled Our Vienna, which offered, for the first time, an inventory of businesses and landmarks and other property stolen from Viennese Jews after the Anschluss with Germany in 1938. After filing a claim for his mother, Templ was sentenced to jail on charges that have been described as "Kafkaesque", prompting 75 Holocaust scholars to request that the President of Austria intervene. In attacking Templ, Austria appears to be punishing Templ for his book and attempting to intimidate claimants as well as historians. Background:
Our Vienna:  
"the truth about our Vienna is that all the biggest attractions in Vienna were looted from the Jews.'' - Stephan Templ, quoted in The New York Times in "Vienna Skewered as a Nazi-Era Pillager of Its Jews"  by  Steven Erlanger
"The book provides a bizarre walking guide to one of Europe's great cities. The Bristol and Imperial Hotels, two of Vienna's proudest, were partly owned before the war by a Jew, Samuel Schallinger, who died in 1942 at the Theresienstadt camp near Prague. The Cafe Bräunerhof, known before 1938 as the Sans Souci, was among the many cafes that were Aryanized, as was the famous restaurant Zu Den Drei Husaren.

The Ferris wheel and cafe on the Prater were owned by a Jew, Eduard Steiner, who was murdered at Auschwitz."
I first learned of the book in 2005 when I was in Vienna, trying to research what had happened to the Viennese branch of our family,  and a helpful archivist told me about Unser Wien. I couldn't find Unser Wien anywhere in Vienna, but in searching for it I found Steven Erlanger's eye-opening NYT article which I immediately sent to my family.  Today the book is out of print (amazing in the time of POD) and the few remaining copies can be hard to obtain and expensive. But I have a copy, thanks to Amazon.  (I hope this important book will one day be translated into English and distributed as an ebook everywhere.)
For me, personally, Unser Wien was a crucial book, and the articles written about it by Steven Erlanger in the NYT , Adam LeBor in The Times ("Shards of Kristallnacht still cut deep") and Kate Connolly in The Guardian helped me to get over my incredulity at what I was finding in my own research. 
But the Austrians were not pleased to have light shed on their history. The authors of the book were harassed.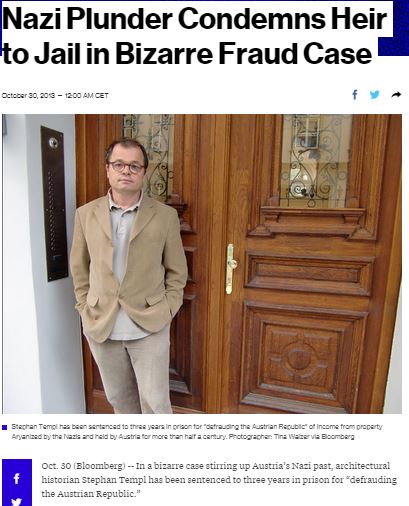 In fall of 2013, the Austrians arrested Templ. 
The charge? "Fraud" -  for helping his mother, a Holocaust survivor, to file a claim - because the claim had not mentioned her sister, from whom she was estranged.
That there were 39 heirs, but that Templ was the only one charged, did not bother the Austrian judge at all. Nor did the strangeness of attacking a claimant for filing a claim for the return of stolen property. Nor did the idea that plundered Jewish victims owed the Austrian state money.
As Peter S Green  pointed out in  Bloomberg,   "Nazi Plunder Condemns Heir to Jail in Bizarre Fraud Case" 
"The conviction, which is being appealed, has perplexed observers while shedding fresh light on Austria's uneasy efforts to face its Nazi past.
Three years ago, a state panel returned the sanatorium to 39 heirs of Lothar Furth.

Furth and his wife had been forced to clean the sidewalk in front of the clinic, according to official records. The couple stole back into the operating room and injected themselves with poison. "We have had enough," Dr. Furth wrote in a suicide note.

The Furths died childless. After the war's end, Austria's minimal restitution laws prevented their heirs from reclaiming the building. (Curiously, in August 2000, just months before the restitution treaty was signed, Austria's ministry of Economy advertised the sanatorium for sale in Vienna's Standard newspaper.)
Many observers wondered whether that the bizarre charges had been brought against Templ as payback.
"Templ, 53, has been an outspoken critic of Austria's poor post-war record of returning Aryanized properties to their rightful Jewish owners," Green pointed out.
 William D Cohan followed up  in ARTNEWS with a detailed article entitled:  JUSTICE AUSTRIAN STYLE:  An investigator into Austria's Nazi-era crimes faces a "completely absurd" indictment.

Cohan called the three year prison sentence "Kafkaesque" and showed why. 
Templ filed a claim on behalf of his mother, Helene, a descendant of the Furths' grandparents. In 2010, the sanatorium was returned to 39 heirs of Lothar Furth. Together, they agreed to sell the building to developers, who are in the process of turning the property into upscale condominiums. Templ's mother, herself a Holocaust survivor, received €1.1 million (about $1.5 million) for her share of the building. Templ filed his mother's claim himself, without using an attorney. He says that he may have offended some local lawyers who were representing other heirs by depriving them of a fee.

That's when things took a turn toward the absurd. In 2011, a notary at the Hoerner Bank contacted Elisabeth Kretschmer, Templ's aunt, whom he and his mother had not spoken to in some 30 years, and informed her that she had missed out on her share of the sale proceeds because, although she was a descendant of the Furths, she had not filed a claim.

Kretschmer, now 84, then complained to Kurt Hankiewicz, a Viennese prosecutor, that she had been misled. Incredibly, Hankiewicz indicted Templ on the charge that because he had not listed his estranged aunt as a potential heir of the Furths when he made the claim on behalf of his mother, he had somehow defrauded the Austrian Republic—because Kretschmer might have given up her inheritance to the state.

Adding to the absurdity of the situation, according to Templ, Kretschmer told the Austrian court that she would never have renounced her share of the proceeds—had she known about the restitution and filed a claim in time—but would have kept the much-needed funds for herself.
The Austrian judge maintained that had Templ's aunt filed a claim, she might have donated her share to the Austrian state, which (according to the judge) meant that Austria had been defrauded. 
But judge Sonja Weis asserted that Templ, nevertheless, should have included his aunt on his mother's claim. Templ countered that his only obligation was to list his mother's claim and noted that none of the other 38 beneficiaries of the restitution had listed his aunt as an heir either. None of them have been prosecuted.

"That is completely absurd," Templ said in a recent interview. His aunt "was asked, in the courtroom, if she would've left it to the Republic of Austria. She said, 'Never. I immediately would have filed a claim if I would have wanted it.' I mean, that's completely absurd, the whole thing.
 But in justice Austrian style, none of this mattered. Not the facts, not logic, not even the law. 
Eva Blimlinger, who led the Austrian Historical Commission's search for Aryanized property, said, "Nobody can understand it, but when you isolate the case, it's clear that the whole thing is stupid. Nowhere is it written that it is obligatory to list other heirs. So that's the part that is the duty of the General Settlement Fund to look up and see if there are other heirs. It's not the duty of Stephan Templ or his mother."
Templ filed an appeal, which the Austrian court rejected.
This is the context for the letter sent yesterday by 75 Holocaust scholars to Austria's ambassador in the USA.
In the letter, republished today in  The Algemeiner, the scholars ask that Austrian president Heinz Fischer "reconsider his rejection of Mr. Templ's appeal against his prison sentence".
 "The Austrian government's decision to intervene by prosecuting and jailing Mr. Templ will be seen as an extreme overreaction to Mr. Templ's important book, Our Vienna: Aryanization Austrian-Style, which criticized Austria's policy concerning the restitution of Jewish property."

 
Here is the complete letter: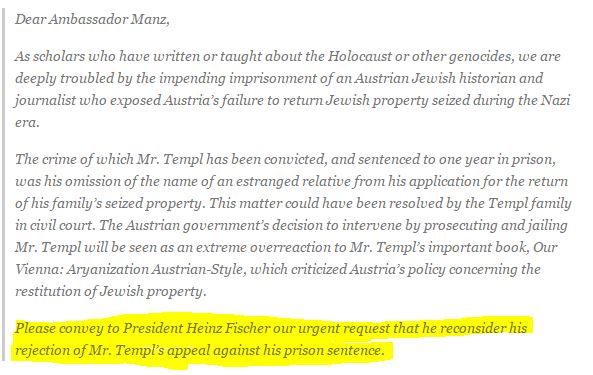 That this scandal has lasted as long as it has already is incredible. That the Austrian press (except for The Local) remained silent for so long is another blot on an already disastrous record. The few articles that do appear misrepresent the case entirely, leaving out all the key elements. 
This is, it should be noted, not the first time a European country has abused its justice system in order to intimidate heirs and those who represent them. But this is, it should be pointed out, 2015. 
 ---
For more on Austria and its treatment of claims for restitution by Holocaust victims, see the PWN interview with Anne-Marie O'Connor on her book: The Lady in Gold: The Extraordinary Tale of Gustav Klimt's Masterpiece, Portrait of Adele Bloch-Bauer