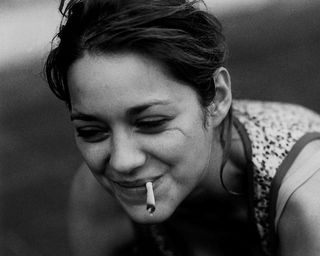 Lung cancer rates follow smoking rates as the night follows the day, so here's a question:
Why, in the world's best health care system, is virtually nothing being done to stop teenage girls from smoking in France?
***
Bookstores overflow with books extolling the virtues of French women - they don't get fat, they don't sleep alone, they don't age, etc . And yet, in one area, French women are doing, simply put, a terrible job. Saving their daughters from smoking.
Approach any French lycée - rich, poor, Parisian, provincial - and you will see young girls smoking. Even more remarkable, you will see the French female role models around them also smoking.
It's as if hundreds of years of research never happened. As if internal tobacco company documents cackling about how they deep-sixed proof of smoking's link to lung cancer, lobbied congressmen and regulators and bought scientists and doctors, had never been revealed in public congressional hearings. 
When it comes to smoking in France, teenage age girls are partying like it's 1959. 
Which is strange, because the anti-smoking laws introduced in France starting in the 1990s (loi Evin) have worked better than anyone could possibly imagined.
The good news is that lung cancer deaths among French men are decreasing.
The bad news is that lung cancer deaths among French women are exploding.
***

Lung cancer is the number one cause of death in France.
According to "Les Cancers en France en 2014", the number of cases has increased SEVEN-fold in the past thirty years. Smoking is the leading cause of lung cancer. 
In 2012 in France, 39,495 NEW cases were diagnosed. 29,949 people DIED of lung cancer, including  28,211 men and 8623 women. The average age of diagnosis is 66 years old, reflecting a time lag of several decades. The people dying of lung cancer today are those who started smoking 50 years ago. Which is why the dramatic increase in smoking in young French women today is so important.
It's a  time bomb. 
This year, 2015, for the first time in France, lung cancer is expected to surpass breast cancer as the leading cause of death for women (Le Figaro Santé 2015). 
We all know women (plurel) who have died of breast cancer. The future is coming when we will all know women who have died of lung cancer.
And yet there they are. Our beautiful young girls in front of every lycée (and not a few collèges) lighting up! 
***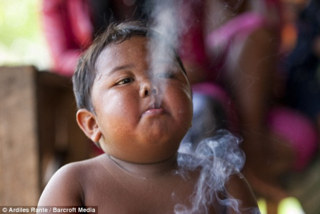 So don't get smug when you see that two-year-old Indonesian smoking baby - the result of Philip Morris' laser-like focus on selling its tobacco to developing nations.  (For a look at how far these bastards will go to make a buck, watch John Oliver on Philip Morris' lawsuits against countries that tried to implement public health warnings or restrictions on the sale of cigarette).
France is not a developing nation. It has a top ranked health care system, superb infrastracture, fabulous wealth and education. And yet, it is doing a perfectly shameful job of protecting its own young - in particular its young women - from the world's most lethal lifestyle cancer.
 Incredibly, cigarette and tobacco sales are increasing in France and the French government is happy to take its cut. France collected 14 BILLION euros in taxes on cigarettes and tobacco.
A further 6.6 BILLION euros in cost savings is attributed to benefits not paid out due the early mortality of smokers.
***
see also:
* Trends in Tobacco-Attributed Mortality in France: - The European Journal of Public Health 2015
 * World Health Organization Cancer Fact Sheet - Feb 2015
* http://sante.lefigaro.fr/actualite/2015/01/27/23306-2015-cancer-poumon-va-tuer-plus-femmes-que-cancer-sein
* Qui fume en France? "La France compte près de 16 millions de fumeurs. Un tiers des personnes de 15 à 85 ans (32 %) fume ne serait-ce que de temps en temps (36% des hommes et 28% des femmes). Entre 18 et 34 ans, près d'une personne sur deux fume. Le tabagisme concerne déjà un jeune de 15 à 19 ans sur trois (32 %). Sa prévalence atteint un maximum de 46 % chez les femmes de 20-25 ans et 55 % chez les hommes de 26-34 ans....Dans la population masculine, la proportion de fumeurs réguliers a baissé depuis les années 60, passant de 57% à 32% aujourd'hui, même si la tendance est à la stabilité entre 2005 et 2010. En revanche, dans la population féminine, la proportion de fumeuses régulières a augmenté sur le long terme, passant de 10 à 26% aujourd'hui, avec une reprise particulièrement importante entre 2005 et 2010 après une période de stabilité, voire de baisse depuis les années 1990. La différence de comportement vis-à-vis du tabac entre les hommes et les femmes s'est donc fortement atténuée. Parmi les adolescents, le tabagisme est aujourd'hui au moins aussi répandu chez les filles que chez les garçons." - tabac-info-service
* (in response to reader requests: CDC official stats on smoking in the USA broken down by race, age, sex, education
On the history of cancer, and the struggle to combat it, I highly recommend the Pulitzer-prize winning non-fiction book The Emperor of All Maladies, by Siddhartha Mukherjee 
*** 
nb: This article, about the explosive rise of avoidable  lung cancer deaths in French women, just may be the most unpopular blog post I've ever written. At least if comments on Reddit France are anthing to go by. 
A sampling: