Following the lead of Francine Prose, Michael Ondaatje, Peter Carey and Teju Cole, the 145 writers below signed a letter protesting the PEN award for "courage and freedom of expression" to Charlie Hebdo, the French satirical magazine whose staff was massacred by Islamists in Paris in January.
We "don't believe in censoring expression" they write, BUT  we are against "rewarding" "expression that violates the acceptable".  
Violates the acceptable? What can this possibly mean? In this exclusive interview, the Letter explains itself.
Q&A with a Letter 
a Paris Writers News interview
___
PWN: What do you mean by "expression that violates the acceptable"?
Letter: It is expression that might offend someone who we consider to be "marginalized, embattled and victimized".
"'Marginalized, embattled and victimized?' Sounds like you're talking about the French cartoonists who were murdered by Islamists.  Being dead - that's pretty f-ing victimized, isn't it?
 No, that's not it.  According to our high-minded 145 writers, the victimized are "a population that is shaped by the legacy of France's various colonial enterprises, and that contains a large percentage of devout Muslims, Charlie Hebdo's cartoons of the Prophet must be seen as being intended to cause further humiliation and suffering."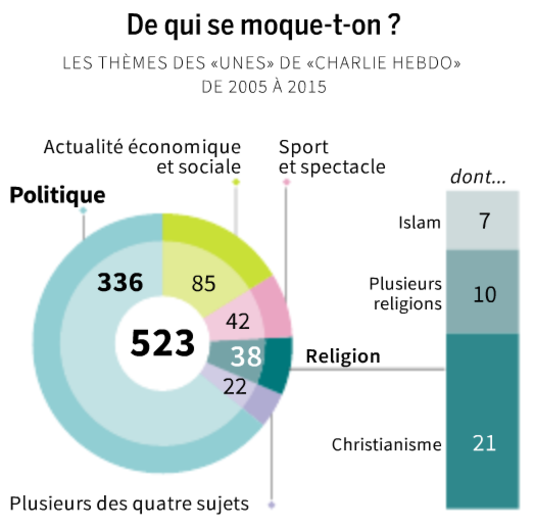 But wait! Even the most ignorant have heard by now that Charlie Hebdo was a practitioner of ""equal opportunity offense", right? That they were even more offensive, if possible, to the Pope. (Just spend a couple minutes with devout French Catholics and you'll know what I mean.)
Yes, but that is no excuse. Because (as Orwell could not have said better himself) "in an unequal society, equal opportunity offence does not have an equal effect".
Well obviously. Some people get murdered for joking around. But that's not what your 145 meant.
No. They meant: Some targets of mockery are  OFF LIMITS!
Off limits? But why? What's wrong with satirizing religious fundamentalism as intolerant and violent? (the cartoonists' murder kind of proved their point, non?) 
Because:  "Power and prestige are elements that must be recognized in considering almost any form of discourse, including satire."
Really? But what about people with guns who scare the crap out of people with pens? Don't they have power?...
Nuh Uh.  In the correct version, they can only be "victimized". 
Tell me, what is one supposed to do with the inconvenient fact that the murderers, not just in the Charlie Hebdo massacre but in the Vincennes, Toulouse, Copenhagen and many other murders, all came from this population which, according to the 145, is "victimized"? Are we not allowed to say that either?
"Our concern," say the correct-thinking 145,  "is that, by bestowing the Toni and James C. Goodale Freedom of Expression Courage Award on Charlie Hebdo, PEN is not simply conveying support for freedom of expression, but also valorizing selectively offensive material: material that intensifies the anti-Islamic, anti-Maghreb, anti-Arab sentiments already prevalent in the Western world."
So the 145 are not really upset about offending the religious? They're worried about fanning anti-Arab sentiments in the Western world? 
That's what the 145 says in their letter. 
Well I got news for you: it wasn't the cartoons that did it. It was the F-ing murder of the cartoonists! A lot of people think that's unacceptable!
Well if the cartoonists hadn't been offending people with guns they wouldn't have been murdered in the first place! 
Isn't that the reason for the PEN Award? That they had the courage to publish even though they knew they were threatened by people with guns? 
Sure, maybe, but our irreproachable 145 point out they were the wrong people with guns. It should have been the Far Right that murdered the cartoonists. THAT would have been a good story. One we could get behind.  But this? This is just...inconvenient.
So: Charlie Hebdo's unforgivable crime was getting murdered by Islamists? 
Absolutely! Read the Guardian article by Francine Prose. She explains it really well. It is "the narrative" of their murder that is offensive. 
"The narrative of the Charlie Hebdo murders – white Europeans killed in their offices by Muslim extremists – is one that feeds neatly into the cultural prejudices"
Let me get this right - it is the narrative of the murders that is the problem? Not the murders?
Yes! The 145 are writers. They care about narrative.
So the 145 writers below have taken a stand - not for freedom of expression, not for courage in the face of death threats, not for solidarity with our fellows who have been murdered - but for the concept of the right "narrative"?
Yeah!  Francine was very clear about the cause for her protest. 
Theoretical question. What happens to the narrative if the writers murdered by Islamists are not western?
You mean like Bangladeshi bloggers hacked to death for being secular? Or Pakistani, Saudi, Egyptian or Turkish writers killed or threatened with death for "blasphemy"? Or satirists who go into exile out of fear? Or little girls who...
Yeah, for example
That's not on the list. The 145, you know, they live mostly in America. They know what they know.
More...
For writers who actually care to know what Charlie Hebdo mocked, see the Le Monde article: Non, Charlie Hebdo n'est pas obsédé par Islam - (in French)
For writers interested in learning about Charlie Hebdo's constant engagement against racism, here's the head of SOS Racism's ardent defense of Charlie Hebdo and his outrage at those who falsely accuse Charlie Hebdo of racism.
For a rational discussion of freedom of speech, see Adam Gopnik's excellent essay in the New Yorker : PEN Has Every Right To Honor Charlie Hebdo)
For more on Francine Prose see informative The Nation article by Katha Pollit: Charlie Hebdo Deserves Its Award For Courage In Free Expression. Here's Why.
For an outstanding analysis of the "myths" (nice word for lies) surrounding Charlie Hebdo and a much needed expose of the hatchet job the Francine Prose and Garry Trudeau perpetrate against the dead cartoonists (and the facts), see Jeffrey Goldberg's piece in The Atlantic Monthly, on The Dangerous Myths Surrounding Charlie Hebdo.
For historical perspective, see Amanda Foreman's fascinating account of a similar episode in 1933, Charlie Hebdo and a Rubican Moment for Free Speech in the Wall Street Journal
List of writers who signed the Letter against recognizing the courage of Charlie Hebdo.
 Chris Abani
 Leslie Absher
Elizabeth Adams
Gabeba Baderoon
Deborah Baker
Russell Banks
Susan Bell
Naomi Benaron
Helen Benedict
Cara Benson
Charles Ramírez Berg
Susan Bernofksy
Eric Bogosian
Donald Breckenridge
Ami Sands Brodoff
Karen Brown Brooks
Janet Burroway
Helene Cardona
Peter Carey
Bryn Chancellor
Carmela Ciuraru
Patricia Clark
Tony Cohan
Teju Cole
Michael Cunningham
Emily M. Danforth
Tod Davies
Siddhartha Deb
Junot Díaz
Erin Edmison
Brent Hayes Edwards
Brian T. Edwards
Deborah Eisenberg
Hedi El Kholti
Trey Ellis
Eve Ensler
Elizabeth Enslin
Barbara Epler
Jennifer Cody Epstein
Ali Eteraz
Percival Everett
Marlon L. Fick
Boris Fishman
Stona Fitch
Peter H. Fogtdal
Seánan Forbes
Ashley Ford
Linda Nemec Foster
Lauren Francis-Sharma
Ru Freeman
Nell Freudenberger
Molly Friedrich
Joshua Furst
Gretchen Gerzina
Keith Gessen
Francisco Goldman
Conner Habib
Jessica Hagedorn
Katheryn Harrison
Jonathan T. Hine Jr.
Edward Hoagland
Laura Hoffmann
Nancy Horan
Marya Hornbacher
Sandra Hunter
Megan Hustad
Randa Jarrar
T. Geronimo Johnson
John Keahey
Uzma Aslam Khan
Dave King
Gilbert King
Robert Spencer Knotts
Ruth Ellen Kocher
Nancy Kricorian
Amitava Kumar
Rachel Kushner
Amy Lawless
Zachary Lazar
Jonathan Lee
Katherine Leiner
Ted Lewin
Ed Lin
Michael Lindgren
Julie Livingston
Craig Lucas
Ann Malaspina
Charlotte Mandell
C. M. Mayo
Patrick McGrath
Clarissa McNair
Deena Metzger
Thais Miller
Kyle Minor
Rick Moody
Skye Moody
Lorrie Moore
Dolan Morgan
James McGrath Morris
Idra Novey
Stephen O'Connor
Joyce Carol Oates
Peter Orner
Michael Ondaatje
Raj Patel
Chris Pavone
Francine Prose
Marcus Rediker
Adam Rex
Clay Risen
Roxana Robinson
David Roediger
Paul Rome
Mark Rotella
Gina Ruiz
Steven Schroeder
Sarah Schulman
Taiye Selasi
Danzy Senna
Kamila Shamsie
Jeff Sharlet
Wallace Shawn
Matthew Shenoda
Nancy Shiffrin
Russell Shorto
Charles Simic
Tom Sleigh
Holly Goldberg Sloan
Alexis M. Smith
Jill Smolowe
Linda Spalding
Scott Spencer
Emily Gray Tedrowe
Roy A. Teel Jr.
Michael Thomas
Ted Thompson
Kathleen Tolan
Joanne Turnbull
Chase Twichell
Padma Venkatraman
Jasmine Dreame Wagner
Eliot Weinberger
Jon Wiener
G. K. Wuori
Dave Zirin