The award-winning Australian novelist Peter Carey used his literary fame and influence to denounce Pen American's decision to honor Charlie Hebdo cartoonists and writers who were murdered by Islamists in the heart of Paris.
Citing "PEN's seeming blindness to the cultural arrogance of the French",  Carey encouraged other writers to condemn the award for the French satirists.
Paris Writers News would like to ask Peter Carey some questions
 1. Peter Carey, when did you discover Charlie Hebdo for the first time? What impressed you the most? The French puns? The sly references to developments in French politics and society? The quality of the French language? The writing and analysis? The wild leftist views? The bathroom humor? Or just the pictures.... If you heard of Charlie Hebdo for the first time only recently and have never actually read it (it's in French!), what made you so sure you it deserved condemnation? 
2. In your statement quoted by the NYT, you - Peter Carey - seem to imply that French writers assassinated by violent Islamic jihadis are somehow in the wrong because of what you call France's "cultural arrogance". While it is true that France, (like Holland, Denmark, England, Belgium and Spain  - all of which have suffered attacks by Islamists), is struggling to integrate its Muslim population, why should this lessen our appreciation for Charlie Hebdo's courage in the face of death threats? Or do you actually mean to declare open season on writers - if murdered by Islamists? Please explain.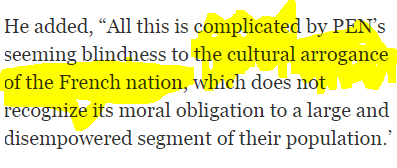 3. Did you - Peter Carey -  fact check before launching a campaign to disavow and smear  the murdered French satirists? Do you agree with the attacks (in print)  of your co-condemners? "Racism" (Francine Prose; Teju Cole), "cultural intolerance", "a forced secular view" (Kushner), "hate speech" (Garry Trudeau), "Islamophobic provocations" (Teju Cole)...
 4. Peter Carey, does it bother you at all that these accusations were false ?  That French anti-racism leaders publicly acclaimed Charlie Hebdo for its contributions to the fight against racism? Or that you slandered the dead who cannot answer?  Or that you gave cover to violent Islamists by equating the mocking of a murderous ideology with an attack on all Muslims? Or do you  consider, along with Francine Prose, that it is an unpardonable "faute de goût" (look it up) to be killed by Islamists, since it is the wrong "narrative".

5. Of the dozens of writers, bloggers, cartoonists, intellectuals and women's rights activists who have been shot or hacked to death or beheaded or who find themselves on the death lists of Islamists, which ones do you- Peter Carey - consider  to have political positions you hold? 

6. Peter Carey, what is your definition of cultural arrogance?
 ---
if you want to read The Letter 
Paris Writers News interview with  The Letter writers signed
 more Paris Writers News interviews
follow on Twitter @pariswriters