Where else in Paris can you listen to an intimate conversation, in English and in French, with Dave Eggers, the brilliant and generous editor, publisher, activist, educator, and author of such works as What is the What, Zeitoun, The Circle, Hologram for a King (recently translated into French) and, of course A Heartbreaking Work of Staggering Genius?
Paris Writers know, of course, of the American Library in Paris, Shakespeares, the Irish Cultural Center, Carrs, the Abbey Bookshop, WICE, the Mona Bismarck and many other outstanding venues. But the Maison de la Poésie is, despite its excellence and fame within the French writers community, much less well known among English-speaking writers.
It is a place to discover.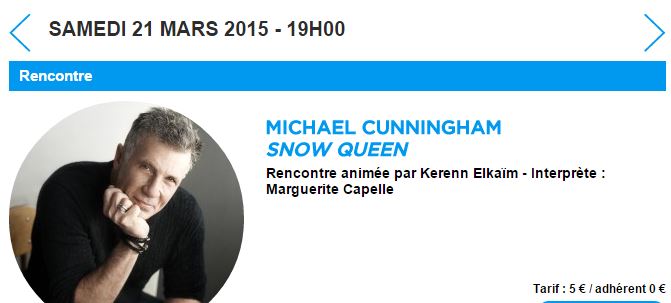 After Dave Eggers, (wonderfully interviewed by Flore Vasseur and with outstanding translation by Marguerite Capelle), tonight the Maison de la Poésie will welcome Michael Cunningham, the author of the beautiful The Hours and The Snow Queen, which has recently been translated into French.
It promises to be another outstanding event.
Personally, I took out a membership (a very reasonable 20 euros) and plan to attend every event I can.
Adding to the pleasure, wine is for sale by the glass in the foyer, and the seats of the auditorium are comfortable.  
Maison de la Poésie
Passage Molière
157, rue Saint-Martin - 75003 Paris
M° Rambuteau - RER Les Halles


Infos et réservations
tél : 01 44 54 53 00
du mardi au samedi de 15h à 18h

accueil@maisondelapoesieparis.com