In these dark times, a big thanks to Nationwide for inviting us to laugh at their dreadful Superbowl ad.
Apparently Nationwide execs  thought that showing a cute kid listing all the fun things he'd never be able to do because he was DEAD would get Superbowl fans to buy their insurance.
(Turned out they were wrong.)
According to experts, grieving parents and family, who had expected a fun day eating fifteen layer dip, were especially unappreciative to be reminded of their loss while gathered to cheer their team.
It is in times like these that the Twitterverse proves its worth.
Here are a few of the most popular tweets: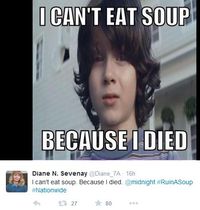 Many variations on things the poor boy is sad about not being able to do because he's dead.

 At one point in the ad, we see a fallen flat screen TV...

Some sports and murder jokes...

Uh oh, serious anger and a call for boycott. (Parents are touchy about their kids being forced to see their deaths).
 Also, having their fun spoiled... (953 retweets!)

Some practical ideas too!

 Management forecast...


 The dead Nationwide Boy even has his own account - with 445 retweets for his regret at missing the halftime show - again, because he's DEAD...

A little ghoulish profit mongering from a comedian who jokes about making some bucks from a falling TV or open cabinet


Why this one got 445 retweets I can't imagine - but it did...