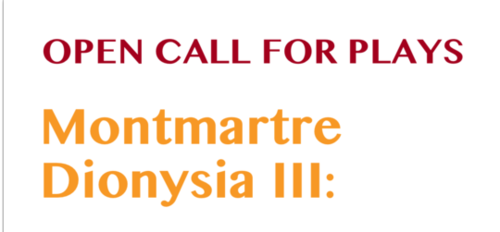 An innovative showcase for English-language theatre opens in Paris and invites writers to submit plays. But hurry! The deadline is October 21!
 Albert Alla on the Montmartre Dionysia: showcase and competition for English-language playwrights in Paris
a Paris Writers News Interview 
---
Laurel Zuckerman: What got you interested in theater?
Albert Alla:
To start with I wrote novels. I still do. But being around other writers made me consider other forms: poetry, plays, screenplays. For the audience, plays, especially new plays, are challenging -- you're cringing in your seat hoping the writing will be good, the actors will remember their lines, and when they do, when it comes together, you appreciate it all the more for the fear you had. Discovering a new play, and finding it good, is far better than watching a good film or reading a good book. You own a part of it; you treasure that.
Putting on plays is even worse, even better. Instead of an hour's dread, you get a month's, and every time an actor transforms your words into something more, you feel like buying everyone a round. Really, who isn't interested in theatre?

 What's happening in the English-language theater scene in Paris?
Both quite a bit and not enough. There are excellent acting schools that English speakers from the world over come to attend, cinema schools that focus a little bit on writing, and the odd playwrights' group, but it's still remarkably difficult to put on a decent-sized play unless your name is Peter Brook.
Where did the idea for Monmartre Dionysia come from?
One night, I was sitting in a bar with a few friends after I'd just put on a short play, and I talked about how nice it'd be to assemble a few more for a friendly competition. A single night of theatre. At the time, I was thinking of staging the event in my living room. But when I started floating the idea, there was so much interest that we had to get a larger venue, and then so much enthusiasm for the first edition, that we had to expand the event into a festival, and then so many past participants who wanted to be involved again that we had to start an off-festival alongside the competition.

People submit original English-language plays of 12-20 minutes in length for two or more actors. If selected, they're basically in charge. We're here to help them, make sure everything's going well, but it's up to them to stage their vision. Some playwrights prefer having a director put the whole thing together, which they're very much entitled to do.
There's a casting day to help playwrights find actors. Again an open thing, so all actors are welcome to attend.
Then they perform their play twice as part of the festival. The whole festival lasts a week, with two shows a night on weekdays, a big finale for the off-competition on the Friday night, the final of the competition itself on the Saturday night, and a party afterwards. It's during the final that judges choose winners for the Best Play prize and the Best Actor prize.
---
 discover The Montmartre Dionysia theatre in this video!
---
Who are your contributors/collaborators?
Contributors are the competition participants. Given it's an open contest, I don't know who that will be just yet. There's an off-festival too, which runs concurrently to the competition and is only open to past participants.
A lot of people help out. This sort of event can't happen otherwise. Of particular note is Chris Newens who's helped me organise the last edition, and is helping again this time.
How are plays selected?
That's what our judges are for! This edition we have Romilly Walton Masters, director of the Oxford Samuel Beckett Trust Award, and another tba.
Where will plays take place?
That changes from edition to edition. This time around, weekday shows will be at the Petit Théâtre du Bonheur, and weekend shows aboard the Alternat, Quai St Bernard in the Vth.
How are they produced?
Bit of a trick question. Playwrights have a huge degree of freedom, but the needs of the competition, with plays upon plays, also mean that they can't spray-paint the whole stage with purple glitter. My role is then more that of a festival director, who wants to make sure that everyone has what they need to perform well, than of a producer who might want to impose his vision.
What are your goals?
Very much to create a platform for English-language theatre in Paris. It's a biannual festival. It's only the third time we run it, but already people have been speaking about it for months. In time, I hope it'll turn into a fixture of the English-language theatre scene in Paris, something people plan their calendars around.
How can people help?
By submitting plays, by acting, or by volunteering:
Technical expertise is always very welcome (lights and sound especially), but we'll need ushers, people to staff the bar, etc.
What's your favorite thing about Paris?
Hmm... Perhaps the proximity to everything: people, ideas, smells, misery, wealth, hard work. It's hard not to be challenged here. 
What are you reading now?
About eight books. No, but maybe. Here are a few: American Rust by Philip Meyer; Ingenious Pain by Andrew Miller; Anna Karenina by Tolstoy. 
---
For information about

The Montmartre Dionysia, the website

: 

http://www.montmartredionysia.com/The Montmartre Dionysia showcases original English-language theatre in Paris. Twice a year, playwrights, directors, actors, volunteers, and theatre-lovers meet for a week-long celebration of new theatre.The Montmartre Dionysia is also a competition. Four original plays, each shown twice, compete for the best play and best actor prizes. This years six additional plays will participate off-competition.Find the programme for directions, times, participants, etc., at montmartredionysia.com.Find out how to participate, whether it be by writing, acting, or volunteering.

 
About Albert Alla: Born in the South of France, Albert Alla moved back and forth between St-Tropez and Nice until, at the age of thirteen, his family emigrated to Australia. Before working with the Montmartre Dionysia, Albert studied economics at Oxford, and published a critically acclaimed debut novel, Black Chalk.