The Paris restaurant scene can be intimidating. So when Francophile and longtime Paris Insider Tom Reeves announced the launch of  Dining Out in Paris - What You Need to Know Before You Come to the City of Light, people took notice. Twelve terrific Paris bloggers(see below) joined Tom and his wife Monique in a friendly new wine bar ( En Vrac, in the 18th) to celebrate his new insider guide to Paris. A delight!
Tom Reeves is the author of two books about Paris :  Paris Insights – An Anthology and  Dining Out in Paris - What You Need to Know before You Get to the City of Light and co-founder of Discover Paris with his wife, Monique Wells.
a Paris Writers News Interview
---
Tom Reeves: I started writing when I was about nine years old.  My first piece was called "The Secret of the Buried Treasure," and was printed in the children's section of the Norfolk Ledger Dispatch (now defunct).  I was so proud of that!  I recently told this story to two scholarly-types around a dinner table at a professor's house.  One laughed uneasily, the other rescued me by saying, "I would never have thought of a title like that!"
There are a lot of clichés about the French that get rehashed endlessly on the Internet.  I started to do in-depth research to see for myself what French culture could offer and found it to be rich, fascinating,  and limitless.  So I began writing a free monthly newsletter called Paris Insights that presented many different aspects of the culture that I discovered.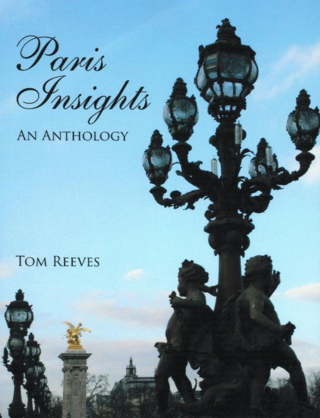 After about five years, I realized I was doing so much research that I felt I should charge a subscription fee for the newsletter.  It took me five more years to realize that only a handful of people were interested in paying for such discerning material.  The rest seem to be satisfied with the free information that they gleaned off the Internet.  So I stopped the paid-subscription newsletter and began publishing a "lighter" monthly version called Paris Panorama.  It doesn't take three weeks of my time to research every month as the old one did – it only takes an hour.
What do you look for in selecting a restaurant? Do you have a method?
I begin by scanning restaurants that receive at least eight points out of ten on the Web site of the restaurant reservation service called The Fork.  When I find a restaurant that looks interesting I look at Trip Advisor to see how well the restaurant is rated there.  The selection process takes about an hour, sometimes more.  A supplemental method is to take note of interesting-looking restaurants that I see when I'm out and about town.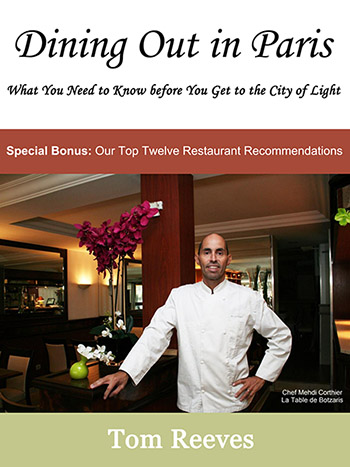 You wrote your  Dining Out in Paris – What You Need to Know before You Get to the City of Light in order to spare tourists to Paris the mistakes you made. What were those mistakes?
The overall mistake was assuming that French people have the same habits as Americans when it comes to eating out!
I wrote Dining Out in Paris to convey how dining culture France is different from dining culture in the United States.  I want to encourage American travelers to be open to a different dining experience than what they know at home.  For example, the fact that a waiter does not return to your table time and time again to ask if everything is O.K. does not mean that French waiters are indifferent to you.  It means that they are leaving you alone to enjoy the meal.
As a bonus, Dining Out in Paris contains reviews of twelve restaurants at which I greatly enjoyed the food, the atmosphere, and the service.  I thought that American travelers would appreciate knowing the names of a few good medium-priced restaurants that are off the tourist track where they could enjoy a fine meal.
After dining at these restaurants, I called the owner to ask if I could interview him or her or the chef.  I would show up at the restaurant looking very professional with my heavy camera equipment.  I would take a photograph and ask a number of pertinent questions.  I think that the owners and chefs greatly appreciated the attention that I gave them. 
What were the three main things you really wished you had known before coming to France? 
I wish that I had known how really, really hard learning French was going to be, even when one resides in France and is "immersed" in the culture.
I wish that I had known how important Haynes Restaurant (a soul-food restaurant run by an American GI) was to the American community when I first came to Paris in 1975.  If I had known, I would have gone there for dinner back then and met Leroy Haynes.
I wish that I had known how important Josephine Baker was to the French and to Americans.  I was in Paris when she died, but didn't go to her funeral because I knew nothing about her.
How are you getting the word out about  Dining Out in Paris – What You Need to Know before You Get to the City of Light?
I have an active Facebook account called Paris Insights on which I post photos and commentary about daily life in Paris.  I plan to post commentary on my book there about once a week, tweet about it every day, an blog about it from time to time.  A number of writers and bloggers have graciously posted reviews of my book on Amazon.  Several of them have also blogged about it.
You had a terrific launch party. How did you select the place? The bloggers?
The wine bar En Vrac was one of the restaurants that I reviewed for Dining Out in Paris.  I chose it because it is an informal restaurant where people can move about, refill their glasses with quality wines, munch on bread, cheese, and sausage, and socialize.  Because the restaurant is small and because of budget considerations, I decided to limit attendance to fifteen persons.  I sent out invitations to a large number of bloggers and writers whose e-mails I have gleaned over the years. The first fifteen to sign up through Eventbrite – an online ticketing service – got to come. 
What's the best meal you ever had in Paris? - And why?
My wife and I dined at Le Céladon twice over the past twenty-two years, once to celebrate our wedding anniversary, another time to celebrate my birthday.  This is an upscale restaurant where service is impeccable and food is superb.  But, wouldn't you know…I can't remember the meals that we had there, just that it was a marvelous experience. 
But if it's a memorable meal that you want me to recount, that would be a can of Tricana brand sardines from Portugal, toasted bread, and a pat of butter that were served to me for lunch at En Vrac.  The memory of this recent meal is one of the reasons why I wanted to hold my launch party there.  The owner, Thierry Poincin, serves top-quality, somewhat rustic fare in a wonderfully informal setting.
What are you working on now?
With the rush of the book launch winding down, I can concentrate on compiling a number of Paris Insights newsletters that I published over the past five years.  There's a lot of interesting material there.  I did this in 2008 with the publication of my first book Paris Insights – An Anthology.  Of course, I will continue to publicize Dining Out in Paris as well!
***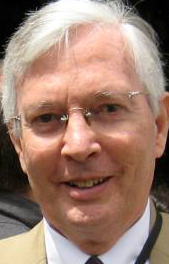 Tom Reeves has been a confirmed Francophile since he first took an unpaid sabbatical in 1975 to travel to France to learn the language, see the country, and pursue a diploma in French language, literature, and civilization.  Returning to California in 1978, he eventually realized that while he had left France, France had never left him.  He moved back permanently in 1992. Reeves' love of French language and culture inspired him to create
Discover Paris!,
a travel service that caters to Americans interested in cultural travel to Paris.  His first book, 
Paris Insights – An Anthology
, has been called "the kind of insider's view of the French capital…that visitors pine for."  His second book, 
Dining Out in Paris - What You Need to Know before You Get to the City of Light
, is an indispensable guide for visitors in search of an authentic Parisian dining experience.
 ***
The Book Launch for Dining Out in Paris - What You Need to Know Before You Come to the City of Light was held at the delightful  EN VRAC wine bar with Paris bloggers and writers Mary Kay Bosshart – Out and About in Paris, Gerri Chanel – Saving Mona Lisa, Charin Chong – Sight Seeker's Delight, Lisa Czarina – Ella Coquine, Anna Eklund-Cheong – Paris Haiku, Heidi Ellison – Paris Update, Rosemary Flannery – Passport to Paris, Lily Heise – Je T'aime… Me Neither, Ganit Hirschberg – Food, Wine, and Other Adventures, Claire Thomas – Sight Seeker's Delight, and Laurel Zuckerman – Laurel Zuckerman's Paris Weblog,  hosted by: Tom Reeves – Paris Insights, Monique Y. Wells – Entrée to Black Paris and Thierry Poincin – En Vrac