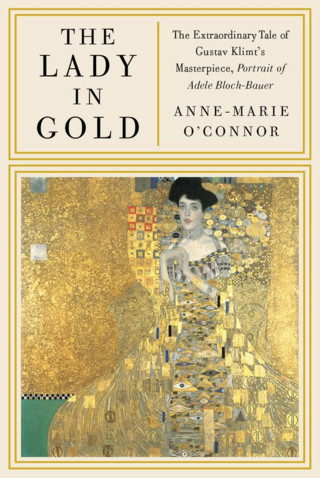 When Maria Altmann died in 2011 at the age of 94, she left behind a legacy that reached far beyond herself. Her struggle to reclaim Klimt masterpieces that Nazis had stolen from her family in Vienna paved the way, not just for a precedent-setting Supreme Court decision and one of most important restitutions of Nazi looted art in history, but for a long overdue telling of a story that had been too long concealed. 
If I am so excited about Anne-Marie O'Connor's book The Lady in Gold: The Extraordinary Tale of Gustav Klimt's Masterpiece, Portrait of Adele Bloch-Bauer  it is because she tells that story brilliantly. Framed by a dramatic, high-stakes battle for justice, The Lady in Gold is a cracking good read.  Colorful, engaging and wonderfully detailed, The Lady in Gold resurrects fascinating people in a vanished - and brilliantly complex - world. It is, perhaps, no accident that O'Connor is a seasoned war correspondent, as well as a culture writer. I can only agree with Library Journal when it writes: "The dazzling, nearly surreal 'Portrait of Adele Bloch-Bauer I' is about a lot more than just art. O'Connor captures the whole story." 
Anne-Marie O'Connor, on the writing of The Lady in Gold: The Extraordinary Tale of Gustav Klimt's Masterpiece, Portrait of Adele Bloch-Bauer
a Paris Writers News Interview
___
What inspired you to write The Lady in Gold?
Anne-Marie O'Connor: It really began as just another LA story. One day in 2001, I read a community news item about a local woman. The Nazis had stolen a painting of her aunt. It wasn't locked away in someone's great house, or rumored to be in some mysterious castle. It was hanging in plain sight, at Austria's national museum.  I heard about many cases like this in Los Angeles. In those days people never got back stolen art. To me it seemed like a lost cause. But I stopped and looked at the tiny image of the picture. That painting? It was one of the most famous paintings in the world. I remembered seeing a reproduction of it when I was about 14, and it was a poster for a Germanic art show at the St. Louis art museum.  The painting was one of Gustav Klimt's decadent Viennese society women. Or at least, that's what they said in art history class. But it seemed unbelievable that a painting that famous could have been stolen, and not returned. So I called 411 and got the phone number of the woman in the article, Maria Altmann. 
What was your first meeting with Maria Altmann like?
Maria answered the door of a perfectly ordinary 1950s-style ranch house with the aplomb and ceremony of a deposed aristocrat. She spoke in an Old World accent--"My darling", "my love", and she was regal, funny, and very charismatic. 
Maria sat me down and served me Viennese coffee, with lots and lots of whipped cream, which seemed to be a key to longevity among Viennese centenarians. She opened an enormous leather photos album, filled with sepia photos of people who looked like the cast of a Vienna Downton Abbey. They were beautifully dressed, in idyllic settings, of a very seductive lost world.
 Maria started telling me about her Aunt Adele, "a woman of today, living in the world of yesterday." According to Maria, the women painted by Klimt were not dull socialites. They were art patrons, intellectuals. Her aunt may have even had a thing with Klimt. The story involved Sigmund Freud, Billy Wilder, and Hedy Lamarr--who Maria said was her fellow Jewish debutante, Hedwig Kiesler.   
 And according to Maria, the women in Klimt's famous portraits were Jewish. Unbelievable. Could all this be true? It also seemed impossible Maria could move the legal case out of her kitchen. I asked who Maria's lawyer was, and she said, "Randy--I've known him since he was in diapers." Randy was Randol Schoenberg, the grandson of composer Arnold Schoenberg. He looked like he just graduated from college, though he was in his early 30s. I told my editors the lawsuit wasn't likely to go anywhere, but it seemed like a fascinating story, one of those rare cases when a historical drama was unfolding in a quiet Los Angeles living room.   

How did you research? What were the challenges you encountered?
 I interviewed Maria a couple of times a week while I was working on the book. That was a wonderful experience, of having coffee and lunch in her kitchen, with her family coming in and out. 
  Randol was a real personality. He had a lot of passion for the case, which seemed like a good thing at the beginning, because no one thought he would win. He had created a voluminous web site, with lots of documents and letters. The legal points were very complicated. But the gist that emerged from the archives was a pattern of Austrian museums seizing Klimt paintings during the war, or just after, and refusing to give them back.
There were also a number of emigres who were still alive, most of them in their 80s, like Maria, and they had all known each other, and socialized with people like Alma Mahler, in Vienna. One was Maria's sister-in-law. A number were accomplished scientists and intellectuals, so they were very careful to tell me only what they knew or could remember, and refrained from guessing or speculating. They all had fascinating memories, and letters and journals that mentioned Klimt and his patrons. They were also very witty, and a lot of fun to spend time with.
In Vienna, I looked through the telephone directory and called people with the last names of the characters. A lot of people hung up on me. But some people invited me over, and two of them gave me copies of very important memoirs written about the war. One was a first-person account of growing up with Klimt, written by one of his portrait models, Elisabeth Bachofen-Echt, to try to persuade a Nazi court that Klimt was her father, to try to save her life, because Klimt was "Aryan." 
 Another memoir was more than 200 typed pages, written by an admirer of Maria. It read like a Vienna costume drama, with lots of dish on who was dating who, the parties in Maria's home, the "mediocre" opera singer who was the rival to Maria's affections, and many other rich details. 
  Maria's sister, Luise, also wrote a self-published play, and all of the family members were in it, saying the kinds of things they said in real life. That was very helpful, as the quips confirmed a lot of things I had been told.
  Maria's niece, Nelly Auersperg, who was one of the heirs to the paintings, had not spoken to any journalists about the case, or her story, when I approached her. Nelly had survived the Holocaust in Yugoslavia as a child, married an Austrian prince, and become an award-winning ovarian cancer researcher. Her decision to cooperate added an amazing dimension to the story.
   It is a tragedy that Adele's papers were missing. I suppose they were destroyed. The letters I did find hinted at a fascinating woman, far ahead of her time. I still hope her papers turn up someday. 
The Belvedere Museum played an important role. Were you able to access its archives?
For a long time Vienna officials wouldn't speak to me. I once followed the Belvedere director, Gerbert Frodl, out of his office and asked him personally to participate. I did interview the new director, Agnes Husslein, and some other staff members, but they never gave me access to the archives, or to the Fuhrer Headquarters below the museum. But finally, I began to get documents one-by-one, in off-the-record exchanges. Eventually I got everything I asked for. The lawyer whose job it was to keep the Klimt paintings for Austria, Gottfried Toman, was also very helpful.
 But it was still a very odd time in Austria, with a high degree of moral ambivalence. A British Nazi hunter "discovered" a war criminal, Erna Wallisch, a short walk from an apartment I rented in Vienna, in 2007. He took a picture of her answering the door in her bathrobe, behind the door chain. She was on the Wiesenthal most-wanted list, but she had been hiding in plain sight the entire time, and her name, address and phone number were listed in my Vienna telephone directory. Holocaust survivors came forward and told stories of terrible things she did in  concentration camps in Poland. But in the end, she was never arrested, and Austrian authorities declined to prosecute her, citing her advanced age, and a supposed lack of jurisdiction where her crimes were committed. Later that year rightist politician Jorg Haider addressed SS officers in the mountains, and told them the SS was not a criminal organization.   
Why didn't the famous Monument Men simply find and return the Bloch-Bauer's art collection to them? 
The system of returning art was very chaotic after the war. A few times they even "returned" art to imposters. But in most cases governments insisted on receiving the art after the war, instead of individual owners. This meant the owners were dependent on governments to give the art back to the rightful owners, and in the case of Austria, and Holland, and many other places, this generally did not happen.
 You paint a wonderful portrait of the Jewish Viennese aristocracy before the war. One of the great mysteries is why such worldly and well-connected people were so stunned by the ferocity of the Nazi persecution in 1938, when Jews in Germany had been under extreme pressure for half a decade already. Why did so many fail to see what was coming?  Where are survivors today? 
It was very difficult for the Jewish elite to see this coming. In Vienna, they were the philanthropists who financed hospitals and homeless shelters; the art collectors who were beginning to reinvent staid art museums with donations of modern art. In Luise's self-published play, their mother keeps trying to discuss the problems in Germany, and everyone interrupts her with some small personal matter. I think they hoped the problems in Germany would blow over. This was true all over Europe. Many people didn't feel personally threatened until it was too late. It was very hard for people to imagine the kind of genocide that Hitler was preparing.
The Bloch-Bauers' fall from extremely wealthy elites to impoverished exiles on the run was extremely sudden. How did they survive the war?
 Some managed to flee. Some stayed too long and were trapped, and tried to survive the Holocaust in Europe. Not everyone survived.
 It is a rather painful irony that assimilated Jews like the Bloch-Bauers  who rarely went to the synagogue and who celebrated Christmas and Easter, were not only killed and robbed as Jews but will probably be remembered in the historical narrative first and foremost as Jews. Is this not in contradiction with how they saw themselves?  
The Bloch-Bauers thought of themselves as quintessentially Viennese. When people were urging the family to flee, Maria's mother kept saying, "we are decent, honorable people"--as if that might help.
 They did have a Jewish identity, but it was a very secular one. Their Friday night music gathering could be read as a sort of cultural seder. They weren't baptized as Catholics, like some of their friends, but they did celebrate Christian holidays. This milieu expressed their Judaism through their love of art and culture and learning and philanthropy.  
 I love the amazing historical nuggets your book contains, like the fact that Mark Twain had the honor of being vilified by the anti-semitic press in Vienna, as "the Jew Mark Twain". (And that Twain covered the Dreyfus affair in France together with Theodore Herzl founder of political Zionism.) How did you find all these connections?
I'm still coming across new details about Mark Twain's two years in Vienna. I recently came across a Vienna newspaper clip from 1898, that lists Mark Twain among the dignitaries who attended the opening of the Succession, so it is likely someone introduced Twain and Klimt, since they were the biggest celebrities there. The University of California at Berkeley graciously sent me copies of Twain's notebooks in Vienna, which are hilarious; filled with his ridicule of Vienna anti-Semites, his amusement at the whole concept of royalty, and jokes about Vienna officialdom. However, a huge amount of the research for that section came from "Our Famous Guest, Mark Twain in Vienna," by Carl Dolmetsch--a fantastic, fascinating, very funny book that is as interesting as any Twain biography I've read. How interesting, for example, that Theodore Herzl, the father of modern Zionism, was Twain's best friend in Paris, following their meeting in Paris during their coverage of the Dreyfus affair, in which a Jewish officer was unfairly accused of espionage. The fact that Twain was a fixture among the Jewish intelligentsia in Austria showed what a glittering world Adele Bloch-Bauer inhabited in fin-de-siecle Vienna. Twain's daughter Clara, the belle of the family, married a Jewish composer.  
You mention that Kokoschka – the toast of the Viennese art world in May 1937 - had 400 of his works confiscated only a little later. What happened to them?
 A number of Kokoschka paintings were the subject of high-profile restitution claims, some of them ongoing. A state cultural foundation in Berlin just took down a Kokoschka painting of "Pariser Platz in Berlin" while the Commission for Looted Art in Europe studies a claim by heirs.  
  After the seizure of degenerate art in 1937, many paintings by Kokoschka were sold to dealers who scooped up "degenerate" art for a song. Others were squirreled away by Austrian museums, even after Kokoschka was declared a degenerate, because he was a celebrated Austrian artist. I don't believe all the seized Kokoschka paintings have even been accounted for. Work by Kokoschka has just turned up in the Munich apartment of Cornelius Gurlitt. 
  I think some of Kokoschka's seized paintings are still out of the public eye, in private collections. There is still a "grey market" for stolen art in Europe.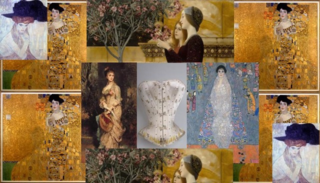 Did Klimt's art fall into the Nazi's category of Degenerate Art - and risk being burned?
  Klimt was never declared a degenerate artist.  It's not clear how his work avoided this designation. He could have qualified, with his explicitly erotic drawings; paintings suggesting bisexuality and a world without God, and his reputation as a social "philosemite"--or what the Nazis were now calling, in their most polite language, a Jew-lackey. But he had fans among the Vienna Nazis, and he could be framed in a palatable way to the arbitrators of "Germanic" culture. He was an excellent draftsman, and could draw or paint something akin to a photorealistic likeness, when he chose to. Superficially, his good lucks and legendary appeal to women fit the masculine profile of the powerful Germanic Ubermensch. Klimt was safely dead, unlike his friend Kokoschka, who was a vocal anti-Nazi. He was also one of the favorite painters of Baldur von Schirach, the Nazi governor of Vienna, who sponsored the biggest show ever of Klimt's works, in 1943. Schirach's tastes were broader: he got in trouble with a show of young artists that Hitler himself shut down. When some of Klimt's works finally were burned, when the SS torched a castle after the defeat of Hitler, it was probably an accident. Though the other paintings at the castle were eventually evacuated, and the Klimts taken there by the Gestapo were not.   
 Adele Bauer, Klimt's inspiration, was an atheist, a socialist, a feminist, and a Jew. Yet all traces of this identity had been successfully erased by a succession of many people and institutions, starting with the Nazis and continuing into the 21stcentury. How could this happen? Why has it taken so long to correct?
The erasure of Adele's identity was deliberate at first. Austrians couldn't openly acquire and display portraits of Jewish women at the height of Nazi Vienna, during a genocidal offensive in Europe. In general, Adele and her radical views would have represented everything the Nazis abhorred, and her childlessness would have been the icing on the cake. Under Nazi rule, it was discouraged to speak of Jewish families that had so recently been prominent, and they wouldn't have needed to persuade people to observe this taboo. After the war, there was no incentive to resurrect the reputations of any of the women painted by Klimt, as it would evoke the family claims to bank accounts, houses, businesses, or the paintings themselves. No one wanted to talk about what had happened to some of these women during the war. So "Klimt's Women" fell into obscurity. As did many of the men, like Adele's husband Ferdinand: journalists investigating restitution were surprised he had been head of the sugar industry, but they had never heard of him. It was very thorough: Adele's father turned out to have been knighted, but the honor was buried in an archive, and had not been published, even in the outpouring of press after the restitution of her portrait.        

What happened to the rest of Bernhardt Altmann's art collection? You say that Jewish families were plundered "well-dressed gentlemen with pretensions to genteel respectability". Could you explain this?
Bernhard Altmann's family has gotten a few pieces back. In 2006 they received a small Klimt portrait of an unidentified woman that a Nazi propaganda filmmaker-- one of Klimt's illegitimate sons--thought was his mother. Other people speculated it might be an early portrait of Adele. But no one really knows. 
  A lot of the collection is still at large. Three Canaletto paintings are still missing from Bernhard Altmann's collection, and a number of other pieces. Randol Schoenberg was asking whether there were Canaletto paintings in the Gurlitt collection that might have belonged to Bernhard Altmann. A lot of these paintings might trade privately on the grey market for stolen art.
The "genteel men" were academic art historians. 
Those who were willing to work with the Nazi regime saw their careers rise, at the expense of colleagues who wouldn't or couldn't ingratiate themselves to Nazi leadership. So some were simple opportunists. I suppose some were true believers, though they might have had second thoughts as time wore on, and after the war most of them tried to whitewash their Nazi involvement. 
 The German novel Mephisto, made into an excellent movie, is a fictionalized account of this kind of collaboration, and it was so well done that the author, Klaus Mann, was sued when it came out in 1936, and then completely ostracized after the war, until he committed suicide. 
Why are  there so many problems with the "official" provenances of major artworks?
The problem is collectors don't investigate the provenance carefully enough. Provenance is always important to collectors, to determine the authenticity of a piece of art, the essence of its value.
But collectors must be very diligent in determining where a piece of art was between 1933 and 1948, the period that spans the rise of Nazism and the post-war horse-trading of Nazi-seized art. That is the window in which "dirty art" is most likely to have changed hands. It is often very easy to research this, since pieces of art usually have stamps on the back marking such things as exhibitions and auction house sales. There are also auction catalogues and many other resources in libraries, and in the Germanic world, many state archives, as well as copies at the National Archives in Maryland. 
Of course there are false provenances. I have recent Austrian books on my shelf that still say that some of the paintings seized from Ferdinand Bloch-Bauer's were acquired by the Belvedere in 1936--suggesting he handed them over legally, before Hitler annexed Austria in 1938.
But what has been lacking, in many cases, is the willingness to thoroughly check pieces of art that were literally a "steal." In this day and age, buying an expensive painting without checking the provenance can only be interpreted as willful ignorance, particularly if the art changed hands during World War II.
In Europe, buying a piece of art in "good faith" is still a legal defense against the confiscation of a piece of art. Last year two paintings came up for sale in Cologne, and when the true owners came forward, the auction house simply withdrew them from sale and the paintings vanished into anonymity. 
But in the United States, this has not worked as a defense in recent years, when pieces of art have come up for exhibitions and been seized in recent years, when the heirs of the true owners come forward. This has sent shudders through the museum community, and inspired a piece of U.S. legislation making art immune from such seizures. In recent years, paintings would come to auction in the United States and heirs would come forward and sometimes make a restitution deal then and there. Now this doesn't happen as much, because auction houses like Christie's have provenance experts, and they head off these problems before they happen. I was in a U.S. museum not long ago where the museum itself reviewed the provenance of one painting and decided to reach out to the heirs, who were very happy with the settlement.
In private families, the history of paintings sometimes doesn't come to light until the owners pass away, and heirs try to put it on the auction block. In the case of museums, many have been negligent in complying with international commitments to transparency in the provenance of their collections, and many have spent years playing hide-and-seek until a well-documented claim lands them on the front pages of newspapers worldwide. This is what happened with Austrian museums, and the details that tumbled out were not pretty. But the alternative, transparency, could mean losing the paintings. 
So many museums still take the risk of keeping silent, and hope that the discretion of the elite, insular art world will protect them, and it may. But maybe not forever.
Readers of Holocaust history are familiar with Nazi exit taxes, used to plunder Jews of their wealth. However the recent use of the "exit tax" by modern day Austrian authorities to force Holocaust survivors and their families to "donate" their property to the Austrian state comes as a bit of a shock, even to jaded observers. Has Austria put an end to this process? Or does this still continue in 2014?
It was shocking, because Gustav Klimt was not even listed as patrimony after the war--until Jewish families began trying to take their paintings to their new homes in the countries where they had fled for their lives during the war. The extortion after the war--when Jewish families were required to "donate" any important pieces of art for permission to take away their possessions after the war-- was nothing short of highway robbery. When Erich Lederer refused to give them permission to take Klimt's Beethoven Frieze, which he owned and wished to take to Switzerland, they charged him storage fees for years and years, until he finally sold it to them.
The Klimt portraits are only the tip of the iceberg of the material possessions stolen from the Bloch-Bauer's and their friends. Adele's mansion, for example, ended up as offices of the German railways. Was this property ever "restituted"? Who "owns" the property looted from Viennese Jews today?
Adele's mansion on the beautiful Schillerplatz was finally restituted in 2006, and sold by the heirs, because they were never going to return to Vienna. Ron Lauder reportedly considered buying it, but it had been stripped of its interior, and a banal-looking parking garage entrance had been built right in front of it. In documents from 1948, Austrian authorities offered to give back 25% of the family's possessions--including furniture and dishes and things--if their lawyer in Europe signed away rights to the Bloch-Bauer Klimt collection. That's how things were done in those days. Of 35,000 or so Jewish businesses stolen during the Nazi era, only a few thousand were ever returned. Most of the stolen property was never returned.
Stephan Templ, the co-author of a book listing Nazi looted property in Vienna (Unser Wien) and son of a Holocaust survivor, has recently been sentenced to jail in Austria, on charges that have been denounced as "bizarre".
What kind of obstacles do researchers into Nazi looted art and property encounter in Austria today? Have things gotten better, or does the jailing of Templ signal a new willingness by the Austrians to attack both historians and Jewish claimants of stolen property?
The Templ case is very strange. Why would Austrian courts send him to jail? It was the state's responsibility to find all the heirs. I agree with what Stuart Eisenstat said: Even if Austrian authorities believe he misled them in failing to report his estranged aunt as an heir in his family restitution case, this should be a civil matter.  The fact that it is being pursued so punitively lends weight to Templ's contention that he is being punished for his years of distinguished work in Holocaust theft documentation. The Austrians can be very tone-deaf about how their actions are perceived internationally, and perhaps they won't be so indifferent in this case when his appeal goes to the European Court of Justice in Luxembourg.    
In general, Austria has advanced to the forefront of art restitution, however belatedly. Probably not everyone is happy about this.

Maria Altmann's Klimt case was fought publicly all the way to the Supreme Court.  Do we have any idea how many cases like Maria Altmann's are still unresolved?
Austria has returned a dozen Klimt masterpieces in recent years. 
 But a number of other Klimts are still involved in restitution claims--and there are still a few secrets.
 Last year the Austrian press reported that Water Snakes II had been sold to the Qatar royal family for $120 million dollars--the most paid for a Klimt since the sale of the Portrait of Adele Bloch-Bauer I. The painting was owned by Jenny Steiner, a Hungarian cousin of Joseph Pulitzer, who begged his son to help her get a visa to flee Europe after the Nazi takeover. Vienna Nazi governor Baldur von Schirach helped a Nazi propaganda filmmaker acquire the painting. No one has confirmed or denied this report, but the painting has been removed from registries of stolen art. Another disputed painting owned by the widow of the propaganda filmmaker was the Portrait of Gertrude Felsovanyi, and there are ongoing talks with the heirs. The heirs of Erich Lederer are demanding the return of the Beethoven Frieze, which is currently house in the Secession Museum. 
 When the beautiful Portrait of Amalie Zuckerkandl was at the Vienna portrait show in London recently, there were calls for it to be seized because of a longstanding, complicated restitution claim, but England has laws preventing that. Amalie Zuckerkandl's father wrote a play with Mark Twain, and she converted to Judaism for marriage, and could have presumable avoided deportation. But she didn't want to be separated from her daughter, she she went with her to Theresienstadt, where they both died.    
Has The Lady in Gold been translated? What has been the reaction abroad, and in particular in Austria?  
The Lady in Gold went on sale in Israel in May 2013, a week or so after I arrived in Jerusalem, and it quickly became a bestseller, with interviews in the Jerusalem Post and the cultural section of the Yedioth Ahronoth, which has a weekend circulation of 600,000. Soon I was getting cold calls from strangers, telling me how grateful they were to read about the wartime Vienna their grandmother would never talk about.  
  At a speech I gave in the city of Ranaana a couple of months ago, someone came up to tell me a protagonist in the book, Anna Lenji, had survived, and lived in Haifa. Lenji has been a slave laborer at Immendorf Castle, where at least 14 Klimt masterpieces were stored; a castle that was burned by the SS at the end of the war. My lunch with Lenji at an oceanfront place in Haifa, was one of the highlights of my first year in Jerusalem.
 The book most recently came out in Brazil in Portuguese, and the Czech version had a great reception, in part because one of its heroes, Hubertus Czernin, was a member of an old Czech family. Oddly, the book has not been translated into German, but the English version reportedly sells strongly in Germany. 
 In Austria, there was no official reaction at all. No denials. No praise. Nothing. Some museum people I know personally sent me nice messages. The English-language Vienna Review wrote a respectful review, and that was that.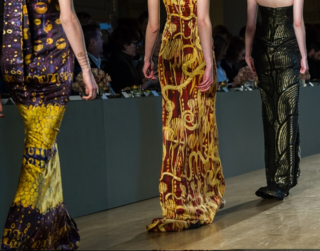 I just read that Helen Mirren will play Maria Altmann in the film!  Congratulations! Can you tell us about the creation of the film? 
Thank you. I am very excited about it. I think she's an excellent actress, and since there have been a lot of film projects on the story, I'm very glad to see one of them moving ahead, in this case a BBC project directed by Simon Curtis and produced by Harvey Weinstein. 
  But I can't tell you much more than has appeared in the press, because I have nothing to do with it. It was begun with Randol Schoenberg before the book came out, and though there was a talk with my film agent, the BBC did not option the film rights to the book.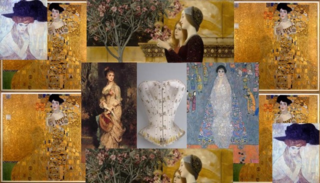 What are you working on now?
 I've written some op ed pieces on the Gurlitt trove, and the need to finally open museum records in Europe so people can examine the provenance of works of art that changed hands during World War II. I recently wrote a piece for The Washington Post about the backlash against honor killings in the Palestinian territories.
 I'm putting together a book proposal on a topic in Jerusalem.
 To be honest, for a long time it was hard for me to imagine a story as exciting as The Lady in Gold. I was really in love with that story. It took a long time for those passions to fade. Very little was known about Gustav Klimt when the art restitutions began. He was portrayed as a loner, though in reality, he had many friendships, among the Jewish avant garde whose Klimt paintings were stolen when they were driven out of Austria. So his real history remained hidden, along with their stories.
  This wasn't just a restitution of art, this was a restitution of history.
   ***
Anne-Marie O'Connor is a veteran foreign correspondent, war reporter and culture writer who has covered everything from post-Soviet Cuba to American artists and intellectuals. O'Connor attended Vassar and the San Francisco Art Institute and graduated from the University of California at Berkeley, where she and fellow students co-created an award-winning documentary on the repression of mural artists after the 1973 military coup in Chile. She covered the wars in El Salvador, Nicaragua, and Guatemala as a Reuters bureau chief in Central America; the Shining Path guerrillas in Peru, coups in Haiti and U.S. interventions in Haiti and Panama; and covered Cuba and Haiti for a newspaper chain. At the Los Angeles Times she chronicled the violence of Mexico's Arellano-Felix drug cartel, U.S. political convention; and profiled such figures as Nelson Mandela, George Soros, Joan Didion, John McCain, and Maya Lin. Her story on Maria Altmann's effort to recover the family Klimt collection appeared in the Los Angeles Times Magazine in 2001. She has written for Esquire, The Nation, and The Christian Science Monitor. She currently writes for The Washington Post from Jerusalem
 Praise for Anne-Marie OConnor's The Lady in Gold: The Extraordinary Tale of Gustav Klimt's Masterpiece, Portrait of Adele Bloch-Bauer
"Fascinating, ambitious, exhaustively researched . . . A mesmerizing tale of art and the Holocaust."
—The Washington Post
 
"Writing with a novelist's dynamism, O'Connor resurrects fascinating individuals and tells a many-faceted, intensely affecting, and profoundly revelatory tale of the inciting power of art and the unending need for justice."
—Booklist (starred review)
 
"Part history and part mystery, The Lady in Gold is a striking tale." 
—BookPage

"The dazzling, nearly surreal 'Portrait of Adele Bloch-Bauer I' is about a lot more than just art. O'Connor captures the whole story." 
—Library Journal

"Every stolen painting has a story. The tale behind this one is epic." 
—Christian Science Monitor

"A fascinating book."
—Dallas Morning News

"[An] evocation of a beautiful, vanished world."
—Women's Wear Daily

"Fascinating tale of beauty, terror, loss and remembrance reveals a deeper truth beneath the golden surface."
—Jonathan Lopez, Associated Press

"O'Connor has told an important story." 
—The Wall Street Journal

"Lusciously detailed." 
—Kirkus 

"Encapsulates a fascinating, complicated cultural history of fin-de-siècle Vienna, its Jewish intelligentsia, and their near complete destruction by the Nazis....vividly evokes... how she became entwined with the charismatic, sexually charged, and irreverent Klimt...poignant and convincing..." 
—Publisher's Weekly

"Ignites many a startling flashpoint in the moral history of our time—a taut, rich, tangy and instructive read." 
—Frederic Morton

"Gripping in details and drama."
—The Los Angeles Times 
Article about Nazi Looted Art
"Europe's Dirty Little Art Secret" LA Times
http://www.latimes.com/opinion/op-ed/la-oe-oconnor-munich-gurlitt-nazi-art-20131128-story.html

"The Nazi Art Theft Crisis in Europe" Time.com
http://ideas.time.com/2013/12/19/the-nazi-art-theft-crisis-in-europe/

"Why Nazi-Seized Art is Only Now Resurfacing" Washington Post 
http://www.washingtonpost.com/blogs/worldviews/wp/2013/11/06/why-nazi-seized-art-is-only-now-resurfacing-and-how-it-will-change-the-art-world/

"That Matisse in the Pantry? The Nazis Stole it"
http://www.zocalopublicsquare.org/2013/12/18/that-matisse-in-the-pantry-the-nazis-stole-it/ideas/nexus/

The latest on the Beethoven Frieze Demand:
http://www.huffingtonpost.com/annemarie-oconnor/heirs-demand-return-of-gu_b_4161678.html

"New Answers Come to Light for Hidden Klimt Paintings" 
http://www.huffingtonpost.com/annemarie-oconnor/new-answers-coming-to-lig_b_4045725.html

Klimt's Women and Restitution:
http://www.huffingtonpost.com/annemarie-oconnor/2012-the-year-of-gustav-k_b_1556962.html
For more on Anne-Marie OConnor:

Video: Talk at Skirball Center Los Angeles:
http://www.youtube.com/watch?v=RSMYzkIkylo

Video: Talk at Purdue University:

http://www.youtube.com/watch?v=KPc1uJcFC-w
 https://www.youtube.com/watch?v=RSMYzkIkylo