Guest post by Vicki Lesage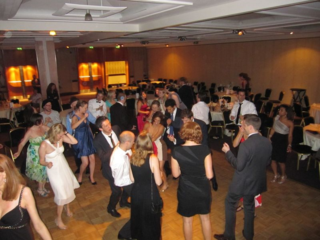 Two Left Feet: Dancing in Paris
As author of Confessions of a Paris Party Girl, you'd think I've got some killer dance moves. After all, drinking and dancing pretty much go together, right? Well, in my case, drinking and thinking-I-can-dance is more like it.
In all my wild nights out in the City of Light, I've managed to bomb on the dance floor nearly every time:
Clubbing
Nightclubs are SO not my scene. I'll start out on the sidelines, sipping champagne, watching everyone else break loose on the dance floor. They make it look so easy! After a few flutes of bubbly, I'm convinced I can do the same. Yet once on the floor I'm stiff and robotic. So much so, in fact, that I just start doing The Robot as a way to laugh it off. Like, "Hey, I totally meant to only move my joints at right angles." Then back to the sidelines, sipping champagne. (a couple of clubs: Showcase (under Pont Alexandre III) & Le Cab )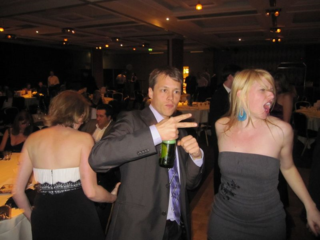 Bars and Pubs
Much more suited to my style, I can start the night out drinking and socializing at the bar. Then, once the lights are dimmed and the music is turned up, I head out to the dance floor and get my groove on, "American Girl" style. You know what I'm talking about –throwing your arms in the air and shaking your booty. No rhythm whatsoever but it's fun as hell. Depending on how many beverages I've consumed, I may or may not end up dancing on tables. The only thing that's guaranteed is a good time while simultaneously embarrassing myself in front of the entire bar. (some bars: The Long Hop, Violin Dingue, The Pure Malt, Corcoran's )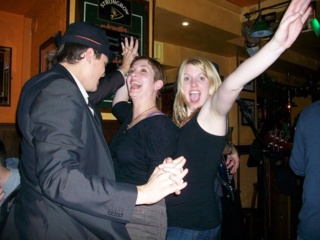 Salsa
Places like Barrio Latino (http://www.barrio-latino.com) are great if you're in the mood for salsa. Even if you're just a beginner, it's fun, and there are plenty of suave guys happy to teach you the moves. More than happy, actually. In fact, you'll probably have to bat them away with a stick after a few songs. But it's a fun way to get the night started.
Ballroom Dancing
I'm not sure it counts as official ballroom dancing, but twice I've attended the GOAL Ball (http://www.goal-ball.org) and enjoyed being flung around on the dance floor. Nothing makes a girl feel like a princess more than dancing at a ball in Paris. My dress twirling, the room swirling – it's magical. An added bonus is that since it's an Irish charity, many of the revelers come from the Emerald Isle, so there's quite a bit of traditional Irish dances. Definitely don't try that at home! Or maybe that's the ONLY place you should attempt such an easy-looking-but-actually-complicated dance.
Bals de Pompiers
Considering I love firemen (then again, who doesn't) I'm not sure why I've never been to one of the Bals de Pompiers (http://www.parisinfo.com/decouvrir-paris/les-grands-rendez-vous/paris-fete-le-14-juillet/bals-dans-les-casernes-de-pompiers/bals-dans-les-casernes-de-pompiers). Occurring throughout Paris and Île de France on July 13th and 14th each year, these parties look like so much fun. I tried one year to attend the one in the Marais, which is unsurprisingly one of the most popular. The queue wrapped around the corner... and around the next corner. I didn't have the patience for that, but perhaps a different arrondissement would be less crowded.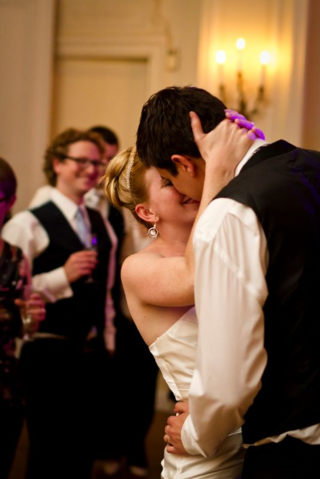 My Wedding Day
The day I married the love of my life (feel free to gag) was the exception to my dancing disasters. Our first dance went off without a hitch, partly because we didn't try any fancy moves, partly because I intentionally held back on drinking, and partly because I was just so darn happy I didn't care about my moves.
But even better than that first dance was the recreation of the "lift scene" from Dirty Dancing. "I've Had The Time of My Life" blared from the speakers and I shouted to my brother across the room that we were gonna do this thing. He tried to talk me out of it, but he couldn't turn down his big sister on her wedding day. We finished our drinks and danced around until the crucial part of the song. Then I ran toward him, sure that one of two things was going to happen – either he would successfully lift me up and I would be the coolest person in the world or we would both crash into the table of champagne glasses behind him.
Believe it or not, we succeeded in doing the lift. It was amazing. We didn't knock anything over. I soared high above my smiling guests. And no one got a picture of it. But hey, that's better than breaking 100 champagne flutes.
For someone with two left feet, I sure gave dancing my all. But alas, other than my wedding day, I think dancing and me are just not meant to be. What about you? Where are your favorite places in Paris to dance? What's your favorite move? If you say "The Robot" or "The Sprinkler", we're soul mates.
***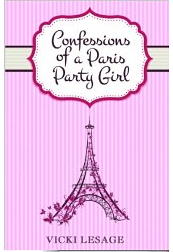 Vicki Lesage is an IT Director by day, writer by night. And a full-time nerd. She loves fondue, wine, math, and zombies. She lives in Paris with her French husband, rambunctious son, and charmante daughter. Her first book, Confessions of a Paris Party Girl (http://www.amazon.com/dp/1494701529), was released in January 2014 and her sequel, Confessions of a Paris Potty Trainer , was released in May 2014.
Website: http://vickilesage.blogspot.com
Amazon: http://www.amazon.com/Vicki-Lesage/e/B00HUZQUI4
Goodreads: https://www.goodreads.com/author/show/7760779.Vicki_Lesage
Facebook: http://www.facebook.com/vickilesagewriter
Twitter: http://www.twitter.com/vickilesage
Pinterest: http://www.pinterest.com/vickilesage
View more Author Interviews
Comments
English language publications in France
Français de l'étranger
BLOG ROLL
Getting Published
Blog directories