Every so often a tweet from out of the blue will really catch my eye.  
In the case of Henry Kohler, a son tweeting photos of his beloved father's artwork, I was wary at first. Who was Carl Kohler, the artist whose stunning portraits I was discovering through the social media magic of  Twitpics?
Soon, however, intrigued by the portraits tweeted by@Authorportrait , I found myself  inspired by Henry Kohler's quest.  His father, a Swedish artist with a talent for creating evocative portraits of famous writers, had recently died, and Henry was using social media to tell the world about Carl Kohler's art.
When my father passed away in June 2006, Henry wrote, no-one within the artworld really cared about it...Thats why I started to spread the word about my father. It's a important mission to show the world what he accomplished. I loved him very much, we were close friends , even though he was 48 years older than me.  I wish he could see what I have been doing with his legacy.... I hope that more well established art-people will discover my father art and true talent. Thanks for listening.  Henry Kohler
 I am delighted to present this interview with Henry Kohler,
son of Carl Kohler, remarkable Swedish artist.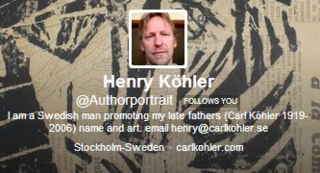 Henry Kohler, son of a portrait artist, a Paris Writers News Interview
***
Laurel Zuckerman: Who was Carl Kohler? 
Henry Kohler: My father was born in 1919 and died in 2006.
He studied art at the Swedish Royal Art Academy 1945-51, after that he went to Académie De la Grande Chaumière in Paris 1951-53. 
During the Paris years he developed a strong feeling for literature, especially French literature. There are many French authorportraits signed by my father.
He lived and worked in Spain 1953-59,  together with a American-Jewish author named Hannah.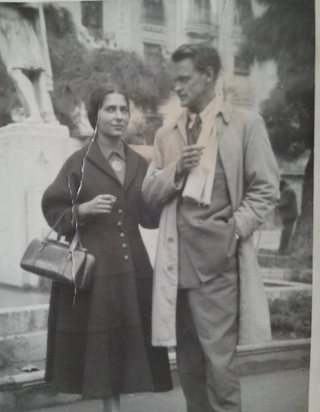 What was it like having a painter for a father?
 He was not like the other friends' fathers, he was special and very devoted to his work. He really loved his family, but often his thoughts where around his artlife.
What made you decide to go to dedicate yourself to promoting your father's artwork?
I felt that his work was far too interesting to not do it; there is so much art out-there that gets lots of attention, even if it's not that good. So that combined with love for my father got me going.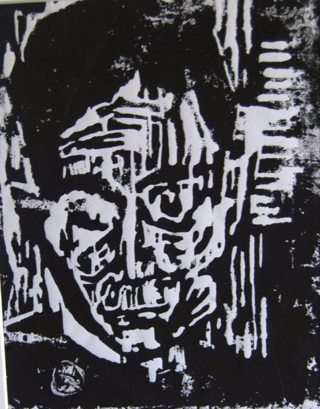 How does a private individual reach out to the artworld? Do you have contacts with museums or private collectors? Have art fairs been helpful?
I did not have any contacts at all when I started this work. It has really been a one man crusade. My father did not have any good contacts the last 15 years of his artlife, he was a little bit forgotten. Marketing and socializing with the right people was not his thing, he painted and read a lot of books!
When I realized that it was a Mount Everest climb to get connected with the traditional status artworld, I decided to look at alternative venues/institutions.
The first larger exhibition after my father passed away was at the Stockholm Concert Hall and the second one was at the August Strindberg Museum, named after the famous Swedish writer and painter, with a four month authorportrait-exhibition.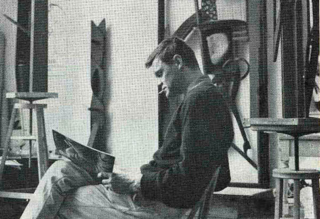 How were the shows at the Brooklyn Library and other places in America organized?
During the exhibitions in Sweden, I started to look to North America for new places to exhibit Carl Kohler's work. After some heavy research and emailing, the Brooklyn Public Library (BPL) sent the curator Barbara Wing to Stockholm. She is a really great person and she was the first curator from North America that I met in person. We talked about art and my work with this project over some wine at a nice Stockholm restaurant, and she brought a large suitcase with 30 authorportraits back to NY with her.
The Brooklyn Public Library turned out to be a perfect fit for these author portraits. I received several new email friends from people working within the world of literature. Barbara Wing saw the potential in these portraits.
At the BPL there were large glass cases in the foyer, which was perfect for the authorportraits. They didn't need framing then. Where no glass cases were available, some venues (like the Chicago University Library) have exhibited them without frames. (see The Chicago Tribune.)
Has there been media interest in the Carl Kohler exhibitions?
 It took a while for the media to notice these authorportraits from Sweden , but there has been some quality media exposure. New York Times, Chicago Tribune, Seattle Times, Dallas Morning News, Huffington Post have all written articles about the authorportraits.
Two really great articles were written by The Millions and New York Times-Books in 2009.
If I had worked on Twitter and Facebook at that time I think that I could have reached out to many more people.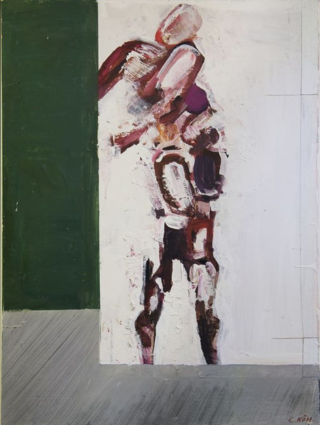 Kohler's authorportraits are quite amazing (Kafka, Bukowski, Miller, Beckett, Cocteau, Nin…).  How did your father do them? What he was aiming for? How they were received?
 My father was very captured by a fragile look, an insane personality, genius, vulnerable characters. He really needed to study closely the authors he did portraits of. He was very inspired by their writing and character.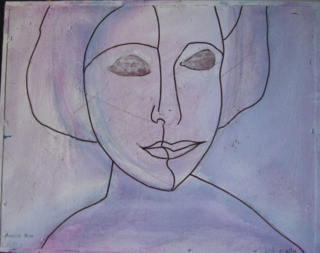 Has any author or publisher ever asked you for permission to use the portraits in designing book covers? (see below for list of authors Kohler portrayed)
 No no-one actually, though now that you mention it, it would be a really perfect fit for any author/publisher to use these unique neomodernistic authorportraits. 
 What was Carl Kohler's relationship to classical music, and how did it affect his art?
His mother, my grandmother Lisa Kohler was a well-educated concert-hall singer, so I guess he got something from there. He loved classical music/ballet and created many works inspired by this artistic world of composers, dancers, actors and painters. The old gramophone was always playing classical music on a very high volume in his studio while he was working.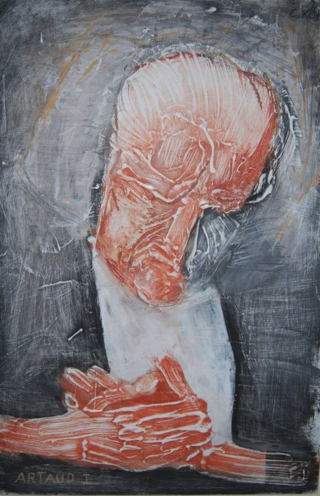 I first heard of Carl Kohler when you tweeted me. How have you used social media to reach out to people?
At first I just used Google to search for institutions/people and so on. I communicated only by email. I started to use Facebook about a year ago and twitter just a few month ago. MY twitter account says it been used since 2009, but I have not been there.
 What kind of response have you had? Which social media platforms have given you the best results?
I look mostly at the literature world, because of all the portraits of authors, but also at dance and music people. Also different art places. I think that Twitter really makes a difference in terms of connecting with professionals, Facebook does not have the same effect. 
How do you finance a catalog or exhibitions? Do you self-finance or have you been able to obtain grants or used crowdfunding platforms such as Kickstarter?
So far, it has been mostly small budget exhibitions where the institutions have paid for the cargo and insurance. There have never been any catalogs yet, but I would love to publish one.  
Is it difficult for a Swedish artist to gain recognition in the wider world?
Well both yes and no, I think I have managed to reach out a lot, but it would be great if someone else (a person or institution from the art world?) took over from me a little bit and took the art one step further UP THERE!
What are your goals for the future?
My goals is to see to it that my father gets the recognition he deserves .
I am (or my father's art is) involved with an upcoming exhibition on music project and also I would love to see a permanent authorportrait exhibition somewhere in the world.  I would like to see some day a book about my father and his art.
 Where can one see Carl Kohler's work today?  
 https://twitter.com/Authorportrait
https://www.facebook.com/pages/Carl-K%C3%B6hler/482716225121212?ref=hl
For more on Carl Kohler see:
LIST OF AUTHORPORTRAITS BY CARL KOHLER
Franz Kafka / Oil-Painting

 
 

Franz Kafka / Woodblock print

Charles Bukowski oil

 
 

Henry Miller as a Demon / Woodblock print

Samuel Beckett / Drawing

 
 

Tove Jansson / Drawing

 
 

Anna Akhmatova / Drawing

 
 

Claude Simon / Oil painting

 
 

Jean Cocteau / Oil painting

 
 

Virginia Woolf / Drawing

 
 

Sergei Tretyakov / Oil painting

 
 

Anais Nin / Oil painting

 
 

James Joyce (Progressively Becoming Blind)/Drawing

Joyce Carol Oates / Oil painting

Joyce Carol Oates
Drawing

 
 

Gunnar Ekelof / Oil painting

 
 

Antonin Artaud / Oil painting

 
 

Alfred Jarry / Oil painting

 
 


Marina Tsvetaeva

 
 

 Oil painting

 

Jean Genet / Drawing with India Ink

 
 
 
 

Brendan Behan / Drawing

 
 

Guillaume Apollinaire / woodblock print

 

Rainer Maria Rilke / Drawing

Fyodor Dostoevsky
oilportrait

 
 

Gunter Grass / Woodblock print

 
 

Italo Calvino / Drawing

 
 

Fracoic Mauriac / Drawing

Andre Gide
oilpainting

Simone de beavoir
oilpainting

Marguerite Duras
oilpainting

Karen Blixen
Oilpainting

Edith Sodergran
oilpainting





OTHER PORTRAITS

Marie Curie 
Oilpainting

Michael jackson

Marilyn Monroe
oilpainting

Johann Sebastian Bach-oilpainting

Igor Stravinsky

Gustav Mahler

Bela Bartok

Mozart Amadeus
carped in wood drawing

Jean Sibelius
Oil