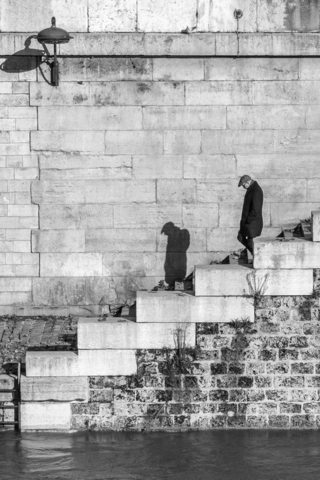 The International Fine Art Photography Award, held in Paris, celebrates fine art photography and discovers outstanding new talent. On the occasion of the 2013 Grand Prix de la Découverte Awards, we were able to meet some of these remarkable photographers.  They came from every corner of the world, each with his or her own unique path to photography as an art form.
One of the fascinating photographers we met was Peter Erickson  of Australia, a finalist in the CityScape/Architecture category for "Bird for a Cage". 
Peter graciously answered our questions at the Mona Bismarck Foundation in Paris, before grabbing a flight back to Australia.
 ---
 Questions for a photographer:  Peter Erickson
a Paris Writers News interview 
---
Laurel Zuckerman:  Peter, what is your professional background? 
Peter Erickson : None
 How did you get interested in photography?
 My father took me into his darkroom  (our bathroom) to see his photos being developed. I carried a brownie box camera with me as a schoolchild.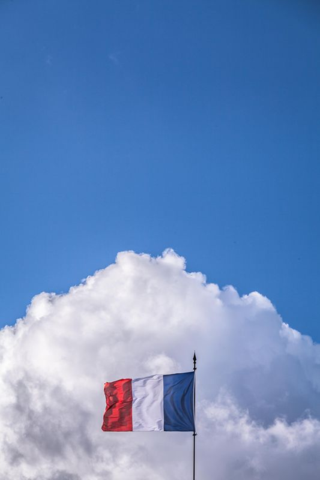 How did you learn composition, technique? What's the hardest thing to master?
 I`ve used the 6 principals of Gestalt Psychology, visual perception as a rule. The whole is greater than the sum of the parts.
  Do you have a specialty?
 I like street photography it brings me in contact with people, architecture, objects and situations that are unforeseen.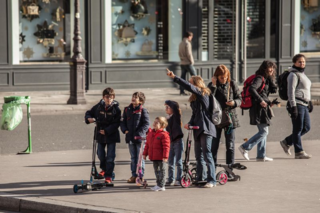 What makes you take a photo? Are you looking for something specific? What do you think about when you take a photo?
 Sometimes an image is so compelling it leaps out at me.
 I am looking for the angles of light and the interaction of it to the composition try to take vertical and horizontal shots.
 The most exciting ingredient of photography is seeing the image for the first time, what did the camera recorded, that I didn`t see. A bird , a glance or a reflection can leave me very excited.
 Who - or what - are your inspirations?
 My first photography teacher during courses at night school, he was an inspiration to all of us in our quest to chase light. One's first exposure to lessons were vital to be enthused and then fall in love with your photography. The American street photographer John Free has videos on u tube, they had an immediate impact on me. His sincerity honesty and work ethic resonated with me. I watched these videos endlessly and his photography tips became ingrained in me. My inspirations are other photographers and I am always visiting photography galleries and exhibitions.
 As an amateur photographer with a small body of work, my Camera Club is a very important part of my life. The club has visiting photographers and lectures on photography, allied with the occasional competition and  photographic trips out of town.
 How do you work? Do you set a schedule for yourself? Do you always carry your camera?
 For a  specific shot say early morning bike riders, I usually scout the location for background and composition ideas. Also with apps,  I use The Photographers Ephemeris, working  out the phase of the moon, sun rise, sunset etc. With all this information I am more confident of the shoot next day. 
 I usually am on the street minimum four days a week, I have a 6 km walk around Sydney and can vary it due to weather or what's happening.
I have a camera in the car glove box and a mobile phone between them I can always be switched on mentally to photograph.
What, for you, is a great photo?
 No matter the subject I am amazed how a photographer can make something special that has been taken many times before, given it new life and the wow factor.
What are you working on now?
 My next project is taking a series of portraits of an 83 year old gym instructor. 
***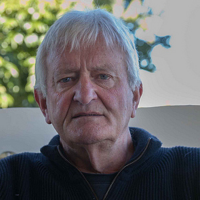 About Peter Erickson 
After leaving school I studied dramatic art, however this was interrupted by the Vietnam war, in which I served two years as a conscript . A flight attendant was my calling for many years, however war-caused Post Traumatic Stress hit me late life. Photography was just the instrument I needed to fill my creative urges, it has transformed my life. 
About the 2013 Grand Prix de la Découverte
Out of nearly 5000 images submitted from 82 countries, jurors selected final images in each of the seven categories:  Abstract, Cityscape/Architecture/Urban Life, Experimental, Landscape/Seascape/Nature, People/Portraits, Still Life, and Street Photography/Documentary.

The jury included Anne Biroleau of the Bibliothèque Nationale de France, Gallery Directors Didier Brousse and Alexandre Percy, David Travis of The Art Institute of Chicago, Julie Grahame of aCurator Magazine and ClampArt Gallery in New York, and photographer Hiroshi Watanab
Meredith Mullins is Co-Founder and Director of the International Fine Art Photography Competition. She is an American fine art photographer and writer living in Paris. Her work is exhibited internationally, and she is the author of the award winning photography book In A Paris Moment and a teacher of photography for adults and children.