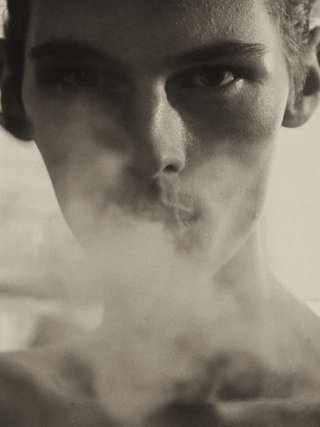 The Grand Prix de la Découverte,  directed by Meredith Mullins and co-founded by Charles and Clydette De Groot, recognizes outstanding photographs in categories including portraits, landscapes, nature, still life, architecture, abstract, street photography and experimental. Selected by an eminent jury, the finalists in the International Fine Art Photography Award hail from all over the world and have extremely diverse backgrounds. We had the pleasure of speaking with finalist Salvatore Di Gregorio, a young Italian photographer living in the UK, about his art.
a Paris Writers News interview
____
When did you start taking photos and what did you do before?
Salvatore Di Gregorio: In 2007 I decided to move to London to undertake a Master's degree in management for the creative business. However, before coming to London I decided to take some time off and travel for 3 months to South East Asia, where I took a small camera with me, which I still own… Here is where it all began.
This trip gave me the excitement for taking pictures in exceptional places and this is where I discovered a new, amazing passion. After my Master's in London, I started working in advertising but very soon I decided that photography was my life.
Online.
I believe that creativity is impossible to describe especially the creative process. In my case it depends much on my mood and on my desire of that particular timeframe. When I choose to work on a project everything is linked to each other, subject, mood, style. How do I select it? I don't know.
What is, for you, a great photograph?
A deep emotion.
Who are your inspirations?
My photography is multiform as I move from reportage to fashion, so I obviously have different inspirations. Antoine D'Agata, Irvin Penn, Paolo Roversi and William Klein just to name a few.
Do the other arts - music, poetry, prose, theatre, etc - influence your photography?.
Absolutely. I was born with music and I love arts.
What for you was the greatest challenge in the Grand Prix? The greatest reward?
I didn't have a challenge, it was a great experience and I met extraordinary people
What next?
I am working on a project which is going to end during the New Years Eve in London, and will be exhibited in London, Berlin and possibly New York. So loads of thing to prepare...
 ___
About the artist:  Originally from Sicily, Salvatore Di Gregorio is a self-taught photographer. He obtained a degree in communication studies in Rome and a Master in creative management in London. With his diverse background and experience he soon decided that photography was his life. For 3-months, he traveled throughout South East Asia with a small compact camera, which he still owns, viewing life through a lens. It is here where the passion - espcially for photographing exceptional places - began. 
Salvatore photography shifts between fashion and reportage. Rarely without his beloved Hasselblad, he has undertaken projects and commissions both here and abroad. His publications have appeared in Hunger Magazine, Vanity Fair Italy, Grazia Italy, Creative Review, and IL Sole 24 Ore. In 2011, following a fashion shoot, he returned to Sicily to portray the controversial issue of displaced African migrants, held in refugee camps.
One of the more challenging but inspired work is that of Kushti. Following a commercial shoot in Mumbai, he remained in India to pursue a personal project called Red Kusthi: an old fight. During the 2012 Olympics, a documentary highlighting the specialism of the ancient art of wrestling, dating back to 5th Century BC, had fuelled Salvatore's fascination. For him there was a historical resemblance to the Roman gladiators.  He travelled to Kolhapur, a city 700km south of Mumbai and steeped in the deep tradition of Kushti.
The shoot takes place in an arena called Akhara, portraying the harshness and mesmerising physicality of this ancient tradition, through a series of close-ups and ambient shots inspired by Caravaggio use of light.