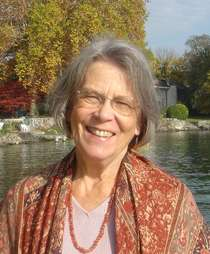 From January 31 to February 2, 2014 the 9th Geneva Writers' Conference will again welcome 200 writers from around the world to a weekend of workshops, panels, readings, and networking.
My admiration for the Geneva Writers' Conference is no secret. I've been three times and encouraged other writers to attend. Last year, I even wrote a post called "Why I Love the Geneva Writers' Conference".  Just so you know, I'm not paid to advertize it, I just like this low key, friendly, craft-centered event. (In this I'm not alone. See Janet Skeslien Charles' new interview with organizers. She's also a fan!). 
This year, the faculty includes Sven Birkerts, Chris Castellani, Tananarive Due, Brenda Shaughnessy, Henry Sutton, Mimi Thebo, Susan Tiberghien, Marion Winik, and Wallis Wilde Menozzi - in addition to panels with literary agents, editors, publishers and consultants. Organized by the Geneva Writers' Group, the conference takes place at Webster University, Bellevur. See the full program and registration forms .   If you have questions please contact info@genevawritersgroup.org
The spirit behind the whole thing is Susan Tiberghien, teacher, mentor to writers, and author of numeous books including One Year to a Writing Life. Susan chairs the Geneva Writers' Group. She took some time out from her insanely busy schedule to answer a couple of questions about the Conference...
 ***
What kind of writers should come to the workshop? Advanced? Beginners? Published? Unpublished?
WE HAVE SET UP THE PROGRAM HOPEFULLY FOR 'ALL' WRITERS. THOSE WHO ARE JUST BEGINNING MIGHT HAVE A HARD TIME KEEPING UP WITH A FULL WEEKEND OF WORKSHOPS, PANELS AND Q&A'S BUT IT WOULD BE WORTH IT!  FOR EVERYONE ELSE – ADVANCED,  PUBLISHED AND UNPUBLISHED -- THE INSTRUCTORS ARE EXPERIENCED IN DEALING WITH DIFFERENT LEVELS AND THE PANELISTS WILL PROVIDE NEW INSIGHTS INTO THE EVER EVOLVING PUBLISHING SCENE.
How do you select instructors? 
MOSTLY BY WORD OF MOUTH. RECOMMENDATIONS ARRIVE FROM OUR MEMBERS WHO HAVE BEEN AT THEIR WORKSHOPS AND FROM OUR PAST INSTRUCTORS WHO OFTEN STAY IN TOUCH WITH US.  WE LOOK FOR WELL-PUBLISHED, WELL-RESPECTED AUTHORS WHO KNOW HOW TO TEACH. THE LATTER IS HUGELY IMPORTANT IN OUR CHOICE.
How long have you been doing the Geneva Writers Conference?
THIS IS OUR 9TH CONFERENCE, HAVING STARTED IN 1998.  WE STARTED WITH JUST OVER 100 PARTICIPANTS, QUICKLY GREW TO 150, AND NOW FOR THE LAST THREE CONFERENCES WE HAVE CAPPED AT 200. WE FEEL THAT THIS IS THE RIGHT NUMBER, WE ARE ABLE TO LIMIT THE CLASSES THIS WAY TO 20 WRITERS, AND IT LET'S US HAVE A FEELING OF FELLOWSHIP. IT IS INTERESTING TO NOTE THAT ONE HALF OF tHE PARTICIPANTS HAVE ATTENDED EARLIER CONFERENCES. THIS TOO CONTRIBUTES TO THE FRIENDLINESS AND SOLIDARITY.  AND THE NEW WRITERS BRING LOTS OF FRESH AIR.
What's your favorite part?
MAYBE WELCOMING EVERYONE. I KNOW HOW WRITING HAS CHANGED MY LIFE. WITH THE CONFERENCE COMMITTEE, WE WANT THE WEEKEND TO BE FULL OF INSTRUCTION, INSPIRATION, AND ENCOURAGEMENT.  SO THAT HOPEFULLY ALL THE PARTICIPANTS RETURN HOME STIMULATED AND WISHING TO TAKE THEIR WRITING FORWARD INTO THE WORLD.