Interview by Meg Bortin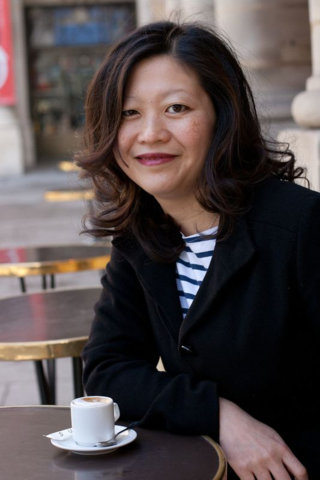 Ann Mah is an American author, journalist and food and travel blogger who arrived in Paris a few years ago with her husband, a diplomat, expecting a leisurely idyll in the world's most romantic city. That plan bit the dust when her husband was suddenly sent to Iraq on a dangerous year-long assignment.
In an effort to conquer her loneliness and get to know more about France during 12 months on her own, Mah set out to visit the regions they'd planned to see together, and to learn about French culture through French food. The result is her new memoir,
Mastering the Art of French Eating: Lessons in Food and Love From a Year in Paris.
Like Julia Child, who also arrived in France with a diplomat husband, Mah delights in sharing her discoveries about French cuisine as she travels to Brittany, Burgundy and beyond. Along the way, her observations teach her, and us, how the French connection between food, family, friendship and tradition have given this country its storied reputation as a place where life may be lived to its fullest, and most delicious.
 A Paris Writers News interview by Meg Bortin

***
Q. Mastering the Art of French Cooking is your second book, and the second with a food theme (after your debut novel, Kitchen Chinese). Your travel articles also usually deal with food or wine. What set you on this culinary path?
A. I'm fascinated by the connection between food, and place, and history, the sense of continuity, the way a recipe grows from the land, takes root, and is cooked and eaten in that same spot for hundreds of years. 
Q. Your new book is subtitled, Lessons in Food and Love from a Year in Paris. Could you please cite an example of one important lesson about food that you learned while writing your book, and one lesson about love that your year abroad taught you?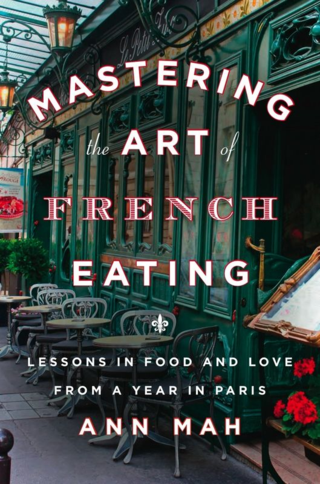 A. The most important lesson I learned from investigating 10 classic dishes is that patience is the great hallmark of French country cooking. The patience needed to slowly simmer a pot of cassoulet over several days, or to painstakingly strain the sauce of a boeuf bourguignon, or to visit several charcuteries in search of the perfect sausages and cured meats for your choucroute garnie. Patience is the reason Granny's food always tastes best. And – patience is also love.
Q. With Mastering the Art of French Eating you switched genre from novel to memoir. What new challenges did you encountering in writing this book?
A. Memoir is hard because there's nowhere to hide, everything you write is truth – or, if you take poetic license, it will be perceived as truth. I was hesitant to share my story and the emotions that surrounded it, but as a friend said, the most meaningful writing is born of vulnerability.
Q. What was the hardest part of capturing the (cultural) flavor of France today?
A. I really wanted to experience authentic regional cooking as it's cooked at home, but it was challenging to find home cooks and even more challenging to convince them to invite me – a stranger and a foreigner – into their kitchens. My perseverance paid off in most regions, but I'm still disappointed I never found a granny to teach me her boeuf bourguignon secrets.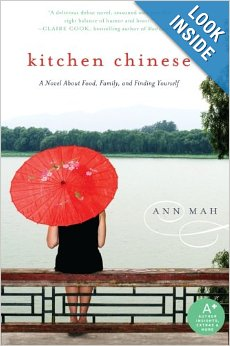 Q. What do you love most about France?
A. The appreciation of beauty and the care taken to create it.
Q. When Julia Child first arrived in France, she had an epiphany about French food while lunching with her husband in Rouen. They were straight off the boat, and – as she recounts in My Life in France – she was overwhelmed by their meal of Normandy oysters, sole meunière, green salad and fromage blanc, accompanied by Pouilly-Fuissé. Did you have a similar epiphany on first encountering French cuisine?
A. I still dream of the omelettes aux fines herbes I used to eat at a tiny country café in Provence, a plump roll of eggs laced with chopped herbs grown in the kitchen garden, accompanied by green salad and fries that were also garnished with fresh herbs. The place was owned by a couple – Madame at the stove, Monsieur in the dining room – and though the menu was very simple, everything was made with great thought and care. The simplicity, patience and attention to detail seemed to me like the epitome of French country cooking. Alas, the buvette closed a few years ago.
Q. Which French region or dish did you most regret being unable to include in your book?
A. I can't believe that after all my travels in France, I still haven't been to Normandy – especially since the region is the home of camembert and calvados! 
Q. If you had the opportunity to live in one of the regions covered in your book, which one would it be, and why?
A. I know it's cliché, but I can't help loving Provence. I love the cleansing winds, the light, the dry climate so reminiscent of Southern California, where I grew up. Plus, don't they say a Mediterranean diet leads to longevity?
Q. If you had just one week a year to spend in Paris, what are the three restaurants you would put at the top of your list for dining out?
A. Le Mistral (401 rue des Pyrénées, 20e), to eat aligot and see our friends, Didier and Alain, who own the café. Les Deux Abeilles (189 rue de l'Université, 7e), because I dream about their chocolate almond cake. Au Passage (1 bis passage Saint-Sébastien, 11e) to gather a group of friends and sample wine made by small producers.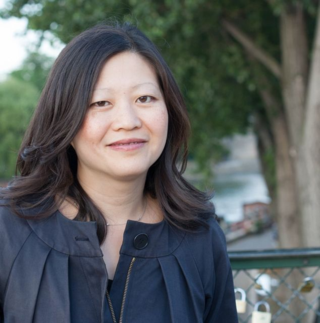 Q. In Mastering the Art of French Eating, you repeatedly hit the road to discover a new corner of France and its cuisine. What was your writing process when you came back to Paris? Did you write the book chapter by chapter, or start only when you'd completed your tour?
A. I wrote the book chapter by chapter, while the experiences were still fresh. My editor helped me see the big picture and encouraged me to add more of my personal story.
Q. When did you decide to become a writer?
A. I always dreamed of being a writer, but it requires a lot of perseverance and a thick skin. When I found myself living in Beijing as a trailing spouse in need of a portable career, I finally worked up the courage to give it a shot.
Q. Before becoming a writer, you worked in publishing. What advice would you give an aspiring writer about getting published at a time when the traditional publishing industry is in crisis due to the rise of the internet?
A. It's never too early to start building your platform, and blogging and social media are both terrific ways to do it – if you enjoy it. But I do think traditional publishing is in crisis because of a lot more than the internet! Publishers have never been able to pinpoint why certain books sell, but lately their business model has seemed outdated, or even broken. Does it still make sense to pay writers advance sums that are never earned back? But that's a subject for another Q&A. 
Q. Are agents necessary?
A. Though agents today play a less active role in editing manuscripts and developing authors' careers, they are still the gatekeepers to traditional publishing houses.
Q. Do you have a new book project? 
A. I was working on a novel about a female sommelier, which I put aside to work on this book. The story still calls to me… but I haven't answered yet!
 ***
Praise for Mastering the Art of French Eating: Lessons in Food and Love From a Year in Paris
 "Mastering the Art of French Eating makes you want to be in Paris as [Mah] describes the delight of crusty baguettes spread with butter and jam, surprise glimpses of Notre Dame caught from the bus, nursing a glass of red wine in a cafe that has mirrored columns and a zinc bar. . . . the book has appealing honesty and vulnerability, overlaid as it is with the pain of her husband's absence. It will also make you very hungry." —Wall Street Journal

"A well-written entrée into French dining." —The Daily Beast

"Consistently passionate and emotionally resonant, Mah's prose brims with true love . . . A bighearted, multisensory tour of France." —Kirkus

"The author's investigations into the importance of each dish to the people she meets are beautifully woven together with her reflections on culture, identity, love, and marriage, resulting in an enjoyable and thoughtful read that sparkles with humor. . . . This honest, funny, and eloquent memoir is sure to delight lovers of France, food, or travel." —Library Journal

"The real joy of this book . . . is in Mah's mouthwatering, bite-by-bite descriptions of the plates set before her in Parisian cafés, country homes, and hole-in-the-wall foodie hideaways. Francophiles will delight in the smattering of French words and phrases sprinkled throughout every page, and serious cooks may endeavor to follow the lengthy recipes for a signature regional dish included at the end of each chapter." —Booklist

"Whether you're French or Francophile, a long-time connoisseur of French food or someone who's just figuring out the difference between frites and frangipane, feasting through France with Ann Mah is a delicious adventure.  Ann's writing is lovely, her curiosity boundless and her good taste assured.  Spending time with her in Mastering the Art of French Eating is a treat." —Dorie Greenspan, author of Around My French Table and owner of Beurre & Sel Cookies

"Ann Mah dishes up a welcoming concoction, a good dose of French history, a personal, vibrant, enthusiastic picture of life in a country she adores, without apology. I am hungry already!" —Patricia Wells, author of The Food Lover's Guide to Paris and Simply Truffles

"Excellent ingredients, carefully prepared and very elegantly served. A really tasty book." —Peter Mayle, author of The Marseille Caper and A Year in Provence

"Ann Mah writes inspiringly about basic French dishes we thought we knew all about. She joins Elizabeth David in being a joy and an instruction to read." —Diane Johnson, author of Le Divorce

"A tour de force through French cuisine, Ann Mah crisscrossed France, learning about all my favorite foods—from buckwheat galettes to the secrets of authentic cassoulet. Her personal culinary tale will have you packing your bags. But if you can't make it to France, Ann offers delicious recipes, culled from experts!" —David Lebovitz, author of The Sweet Life in Paris

"Ann Mah goes straight to the essential in this lively, mouth-watering book as she explores the foundations of French cuisine.  She even goes where all before her have failed to tread—the wild country of andouillette—to tempt with her stories and her approachable recipes. Bravo!" —Susan Herrmann Loomis, author of On Rue Tatin

"Like a bowl of homemade cassoulet, this book is warm to the touch. Ann Mah writes about her international experiences—and origins—with great sensitivity.  She gives us a peek into French kitchens foodies will envy, and no Francophile could resist."  —Elizabeth Bard, author of Lunch in Paris

"From the peaks of the French Alps to Brittany's buckwheat fields, Lyon's bouchons to Burgundy's wineries, Ann takes us all over France in pursuit of its culinary traditions. But at the heart of her story is Paris—and all the love, wistfulness and deliciousness found there." —Amy Thomas, author of Paris, My Sweet
 ***
Ann Mah's articles on food and travel have appeared in The New York Times, Condé Nast Traveler, the International Herald Tribune, Fodor's travel guides, Washingtonian magazine, the South China Morning Post and other publications. She is the author of a novel, Kitchen Chinese, and a memoir, Mastering the Art of French Eating. In 2005, she was awarded a James Beard Foundation culinary scholarship to study in Bologna, Italy. Ann currently divides her time between Paris and New York.
Meg Bortin is an American journalist and writer based in France. She is the author of two memoirs, Desperate to Be a Housewife and Dear Djeneba, and the author of a food blog, The Everyday French Chef. Formerly, a senior editor at the International Herald Tribune, her articles on politics, culture and lifestyle have appeared the IHT, The New York Times, The Spectator (Britain), The Hollywood Reporter and many other publications.