MEMOIRS
 THE SECRET MINISTRY OF AG. & FISH: MY LIFE IN CHURCHILL'S SCHOOL OF SPIES
'My life in SOE was based on deception, on lies. I lied to my mother. I lied to my friends. I lied to everyone I met outside of F Section. It was inevitable,' Noreen Riols says. Her memoir  THE SECRET MINISTRY OF AG. & FISH: MY LIFE IN CHURCHILL'S SCHOOL OF SPIES tells about her secret work in WWII for the French section, (better known as the F Section), of the Special Operations Executive led by  Colonel Maurice Buckmaster.  Noreen worked secretly with Buckmaster and her fellow operatives to support the French Resistance across the Channel.
"It was only in 2000 that the British government finally opened up the SOE's secret files to the public and Noreen was revealed as a former SOE operative, 26 years too late for her late mother to learn the truth about her daughter's war work....Her gripping, darkly funny and moving account allows a fascinating insight into the realities of working in a clandestine organisation which played a vital role in winning the war on the Western Front." - The Gazette
 Saturday 7th December 2013 2-3.30pm Noreen Riols will sign her memoir THE SECRET MINISTRY OF AG. & FISH: MY LIFE IN CHURCHILL'S SCHOOL OF SPIES. Kindly RSVP by email to books(at)whsmith.fr or on FACEBOOK.. @ WH Smith in Paris
Matthew Gonder's story picks up where his charming first memoir Christmas on the Move Out West left off, with the Gonder family  blundering through many attempts to find their home in the Pacific Northwest.
He wrote Music on the Move Out West inspired by enthusiastic readers who asked him "what happened next to this crazy family?"  The answer, it turns out is "Music!"
Music is something Matthew knows well. He is a professional singer, composer, dancer and actor who, in addition to theatre, film and TV, performs  at Maxim's (Fridays and Saturdays when in Paris).
I'll be talking with Matthew about his writing and his experience as a first time author  in a wide-ranging PWN interview to be published in December.
"If you like the movie "It's a Wonderful Life" you'll love this."
(Christmas on the Move Out West)
"Times are hard on all of us these days, and instead of complaining about the difficulties we all face, it's refreshing to read a story that not only speaks to me directly but reminds me that everything will be okay.  (Christmas on the Move Out West)
 DESPERATE TO BE A HOUSEWIFE by Meg Bortin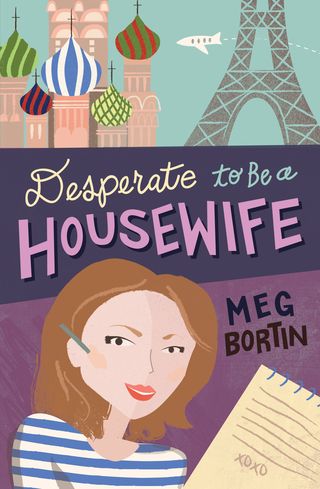 Don't let the title fool you! This exciting memoir by accomplished journalist Meg Bortin is as much a vibrant history of the '60s and '70s as an inspired reflection on the conflicting desires of a professional woman to become a mother in the age of liberation. 
"Meet Mona Venture, a journalist in search of a story – with a happy ending. In this exuberant memoir, Meg Bortin recounts her journey from the student protests of America in the '60s to Paris and love in the '70s to her life on the front lines of news in Gorbachev's Russia. She's young, she's modern, and she's desperate to solve a problem: how to reconcile her life as an independent woman with her longing for happily-ever-after. Sexy, candid and occasionally hilarious, her story will resonate with anyone who has wondered how women of our time have found their way through a minefield of changing roles – and lived to tell the tale."
An entertaining and yet thoughtful romp through the conflicts of the 1970s and 80s by a an adventurous journalist in the making who finds herself struggling with her deep longing for a traditional family even as anti-air rockets fired from stingers flash by her Soviet-chartered aircraft. Remarkable vignettes of iconic newspapers and journalists.
Desperate to be a Housewife by Meg Bortin
Watch for an upcoming PWN interview with Meg next month!