An exciting page-turner, this post-apocalyptic survival tale has won rave reviews as action-packed yet emotionally rich space opera.
 Sequel to The Eden Paradox and Eden's Trial, Eden's Revenge is the third episode in the acclaimed science fiction series, The Eden Paradox Novels, by Paris Writer Barry Kirwan. 
Description: War is tearing across the galaxy, drawing inexorably towards Esperia, where human society shelters under a Quarantine shield. But as tensions mount amongst the human population, and old and new enemies gather outside, one man decides to bring down the barrier early... 
"Awe-inspiring aliens are swept up in an epic narrative." Sophia McDougall, best-selling SF author of Savage City

"Brilliant plotting, sizzling action, the tension and pull of the story keep it steamrollering along." Gideon Roberton, screenwriter and author.



 Oeuvrés volées, destins brisés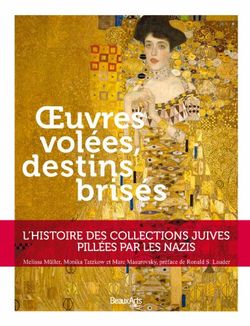 This excellent book is the French translation of Lost Lives, Lost Art: Jewish Collectors, Nazi Art Theft, and the Quest for Justice by Melissa Müller (Anne Frank: The Biography) and Monika Tatzkow (Nazi Looted Art) with introduction by Ronald S Lauder
The incredible stories of fifteen major Jewish art collectors, whose extraordinary collections were scattered by Nazi looting or forced sales, and the ongoing efforts of their heirs to recover their inheritance.  
Particularly relevent and useful book in light of the secrecy and confusion surrounding the discovery of 1400 artworks of suspect provenance in the Gurlitt apartment in Munich. See "Gurlitt: pouquoi la spoiliation fut encore plus massive" par François Guillaume Lorrain in Le Point
Now available in French. 
 "The book is meticulously researched, brilliantly and dispassionately written, and is in all likelihood a game changer in the world of art, art provenance, and art restitution that will resound for years to come."~ ForeWord Reviews

"Richly illustrated with excellent art reproductions and family photographs, this is a solid addition to works on Nazi art plundering and the world of art restitution, ownership, and property rights. This will be of great interest to readers wanting to know more about upper-class Austrian and German Jews. Recommended." ~ Library Journal
CONVERSION
Jennifer K. Dick is well-known to the Paris literary community: as a poet, teacher, academic and organizer of terrific literary events. Her new book, Conversion, is a set of 7 prose poems about Greece. It is being published by ESTEPA EDITIONS with artwork by KATE VAN HOUTEN  this week and presented at the LONDON SMALL PRESS FAIR this coming weekend (15-16th Nov) and then, in PARIS at Salon PAGES 16 (on the the 22-24th Nov).



Winner of  the inaugural Paris Literary Prize in 2011, Rosa Rankin-Gee's The Last Kings of Sark is published this November by Virago. The Last Kings of Sark is a bewitching ode to youth, summer's strange haze, the idea of an island, scallop smuggling, and rosé in the morning. A luminous debut from a compelling new voice in literary fiction. Rosa Rankin-Gee grew up in Kensal Rise, London, but now lives by the Parc de Belleville in Paris. One of Esquire magazine's '75 Brilliant Young Brits' in 2010. Rosa ccurrently runs the Book Club at the Carmen in Paris, where hundreds of night owls come to swap books and drink cocktails in the former home of George Bizet. The Last Kings of Sark is her first novel. 
14th November 7pm Paris launch of The Last Kings of Sark by Rosa Rankin-Gee @Shakespeare and Co Paris, 37 Rue de la Bucherie  75005 Paris