A couple of months ago Brian Solis came to Paris. The advance email was so intriguing I had to check him out.
"Brian Solis," I read in Forbes, "is one of the most prolific and well-known bloggers in the social space. He writes daily about the impact of social media on consumerism, the workplace, and culture. He is Principal of Altimeter Group, a leading research-based advisory firm in Silicon Valley." Silicon Valley's 40 Under 40 in 2008;  listed in Mashable as one of the "25 Twitter Accounts That Will Make You Smarter",   Solis' blog ranked in the Top 10 of the Ad Age Power 150.
And a writer too?
Curious, I went to  two events, back to back. The first gathered a disperate bunch on a boat in the Seine and, unusual for France, gave us nametags but no speaker. Where's Brian? we all asked. Meanwhile, we mingled, chatted and met some delightful and interesting people (at least I did - I can't speak for those who met me.) Suddenly, a trim young man bounds on deck. And makes the shortest speech in the history of the (corporate) universe.
Hi, I'm Brian. Please enjoy yourselves. I'll come around and say hello.
No books. No author signing table. No speech. 
In short: a delightful surprise.
The next day the venue changed to a swanky Parisian alumni club in the 16th. This time: suits, ties, video projector, air conditioning, and chairs in rows. Middle-aged corporate types fought for space with high tech youngsters, fluent in the languages of social media, communications, branding, CRM, customer service, creating "moments" and deep dives into scarily informative databases.
Brian's book, What's the Future of Business: Changing the Way Businesses Create Experiences, (WTF for short) was this time in evidence. The presentation began (Brian Solis is a born showman), followed by a terrific Q & A which clearly established Brian Solis' mastery of the arcane frontier between, well, everything: social media, consumer behavior, best management practices, customer service, innovation, and how to use information garnered from mega data bases without freaking everyone out.
I for one, found it fascinating (And, given the forest of hands going up, I suspect I wasn't the only one.)
Curiously, the book this high tech savvy social media maven had produced was not an ebook - but a lavishly printed four color hardback. There is, Brian Solis explained quite charmingly, a reason for that.  Writers, I hope you enjoy meeting Brian Solis, social media maven, adviser, speaker and author. I certainly did! ... - Laurel Zuckerman
 ***
Brian Solis, a Paris Writers News interview
Laurel Zuckerman: How did you first start writing? 
Brian Solis: I grew up playing guitar and writing music going back to the age of 7. When you write lyrics, poetry becomes a natural extension of writing.  Growing up, I also experimented with screenplays, plays, treatments and also fiction. To this day, poetry plays a tremendous inspiration in all of my writing, including business books and research papers! In the early 1990s, I joined the editorial team at my college newspaper. I eventually launched a monthly magazine in Los Angeles dedicated to social issues and entertainment. In the early 2000s though, it was blogging that would transform writing into a profession.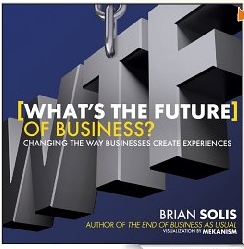 Why did you choose to produce an expensive four-color hardback book of What's the Future of Business: Changing the way Businesses Create Experiences? Couldn't an ebook get the same key information across? 
Yes, an ebook can get information across with the convenience of device portability and on-demand access. At the same time, a traditional book can also deliver information in a way that people still enjoy…even in the face of digital pervasiveness. I believe this so much that I asked everyone to please consider reading the print over the digital version to get the intended experience.
 In the book, I talk about the importance of experiences. Now that connected consumers are just that, they're connected, I believe that organizations now need to think beyond products and services and start creating experiences. As such, I could have written yet another book, one that looks and feels like every other book out there. Even though WTF is my fifth book, it is my first book where I thought about it as an experience first and a book or product second. 
It's expensive. It's four-color. It's square in shape? I didn't do any of these things to try something different. I studied UX for a year to better understand how we are consuming information online, in networks, in apps, and what it is we share and why. WTF is intentionally designed as an analog app. It's a fusion of digital and print to make reading an experience. You feel different as you read it. You don't have to read it in a linear format. The built in nav bar takes you back and forth where you need to go. Plus, I invested in visual storytelling in addition to tight and engaging narrative. It's not easy and it requires a very different approach. The first is probably the most difficult step, it's the recognition that how you see the world and the way you normally work is what's best to succeed in today's connected economy. Second, and also difficult, is to change how you approach the market, even how you speak and present, to capture the attention of an always-on audience. 
This book changed me, changed how I see the world, and inspired me to think differently about how I create value and earn relevance. This is why the book is an experience and not just a delivery mechanism.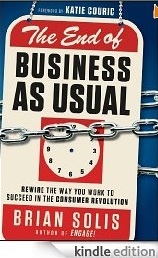 An expert in digital media, you nonetheless focus heavily on in-person presentations and individual contact to launch WTF. Why? 
My approach to the book release is similar to my approach on the book development. While digital marketing is critical, meeting people, showing the book in person, and creating live experiences. This personal engagement contributes to the sharing experiences across multiple networks such as Twitter, Facebook, Instagram, et. al, that, in a connected economy, bring the digital and real world together. They extend what's taking place live to their friends and colleagues who aren't part of the event, which increases curiosity and forms desired impressions. Real world engagement is also true to the message of the book. You have to step outside of your comfort zone to reach new communities online and offline and offer value to earn a place among them!
When you give a talk, you ask readers to review WTF on amazon if they like it.   Could you tell us more about strategies for getting reviews? 
Well, I do present; I actually do not ask people to review it. However, I do listen to reader feedback online via blogs, sites and social networks. It's easy for someone to share that they love a book in a status update. It takes a notable investment to write a formal review at Amazon, iTunes, etc. If I see something interesting and it seems within reason, I'll ask for a formal review and offer something in return. Every now and then, I'll also offer books from my personal library or other goodies that I've earned from travel and work in exchange for a review. 
 I believe in the power of positive conditioning. An ask and a thank you can go a long way, especially in a time where attention is a precious commodity.
***
You can follow Brian Solis on twitter at @briansolis (Brian has over 200,000 twitter followers) or on Linkedin (which features his posts) or on his blog.
Here are his upcoming appearances.
New Book
Recent Books
Brian Solis is principal at Altimeter Group, a research firm focused on disruptive technology. A digital analyst, anthropologist, and futurist, Solis has studied and influenced the effects of emerging technology on business, marketing, and culture. Solis is also globally recognized as one of the most prominent thought leaders and published authors in new media. His new book, What's the Future of Business (WTF), explores the landscape of connected consumerism and how business and customer relationships unfold and flourish in four distinct moments of truth. His previous book, The End of Business as Usual, explores the emergence of Generation-C, a new generation of customers and employees and how businesses must adapt to reach them. Prior to End of Business, Solis released Engage, which is regarded as the industry reference guide for businesses to market, sell and service in the social web.
***
Recent Paris Writers News Interviews:
 Anton Gill, author of Art Lover: a Biography of Peggy Guggenheim, on the joys of reseaching and writing non-fiction
 Steven Sampson, author of Corpus Rothi, on Jewish satire, writing in French and the trouble with ebooks
Douglas Trevor, author of Girls I Know, on the dark power of poetry in the 21st century
 Kilian Tep, author of Opiniovox and Buds of  Thought blogs, on leaving France to study in America
Rachael Acks, author of The Curious Case of Clementine Nimowitz and her Exceedinly Tiny Dog, on Steampunk, women writers and new voices in science fiction
Matthew Fraser, author of Home Again in Paris: Oscar, Leo and Me, on Poodleland, memoir and seeing Paris through different eyes
Miranda Crispin, star of The Last Five Years, on musical theatre in France
Barry Kirwan, author of Eden's Revenge, on creating new worlds in science fiction
Susan Kamata, author of Losing Kei, on inspirations for expat writing in Japan
Jessica McCann, author of All Different Kinds of Free, on the story of Margaret Morgan, a free woman of color kidnapped and sold into slavery
Stuart Nimmo, author of Perilous Moon: Occupied France 1944 the End Game, on RAF pilots and the men who shot them down.
Berna Huebner, editor of I Remember Better When I Paint (the book), on improving care for people with Alzheimer's
Barbara Navarro, author of Amazon Rainforest Magic, on theYanomami indigenous peoples and art.
Peter Silverman, author of Leonardo's Lost Princess, on his quest to authenticate a lost Leonardo Da Vinci painting which pre-dates the Mona Lisa.
Adam Biles, author of Grey Cats, on story-telling, humor and Paris by night
Fred Coleman, author of The Marcel Network, on the heroism of a young couple who saved Jewish children in WWII France
Linda Lappin, author of Katherine's Wish, on writing and the new realities in publishing
John Pearce, author of Treasure of Saint-Lazare, on writing fiction based on the history of Nazi looted art 
Kate Noakes, poet, talks with Lisa Burkitt about inspiration, writing and working cash jobs
Richard Grant, author of God's Middle Finger: Into the Lawless Heart of the Sierra Madre, talks with Dominique Godrèche
 Stephen Clarke on French history, Paris bookshops and Paul West's debt to DSK
and more http://www.laurelzuckerman.com/paris-writers-news-interviews-.html