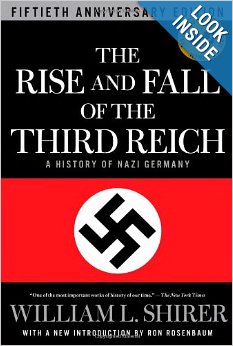 ...from William Shirer's The Rise and Fall of the Third Reich:
"...the businessmen, who had welcomed Hitler's regime so enthusiastically because they expected it to destroy organized labor and allow an entrepreneur to practice untrammeled free enterprise, became greatly disillusioned. One of them was Fritz Thyssen, one of the earliest and biggest contributors to the party. Fleeing Germany at the outbreak of the war, he recognized that the 'Nazi regime has ruined German industry.' And to all he met abroad he proclaimed, ' What a fool [Dummkopf] I was!"
First published more than fifty years ago, William Shirer's classic  account of Nazi Germany, which he reported on first hand, remains a must-read book today.