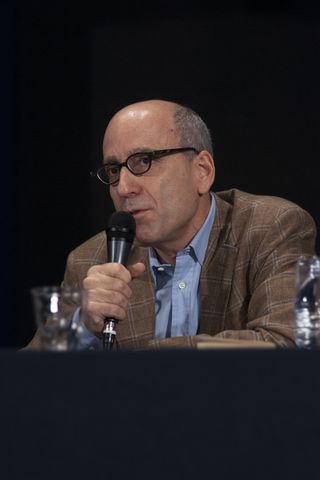 I first heard Steven Sampson speak at a seminar on the America of Philip Roth, organized by La Règle du Jeu in Paris. His knowledge, insight, wit - and incredible mastery of French - blew me away. Who was this Philip Roth scholar who navigated the deep waters of literary Paris with such ease?
Author of Corpus Rothi I and II, literary critic, scholar, and essayist for La Revue littéraire, L'Infini, La Quinzaine littéraire, Le Monde and L'Atelier du roman, Steven Sampson is a Milwaukee-born American with (after Harvard and Columbia) a PhD from Paris VII.
Steven Sampson, a Paris Writers News Interview

Laurel Zuckerman: You have written extensively about Philip Roth. Do you have a favorite book by him? Which one - and why?
Steven Sampson:
Until recently, it was
Portnoy's Complaint
, which is one of the funniest books I've ever read. Now it's becoming
The Anatomy Lesson
, because of its minimalism.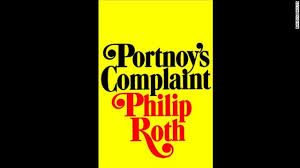 What have you learned from Philip Roth? As a writer? As a man? As a Jew?
I don't read novelists to "learn" anything; I read for pleasure. The ones who are trying to teach me something tend to be pretentious. That said, as a writer, Roth provides a great example of courage. He lets it all hang out.
Roth novels often feature crazy fans who insist he is a genius then do nutty things like try to hijack El Al flights. As a literary critic and expert in Philip Roth, how do you interpret this?
These characters often serve as doubles for the narrator. They "act out". They represent the body, in all its violence and sexuality, whereas the narrator represents the mind.
In The Counterlife, Roth's alter-ego Nathan Zuckerman says, "Most people (beginning with the novelist - himself, his family, just about everyone he knows)  are absolutely unoriginal, and [the novelist's] job is to make them appear otherwise." Do you think this is true? 
Roths' narrators' pronouncements on life, or on writing, are the least interesting part of his work. It's rare that that kind of thing works. A famous exception is the first sentence of Anna Karenina, where the narrator says "All happy families are alike ; every unhappy family is unhappy in its own way."  Is that true? Does that statement really mean anything? Not in my opinion. But it sounds nice.
As for Zuckerman's pontificating, it raises the question of his own "reality". Should we view him as a character created by Roth, and therefore interesting? Or as someone truly inhabiting his own universe, and therefore boring?    
Roth frequently addresses the problem of writing satire and humor about Jews in a world still filled with anti-semitism. How serious is this danger? Can a writer today - even one of Roth's stature - change anything in the public debate? Is he right to worry that self-deprecating jokes and memorably vivid Jewish characters may used as a weapon by anti-semites and Israel-haters?
Thanks to Roth, Woody Allen, Seinfeld and Larry David, among others, a lot of this is water under the bridge. As for "Israel-hating", it's a totally separate question from that of the portrayal of the Diaspora Jew. Roth himself has a fairly ambivalent attitude regarding The Holy Land.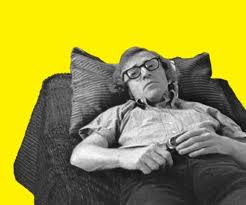 Is there such a thing a as female Philip Roth? Could it exist?
Erica Jong's Fear of Flying was considered to be a sort of female Portnoy's Complaint at the time.
You have written two books about Philip Roth's work - in French. Why Roth? Why French? Can you imagine publishing these books in English?
Roth writes about a sense of emptiness, to which I can relate. I feel less empty in French, which makes it easier for me to write in that language. I'm dying to publish in English! Even university professors don't read French anymore, which means, in most parts of the world, my Roth books don't exist.
What is your creative process? How has it evolved over the past few years?
I've learned to become less logical, to go step by step, where each paragraph can become a surprising departure from the previous one. Working on my essays for La Quinzaine littéraire was particularly helpful in developing this method.
What are, for you, the biggest incentives and the biggest obstacles to writing?
The biggest incentive is achieving immortality (an illusion). The biggest obstacle is learning to accept that the final product never measures up to the original dream.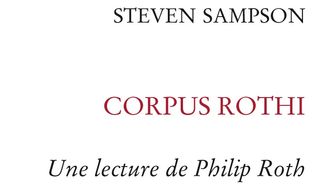 You have serious hesitations about ebooks. Could you explain them to our readers?
Ebooks kill bookstores. And so they kill bookstore owners, who are a wonderful breed. I'm concerned about vertical integration, about the concentration of power in the hands of a few companies like Amazon.   
Are you going to continue to write in French? Are you drawn to English at all?
I hope to translate all my work into my mother tongue. It's frustrating that my family and American friends can't read me. My most beloved project, an unfinished dystopic novel I began fifteen years ago, is  written in a futuristic English. 
Unlike most expat writers, you have integrated extremely well into French literary life. How did this come about? What made this possible?

I made a conscious effort to avoid other "expats", a term which, by the way, I dislike. I consider myself more of an "immigrant." This attitude, along with my love of French language and culture, were essential.
You write frequently for top French literary magazines. Name three (of your) articles that are your personal favorites - and why?
"Philip Roth, Woody Allen et le complexe de Rosemary".
It appeared in the Hors-Series (special issue) of Le Monde dedicated to Philip Roth (February 2013). It uses Rosemary's Baby and Mia Farrow as a prism for looking at the lives and work of Roth and Woody Allen. I do a parody of Portnoy's Complaint, as reflected in my title, which is based on the French translation.
"Le Rouge et le Porte-Noir", L'Infini numéro 109 (hiver 2010).
It's a humorous look at the centrality of the figure of Jesus Christ in Roth's work. I also talk about Roth's color scheme. My reference to Stendhal's Le Rouge et le Noir arises from Portnoy calling himself "Porte-noir". Here, as in my doctoral thesis, I show that to understand Roth's symbolism, you need to know a bit of French.  
"Roth est-il venu ?" L'Atelier du roman, numéro 75 (septembre 2013). It's my first work of published fiction. It features a trinity which includes Jessie, a Jewish-American doctoral candidate living in Paris and trying to write on Philip Roth;  Marie, his French Catholic girlfriend; and Roth, whose shadowy presence hovers over them both.

 
What are you working on now? 
I'm developing my afore-mentioned short story into a novel, which I'm writing in French.
And I continue to write for La Quinzaine littéraire. My next article is on Louise Erdrich. 
***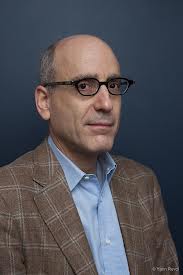 About Steven Sampson: After an education at Harvard and Columbia and ten years working in publishing in New York, Steven Sampson moved to Paris where he obtained a PhD in American literature at the Université Paris-VII for a thesis written in French on Philip Roth. Since then he has published two books on Roth, Corpus Rothi I and II, as well as a collection of essays on other contemporary American writers, Côte est –Côte ouest.
He writes for several publications, including La Revue littéraire, L'Infini, La Quinzaine littéraire, Le Monde and L'Atelier du roman.
 He is currently working on a novel about an American doctoral candidate in Paris, the first chapter of which appears in the September issue of L'Atelier du roman under the title "Roth est-il venu ?"

For more on Steven Sampson, see:
Corpus Rothi. Une lecture de Philip Roth, Éditions Léo Scheer, coll. « Variations », 2011
Côte Est-Côte Ouest. Le roman américain du XXIe siècle, de Bret Easton Ellis à Jonathan Franzen, Éditions Léo Scheer, coll. « Variations », 2011
Corpus Rothi II. Le Philip Roth tardif, de Pastorale américaine à Némésis, Éditions Léo Scheer, coll. « Variations », 2012

Sites:  atelierduroman@flammarion.fr.
More interviews