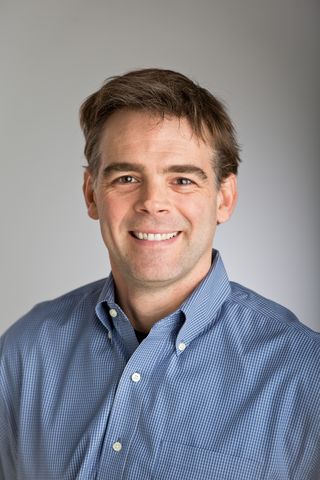 Douglas Trevor is the author of the novel Girls I Know (Sixoneseven Books, 2013), and the short story collection The Thin Tear in the Fabric of Space (University of Iowa Press, 2005) which  won the 2005 Iowa Short Fiction Award and was a finalist for the 2006 Hemingway Foundation/Pen Award for First Fiction.  A professor of Renaissance literature and creative writing at the University of Michigan, his writing has appeared in numerous publications.
In Paris last month, Doug graciously answered questions about his acclaimed new novel, Girls I Know, and the challenges of story, poetry and education for writers today.
a Paris Writers News interview
 ___
Laurel Zuckerman: What makes you want to write? Could you imagine doing something else?
 Douglas Trevor: At this point I really can't imagine doing anything else, although I would have loved to have been a musician. I think the challenges of trying to write a decent sentence, not to mention concoct a story that is interesting in the first place, represent too irresistible a temptation for me to stop trying. There is so much to balance in writing, so many opportunities to learn, so much that resists one's best efforts, that not to try seems too easy. So I'm afraid I will just have to keep plugging away.
 You have said that writing about America today means writing about diversity. Why?
 Well, I think our last presidential election really demonstrated how the demographics of the United States are shifting. If there is one broad complaint I would make about the landscape of American fiction at the moment, it is how many writers only choose to explore and write about their own socio-economic and racial backgrounds. I think that risks producing a plethora of artistic visions that don't intersect with one another enough.
Diversity is something of a buzzword in America today, with strongly negative and positive connotations. But it seems to me that a novel about contemporary America, which not all novelists want to write but many do, must acknowledge what America looks like today, and that isn't how it looked twenty, or even ten, years ago. I find these changes to be really exciting, but I don't think the American novel has caught up to them yet.
 Girls I Know has received glowing reviews. How long did it take you to write this novel and what was the scariest thing about it for you?
You are kind to mention the reviews, which have been really generous. I spent about three years, 2007-2010, writing a very long, very messy first draft, then another two years producing four more drafts, each of which got shorter and more focused on the three characters who became the central characters: Walt, Ginger, and Mercedes. So much of what I took on in the book made me nervous: the central, violent scene of the restaurant shooting that shapes everything that transpires in the book, the interior monologue of the young, African-American girl (Mercedes) whose parents die in the shooting, and encompassing but also overreaching these concerns, the problem of pacing and keeping the story going without allowing it to feel forced or unnatural. I was writing, in quite a bit of detail, about the Boston I knew in the late 1990s and early 2000s but I was working on the book mostly in Michigan, so that sense of disconnect was both great (since I could hold onto the Boston in which my story was set) but also disconcerting (since I didn't want to get any details too wrong). I was always worried about the opening few chapters too—that the book started a little slow, which I felt it needed to in order to build and grow, but which I thought might cost me some readers.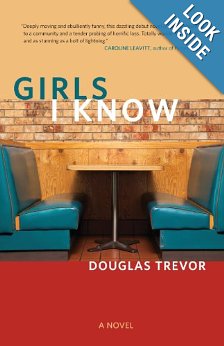 What was the inspiration for – the at first glance rather odious - Ginger in Girls I Know?
 She is a type of undergraduate I have encountered a lot in my teaching career. In part because of that I never regarded her as completely odious, just ambitious and self-involved, which is I think is a little more forgivable in the young than the old. But she is, as Walt observes, quite full of herself early on. But then she started to grow as I worked into the story, in some ways that I hadn't really envisioned, and as a result I warmed up to her. In her slight defense, she is burdened with the weight of carrying around a lot of the labels that Girls I Know is interested in exploring. Ginger is a wealthy New Yorker, from an old, white American family, and she is engaging with—and in a sense at times manipulating—this newer America that is springing up around her, for which the kind of assurances she can take for granted aren't available. So she's something of a target in the book, or represents a target, which she herself realizes toward the end.
You, unlike your hero who never completed his dissertation, have a PhD from Harvard. Is Girls I Know intended as a critique of the place? 
 Yes. In the first draft, the critique was more pointed. When I was a graduate student at Harvard, the school was buying up a lot of real estate in Allston (a neighborhood that borders Cambridge), and this was controversial because as a non-profit this land became tax-exempt, which hurt—for example—the funding of public schools in that part of Boston. I really wanted to explore that paradox, but the conversations I asked the characters to have on that subject always seemed forced, so I cut back on that dimension of the novel. But I do think that, in general, universities, both private and public, are unfortunately more disconnected from their immediate surrounds than they should be: that in their aspirations to be international in reputation they forget that they exist and shape neighborhoods and townships. And I hope that concern comes across in the novel.
Poetry plays a key role in Girls I Know. What makes poetry so powerful? Why Robert Frost?
 I chose Frost because Walt's grandmother (who introduces him to the poet's work when he's growing up) was of that New England generation for whom Frost was the great American poet of the twentieth-century. I met New Englanders who felt this down to the marrow of their bones. And Frost's poems routinely worm their way into high school, and even middle school, curricula, which is surprising and interesting because his poems—even the really recognizable ones—are almost unfailingly dark. Finally, I thought, after her parents' deaths—that Mercedes would respond to this darkness, and I was keen on seeing what an eleven-year-old from Boston would make of Frost's poems.
You are a scholar of 16th and 17th century English literature at a time when people are quick to cry elitist. Do you think everyone can benefit from Shakespeare, Milton, Spenser and Donne? How?
 I think that these writers make you smarter when you read them because they are hard at times to follow but immensely rewarding, playful, and funny (Shakespeare and Donne especially). Spenser is something of a mad scientist as a poet, writing these impossibly difficult stanzas, using allegory in a variety of different ways, numerology, etc. But the language of these writers really crackles with energy, in part because of how much English was changing while they were alive. I think we can connect with that today. But just about everything any writer has tried to do, Shakespeare did at one point or another, and that in itself makes him worth reading, not to mention that he didn't go to university, came from a small town, and enjoyed making fun of elitists throughout his career (like Roderigo and Cassio in Othello).
 You mentioned once that you wanted to write an eventful novel (which Girls I Know is). Do you find this to be a problem in modern literary writers - a lack of story, or plot?

Great question. I kind of do, yes. I think the predominant frame for novel-writing now has been established by the memoir, so a lot of writing is self-justified on the basis of the writer possessing some kind of specialized knowledge: about a place, or a kind of experience, etc. I think that kind of sensibility can impinge upon creativity and that each generation of writers really needs to defend creativity and imagination because a whole lot of people don't really believe in imagination in the first place. So I encourage my students to take risks, and I try to take them myself.

Writers workshops and MFAs help many writers to hone their skills. Do you think there's also a downside?
 Oh sure. MFA programs aren't for everyone. Some writers, especially young writers, might feel an air of competition to which they don't want to respond. Others might feel fundamentally misunderstood by those around them. If a writing program makes you stop writing then obviously it hasn't worked. But that said, I think the benefits far outweigh the possible disadvantages, because you get to see people grapple with what you are writing and that is enormously valuable. As one writer pointed out to me many moons ago, as a writer, you aren't writing a poem to yourself. You need to engage with readers. And MFA programs help you do that. That said, I didn't do an MFA and I'm not sure how I would have handled the experience. You have to be in the right place mentally and creatively—aware of what you are trying to do, but also mature enough to take criticism—before you embark on the odyssey of an MFA degree.

Do you think $200,000 is too much to pay for an undergraduate degree in English? Isn't all we need some books and an inspired teacher?
My view is that we have to figure out how to make all undergraduate degrees more affordable, absolutely, and that we cannot burden young people and their families with huge debts. The idea that is taking hold now amongst some people, and that is being vocalized perhaps more than in the past, is that a degree in economics is inherently more useful than a degree in English. I don't buy that kind of argument at all. If you study economics and hate it and do horribly in it how is that going to help you get a job? If you are a brilliant English major, your achievement will serve your professional interests down the road and translate into different fields. That said, I think we need to do several things in terms of higher education in the US. One is debunk the age-old, Animal House view of college as where you go to have fun. I think the experience should be a more serious one than that. Make friends, of course. Go to parties. But don't go out every night and don't sleepwalk through your time in college. Secondly, the administrative umbrella attached to universities now is growing too quickly, which explains some of the rise in tuition fees. I think we need inspired teachers and inspired students, and that paying for the experience of learning from both teachers and one's fellow students is incredibly rewarding, but young people should not have to spend hundreds of thousands of dollars they do not possess to get a degree in anything.

I find it intriguing that there is no mention of ebooks in your novel? Was this intentional? 
 No ebooks, and barely any cell phones! Walt doesn't own one. Miriam (my agent) and I joked about that quite a bit. The novel is set in 2001, so I think we are just pre-ebooks, and one could get away with not having a cell phone back then (at least I did). But you bring up a really interesting point, which is about the crucial moment in the book when Walt loans a copy of Frost's poems to Mercedes. I worry that an exchange like that won't be helped by ebooks—that if someone is disadvantaged in ten years and doesn't have a Kindle, he or she might not be able to read as easily as someone with such a resource. I worry that if we lose the material book we will also use a dimension of our democratic experience as readers, which is obviously comprised by material advantages to begin with but looks to be becoming more so.

One of your characters says that there is no difference between a decent person and a teacher. Is this a call to arms?
 Kind of. Walt says this, and both his grandparents (who raised him) were teachers. So he is preaching to the choir in a sense. I think he is a little naïve about the challenges that he will face when he decides to become an elementary school teacher. But we need in general to value educational instruction more in the states, and incentivize teachers if we want to get good people in the classroom. We seem to be moving in the opposite direction.
 
When faced with death, do you, like your fictional creation, plan to think about your dissertation?
 Ha! No, I will think about my two kids, who are 10 and 7.

You spent a year in France studying Montaigne on a Rotary Fellowship. What was that like? If you had to name one best thing about this year, what would it be?
 I've always been a Francophile. And what I loved most about living in Tours was making friends with French kids from the Touraine, some of whom I am still in touch with. I loved the rituals by which we got to know one another: the long meals, the hours we spent in cafés. I think the French commitment to these sites of engagement is something from which rest of the world can still learn. Montaigne still represents to me much of what I love about the French: his humor, his curiosity, his love of literature and learning, his interest in the non-European world, etc.

You research, teach and edit.  Your writing has won numerous prestigious awards, What next?
 I'm trying to finish a new collection of short stories in the next few months, and then dig into another novel at the beginning of the next year. I would like to write more about my time in France—I have a story in my first collection of stories called "The River" about living in Tours. So hopefully I will have an excuse down the road to return to France soon!
 __
DOUGLAS TREVOR is the author of the novel Girls I Know (SixOneSeven Books, 2013), and the short story collection The Thin Tear in the Fabric of Space (University of Iowa Press, 2005). Thin Tear received the Iowa Short Fiction Award and was named a finalist for the Hemingway Foundation/PEN Award for First Fiction. His short stories have appeared in publications such as The Paris Review, The Michigan Quarterly Review, The Black Warrior Review, Epoch, Fugue, The Notre Dame Review, Glimmer Train, The New England Review, and The Ontario Review. He also has work forthcoming in New Letters and The Minnesota Review. His stories have been anthologized in The O. Henry Prize Stories and The Best American Nonrequired Reading. He is currently at work on another collection of stories, and is beginning a novel about a family that disintegrates and then is reconstituted in a much different form. Trevor received a BA from Princeton University and a PhD from Harvard. He also teaches courses at the graduate and undergraduate levels on early modern literature, particularly the works of Shakespeare, Donne, and Milton