a Paris Writers News interview
___

Jacqueline Leahy: Tell me a little bit about what took you to France in the first place, and what inspired you to establish yourself here as a writer. How did your career begin here in France?
 Heather Stimmler-Hall:  I had no dream of coming to France, I just wanted to go to Europe. But because I had taken eight years of French and Paris had the only political science program that my school [Carleton College] approved for my degree, I ended up here.  
I come from a traditional journalism background and studied political science because I was going to be a White House correspondent. But I stayed in France and ended up being a travel writer.
I was a student so I didn't have to worry about a visa. Then I was married to an Englishman for seven years. By the time we had separated I had my own business and had been here legally for over ten years, paying taxes. So I went through the process and got my dual citizenship in 2010.
 JL: Tell me about your first experience of Paris. How do you try to open less than enthusiastic tourists to what the city has to offer?
 HSH: The first time I really liked Paris was when I was living on the French Riviera for four years and came up here for writing assignments. When I was a student in Paris in 1995 there were really bad strikes and metro bombings. And I was 20; I was chasing boys, not being a tourist. Later when I was married I lived like a local, always going to the same three restaurants and never to museums.  But once I became a travel writer I'd come to Paris and visit 130 museums in two weeks, recording all the boring stuff, opening hours and checking the bathrooms. But I was like, oh, actually Paris is quite nice when you're a tourist!
Maybe I have an advantage because I had zero expectations and a bad first year. I totally understand it when people are dragged to Paris by a spouse and are trying to figure out why Paris is interesting. I try to sneak things in during the tour, cultural details, like the healthcare. Sometimes what makes France great is more just the way they live. For some reason in America we think we are the family values country, but here, you tell your boss you are going to pick up your kid or go the dentist, you don't have to take a sick day or worry you'll get fired. Your personal life is more important: people work to have a life in France, in general. We [Americans] are at the forefront of trendy health movements but the French are healthier. It is socially not acceptable to be obese in France, and 40 percent of Parisians buy their food from open-air markets. It's hard to convey all that in a walking tour or a short article. If there was no Eiffel tower or macarons, Paris would still be great.

 JL: Why didn't you decide to work for a French publication, like Le Monde? How did Secrets of Paris start?
 HSH: My French was never good enough (in my mind) to do French journalism. I worked at Elle magazine's website when that first opened. I had a Yahoo! group newsletter in and used to write a column for suite101.com. I called it Secrets of Paris, where I posted stuff sent to Elle that didn't work for them.
 After a year, I moved to the south of France. With no permanent jobs at the local English newspapers I ended up going freelance, and then with 9/11 and the dot com crash, there was less internet and travel coverage. The most consistent travel writing gig was updating travel guides.  I feel like I've worked for almost all of them at some point.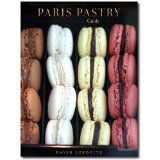 JL: How did your career evolve?
HSH: I worked for American publishers for years; but living in euros and making dollars isn't very bright. In 2004 I started working as a guide with EF Tours, taking buses full of sixteen year olds around Europe. I lasted a year, and then moved onto Backroads and local Paris tour companies. After a while people reading my Secrets of Paris would email me asking for private tours, which were much nicer to do - I wouldn't get bored.
 JL: How do your tours influence your travel writing and your selection of materials to be published through your LLC, Fleur de Lire Press?
 HSH: It actually worked out really well doing both. People who write guidebooks never usually meet actual tourists, so they don't realize what they are leaving out. When people on my tour would find out I wrote the Fodor's review for their hotel, they would tell me right away what they think of it. I soon found that big publishers are a little limited, they tend to keep trying to do it the old way and I find it's not helpful; people need information presented in a specific way in order to use it.
 JL: How did Naughty Paris come into being?
 HSH: People reading the newsletter inspired Naughty Paris. The website, Secrets of Paris sounds a bit naughty. People would email me asking about where they could do something "fun" in Paris, 'nudge nudge, wink wink.' The first full-length print guide I did was an adventure guide to the Ile de France with horse backing riding, hiking, etc. In French, "adventure" means sex, so everyone kept thinking it was "that" kind of guide. A friend and I threw around the idea of translating French guides to naughty Paris into English.

 I'm a big believer in actually visiting the places you write about, but didn't want to have to go to seedy places, so the idea came up to make it more of a fun lady's guide. I started in 2005, when books like Bad Girls Guide to the Open Road, came out. It started out chick lit cartoon-y. At the time, I was still freelancing for Elle, and a lot of the travel articles for Paris were perfect for the guide, so we made it a bit more upscale, like a Sex-and-the-City guide. Only 5 percent of the book is shocking or something you wouldn't see in any typical women's magazine. I'm now working on the second edition. It's going slowly because I still give tours. Right now, people are planning tours for October. I haven't given up completely the writing or the tour guiding.
  JL: Tell me more about the 'Naughty Paris' writing process. 
 HSH: It took me three years to write Naughty Paris. I was doing other things and trying to find out if it would work. The funny thing was, when it came out, people were like, 'wow, it's actually a good book,' it's not some kind of frou-frou. My friends were shocked it was well written and not a fluff piece. I think I have too much of an ego to write a fluff piece. I spent time going to the library to research the history, and visiting places I'd never been before. I did want to make it a good book, an attractive book. I didn't want it to be something that people would throw away after their trip.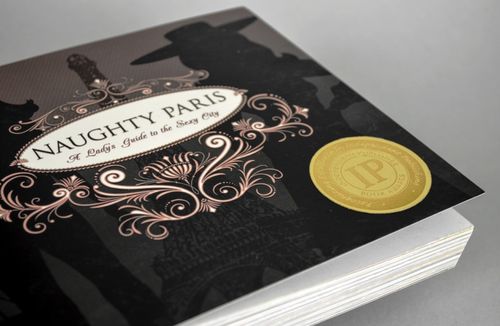 JL: The first page of the 1st chapter of Naughty Paris has the quote: "Paris is a place where women are truly liberated." Can you tell me a little about feminism in France?
HSH: I think it depends on, within France, your socio-economic background. The word feminism tends to be more negative here, people can be very militant. But then there's a very different group of women who are powerful and independent yet they don't identify themselves as feminists. French women don't want to be friends with men, not like in the US. Here, it just seems like women are free to flirt and be sexy and have fun, more for themselves than to impress men. It's really subtle and it could be changing with the French women today, I'm mostly speaking about women over 30 in France.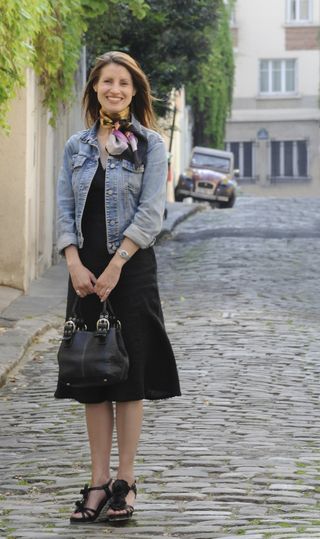 JL: Would you give a tour of 'Naughty Paris'?
 HSH: I would never do a tour of Naughty Paris, that's too weird, but I do organize bachelorette parties.
JL: In Naughty Paris you offer some cultural advice. How did you come by this wisdom?
HSH: Living here. With enough personal experience over the years you feel pretty confident about what you've learned.  I've also attended a lot of cross-cultural communication seminars. The American Church does something called 'Bloom Where You're Planted,' and there's the classic book French or Foe by the late Polly Platt, who started it back in the sixties. But Naughty Paris is written for tourists. I can tell you how to get French guys, not how to keep them; it's not meant to be the only source of cultural information. 
JL: You also offer safety advice. Where does this advice come from?
HSH: Personal experience. Unfortunately, any woman living in a big city has to deal with different safety issues. I give a ton of safety information to my tour clients; there's different stuff for tourists and students. As a tour guide I hear people's experiences so I know what they go through, things that locals never have to deal with. I grew up in Scottsdale, I'd never lived in a big city before coming here, so for example in the metro I didn't know what an appropriate body squish was and what wasn't. If you're a journalist who is writing about anyone other than yourself, you are just used to looking for information and thinking about how it affects other people. I'm constantly thinking about how to share information and it's just sort of a habit now.
 JL: Tell me about 'Naughty New York.' What was your role in that guidebook?
 HSH: I had journalist friends in New York who asked me if I'd do a Naughty NY Guide. They wrote it, I just edited and printed it. 
  JL: Now about your blog, 'Secrets of Paris.' What qualifies a piece of information as a 'Secret of Paris'?
 HSH: When it's not easy to find the information in English (or sometimes even in French). I mostly keep an eye out for stuff like that. And most people never actually tell you why places like the Louvre, the Eiffel tower, etc. should be visited. Somebody asked me earlier on, 'Why should I visit Notre Dame?' I responded by placing it into the actual historical context of the city. I do love Paris, I want others to love it, too!
 JL: What do you think people don't realize about journalism, blogging and travel writing? What's your advice for people who want to blog, or explore the world of travel writing?
 HSH: These days anyone can put up a blog. People don't realize that journalism is a profession and there are actual skills involved. So many of my interns have to be taught to write feature articles without making it about their own experiences or opinions. Unless the reader knows who you are, they won't care. I'd also tell people to do their research, to go to the library. Especially in France, hardly any information from libraries has been put online. You go to the library and it's amazing what you can find. I've spent a lot of time there trying to find things that aren't already known about the city.
I just try to write about what interests me, to find the information and anecdotes that makes something interesting for others in a historic context that brings understanding. I just try to get people to see Paris the way I see it. Travel writing has changed, though. It used to be that Hemmingway and his friends could write one article a month and live on that when the dollar was so strong. Now everybody publishes for free so it's hard to find publishers who will pay. But you get what you pay for.
JL: How do you balance your schedule between giving tours, writing guidebook articles, updating the blog and publishing? 
HSH: Good question, I'm still trying to figure that one out. ;-)
___
Heather Stimmler- Hall: Philly-born, Arizona-raised, Minnesota-educated (Carleton College), Heather has a traditional news journalism background with a liberal arts bachelor's degree . She first moved to France in 1995 as a student, and has been living in Paris full time (with a three year detour to the French Riviera) since 1998 as an award-winning writer, editor, webmistress, publisher and tour guide extraordinaire.
For more information see Heather's Naughty and Secrets of Paris websites, amazon and her book trailer!