What is the French socialist government's real position on shale oil fracking?
Officially President François Hollande is against the environmentally devastating process which involved injecting hundreds of dangerous chemicals into the earth while using massive quantities of water – which then become contaminated. And for good reason! The natural gas recovery technology, developed by Halliburton, whose former CEO Dick Cheney served as George Bush's vice president, has been implicated in serious water pollution in the United States. (see Gasland which just aired on Arte in French and German and can be viewed in English on youtube).
This makes sense. Why would France, world famous for its "terroir" and the quality of its agricultural products, want to risk devastating, long term pollution of its water and earth? Why not wait a decade or two until we see what the results are in America, where fracking is being exploited on a massive scale – and with total impunity?*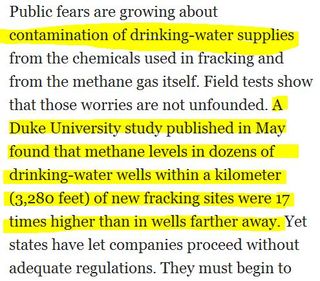 Unfortunately, it is not clear that French President François Hollande is really against fracking. His statements look more like a tactical PR position designed to trick people into believing that he – and the socialist party - think the environment is important.
But now, thanks to Arnaud Montebourg, the real story emerges.

Montebourg, Minister of Industrial Renewal, has been a tireless and vocal promoter of shale oil fracking. In open conflict with Ecology Minister Delphine Batho on this question, he remained in the government while she was kicked out (on the pretext that she complained about a 7% decrease in the ecology budget). This week Montebourg went further.
He floated the idea of a nationalized company to exploit shale oil resources, claiming that the French version, unlike the American version, would be ecological. This is, as many commentators have pointed out, nonsense. The technology is what it is, no matter who owns the means of production, or how you pronounce the names of the chemicals used.
The French prime minister, Jean-Marc Ayrault, quickly put Montebourg in his place, specifying that shale oil fracking was not French policy. France is against the exploitation of gaz de schiste – end of discussion.
No, replied quite publicly the irrepressible Montebourg. You are wrong. French policy is not against shale oil fracking at all.
***
Arnaud Montebourg, it must be said, seemed pretty sure of himself.
Once again he openly defies the Prime Minister and keeps his position. François Hollande, meanwhile, says nothing. Which, as numerous commentators are pointing out, is a pretty good indication of his position: pretend to oppose the extraction of natural gas through shale oil fracking while secretly preparing the ground for its exploitation.
The French ecologists, meanwhile, are impotent, silent and irrelevant. They have sadly reached the point where their participation in this government is entirely counterproductive: The Verts serve as window dressing on a profoundly anti-environmental socialist government. For the Verts to retain any credibility at this point they have only one option: resign in protest and publicly restate their principles. But they do not. French ecology as a political force is dead, voiceless, lost, dishonest.
***
What is needed to launch shale oil fracking as an industry in France?
This is a question for experts, of which I am not one. However, if the American experience is any guide, at a minimum France will need an industrial champion (the famous nationalized French company Montebourg suggested) and extremely complacent environmental rules. Watch industry reports for joint ventures or new French companies specialized in this technology. Elf, Total, EDF and the like as well as their subsidiaries… Look for quiet approvals of "studies" and talk of "ecological" technniques for extracting the natural gas.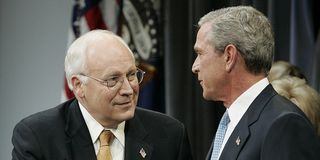 Also, and even more crucial, look for signs of tampering with environmental regulation – changes in rules, decrees d'applications, or even new laws to protect polluters. That's how it was done in the USA. That's likely how it will be done in France…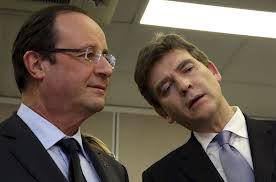 The French legal system does not recognize class action and has a truly terrible record of dealing with large scale environmental risk, so it might not even be necessary to change the laws to allow the shale oil industry to prosper.
***
Does François Hollande oppose shale oil fracking?  France is desperate for money. It's finances, already bad under Sarkozy, are infinitely worse under Hollande. Gaz de schiste (shale oil gas) no doubt appears like an easy source of cash.
It's looking like Arnaud Montebourg was right on this one. On July 14th, after everal days of silence, President Hollande gave a statement saying, once again, that there will be no fracking while he is president. However Arnaud Montebourg, who is France's biggest support of fracking, is still in the government.
How many sides can one be on at once?
___
*(In Gasland we learn that, with Dick Cheney's guidance, the US congress under Bush voted to exempt shale oil fracking from all environmental protection laws, including the Richard Nixon's landmark Clean Air and Clean Water acts as well as Superfund site laws.)
For more information, please see :
Nouvel Observateur (Yves Paccalet)
 Curiously, the full Gasland documentary which I watched on youtube earlier this week is now unavailable...Is it being removed from youtube?