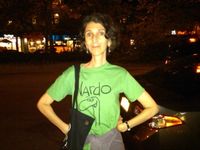 A SCBWI writing contest judge, Cathy has taught creative writing in French and American schools and led writing workshops for numerous English language associations and non-profit educational groups, including the American Library in Paris. Her work has been shortlisted and nominated for Editorial Prizes in national and international writing competitions.

A Paris Writers News Interview
 Laurel Zuckerman: What brought you to Paris? 
 Cathy Altman Nocquet: An international advertising agency transferred me here when I was 25. I'd majored in French literature in college and spoke fluently. The move reconciled my life inside and out; fusing my career with where and how I wanted to "be". Six years later, I met my French husband….in Chicago, but our daughter was born and raised in Paris.
How did you start writing?
I'd always thought about sound and meaning, looking for different ways to use words when I spoke, so began taking notes. Once my "voice" on the page resonated with readers the way my words did in person, I wrote more.
Being handy with words made working in advertising enjoyable and kept me employed. Gradually, I shifted from commercial writing to writing more personally and from training young copywriters to working with creative writers. What I do now is more satisfying.
 What inspired you to write a book about writing?
My students wanted a handbook with my exercises and approach to writing they could refer to at home. Getting to know Nardo, the creature within me that undermines my productivity, was pivotal to the project since he became a character in the book. Giving form to that inner, discouraging voice we all have helps us examine our particular "process" and better cope with our writing.
In WOTL, the story of antagonism (and love!) between Nardo and his writer, Cathy, snakes through insights and entertaining exercises that push irony to the limits. Readers consider simple to complex ideation, working alone or in groups and editing. They're also encouraged to encounter their own inner creature. (One of my teens is plagued by a meatball named Maurice. An adult student and working artist found her nemesis in a Chinese ink brush)
Since WOTL inspires thinking, it's interesting to read even without doing a single exercise: What if you changed your relationship with words? What if that led you do your best creative work?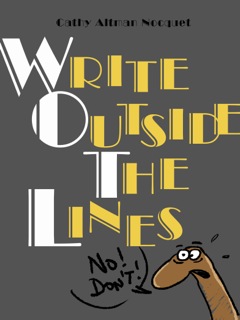 Who is Write Outside the Lines for? How should it be used? What are your hopes for this book?
It's an offbeat manual manifesto for kids 9+, their parents and other intellectually curious and/or creatively frustrated adults! The exercises, designed to develop creative thinking and the confidence that makes that thinking sing, can be tackled and retackled in any order and at any age. WOTL offers anyone a constructive creative break and helps professional writers who are "stuck". One art professor and author relates picking an exercise at random to do in her head while she stands on line.
I see WOTL as an offbeat "textbook" that offers students more profound creative opportunities than the usual fare, whether at home or in school. Teachers at EABJM, the Lycée International in Saint Germain-en-Laye, the Canadian International School in Bangalore and Beacon High School in NYC are using the exercises now. Homeschoolers endorse the book, expecially those with a secular orientation who welcome "subversive" rather than traditional approaches. That educators find WOTL a worthy change of pace from standard curricula has led to workshops for larger groups of students and teacher training at a number of schools. This October, I'll spend 5 days in India with 280 kids and adults.
  Do you see differences in the way that writing is taught in France and in the USA (or other English-speaking countries)?
There's certainly more of a culture of freedom, experimentation and risk taking with the Anglosaxons. Often, when French schools assign students a story to continue, there's a "right answer", which short circuits the creative experience. This has sent a steady stream of young writers in Paris my way who are now writing much more. I find plenty of inspired teens in the USA, as well, so had to smile when an editor at Scholastic described WOTL as "singularly creative but too sophisticated for the target audience." The public school kids from Florida, New Jersey, New York, California, North Carolina and Maryland in my workshops were in their element completely. These kids do not constitute an elite, they just use their brains.
 You've taught teens at the American Library. What's that like?
The teens I see at ALP tend to be bright, motivated and mature. Most of my weekly students, enrolled in bilingual programs in public or private schools, are equally impressive. It's a very international group and we're always inventing new words in franglais or attempting to write poetry in languages we don't know. Try a haiku in Finnish or Swahili now. How does it sound? What does it mean?
 How do you get kids interested in writing? What kinds of skills do you teach them?
 Many kids enjoy reading and arrive liking the idea of writing….they're just not sure they'll be good at it. First, I let them prove to themselves they're creative by having them write about a dream they've had. The dream provides them with an original setting, character and action; all creative work they produced without even trying. Once they share their writing about the dreams, they're ready to trust their conscious minds and create something else. The exercises that follow allow them to find a variety of unexpected ideas they can share and refine. Acceptance and confidence are the inevitable consequence. My students write more on their own and their grades generally improve. Some parents tell me their kids even sleep better. WOTL, like my workshops, takes students through every step of the writing process and leaves them more comfortable about it. They can refer to the book for years.
I use the same exercises with my adult students, yielding responses that are usually more complex and sophisticated. Often instructors with MBAs use  a traditional "Here's some good writing, now you do some" approach, where particpants discuss a text by a famous author before attempting to replicate what's right about it. Beyond being too reminiscent of High School Honors English, this makes students come at writing from the outside. I'd rather get there organically.
 Is teaching teenagers different from teaching adults? How?
 People can be self-conscious about their writing at any age: Adults have had longer to lock in negative feelings about their writing and teens lack the experience to be sure reading their work aloud won't be fatal. Working in a group almost always puts everyone at ease. Listening to others read helps makes writers ready to share. For me, one crucial step to overcoming fear is finding your Nardo. Where does your inner creature live? Your knees? Your armpit? The nape of your neck? Your sock drawer? Your keypad? What does he or she say or do to undermine you? How does he or she move?
 Are there other places in Paris where English speaking teenagers can meet up and talk books or share writing?
ALP, some book stores and schools offer teen reading and writing groups. My weekly classes during the academic year are generally joyous and draw students from many different Paris schools (contact altman.nocquet@free.fr). We start in September but kids can join at any time. For teens in Paris this summer, I'm offering a private classes and a writing camp July 8-12. I'll also lead a workshop at ALP on July 25th. 
How can a writer know who to trust when asking for feedback?
 Writers often get destructive comments from a "mentor" with an unsteady ego. Look for someone articulate and neutral, no matter what their credentials appear to be. If the comments seem valid, implement them and decide as objectively as you can if your work has improved. If you're not sure, ask your Nardo. Inner creatures always know.
Do you have a favorite place to write in Paris?
 No, but I have favorite places to think: out walking or in the bathtub. I keep a notebook in my shoulder bag so I can stop on the street and jot down ideas. (The tub is not far from my desk, so I just grab a towel and drip on the parquet) Whan I wake at 3am I go write standing in the kitchen for a few minutes. The cats have taken my place when I go back to bed, but it's worth it not to lose the idea. During the day, to make sense of all the notes, I use a MacBook, facing a wall.
 What are you working on now?
 In between preparing workshops, noting ideas about the writing process and inventing new exercises, I coach other writers and work on short stories. WOTL reflects the joy of my teaching as well as that of my writing. For more info about what I do, visit http://can.writing.free.fr 
 ___
See also:
Shake for the snake's sake http://www.youtube.com/watch?v=ya0IR4wobUo
Post haiku and "like" Nardo's page https://www.facebook.com/pages/Nardo-from-Write-Outside-the-Lines/277474782296350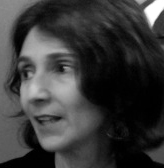 BIO:  Cathy Altman Nocquet made a career of creative thinking while working in international advertising as a writer and strategist. Her workshops feature offbeat exercises designed to develop creative thinking at all ages. She has taught creative writing students from dozens of French and American schools, led workshops at libraries, for the English Language Schools Association and other non-profit educational groups. Ms Altman Nocquet is a SCBWI writing contest judge, and a graduate of Columbia University. Her work has been shortlisted and nominated for Editorial Prizes in national and international writing competitions.