I first heard of Matthew Fraser through his social media posts which provided an excellent selection of French and international political news and analysis. Then I discovered his blog which delves deeply - and amusingly - into France. One thing, though, always intrigued me: the photos of a little white dog taken all over Paris: Oscar.
"I was now in my mid-forties, carrying the burden of experience, marked by success, setback, and tragedy. I felt like I was returning to a familiar place with unfamiliar emotions, rediscovering everything from a different angle, looking at things with different eyes."
Currently a professor at the American University of Paris and a lecturer at the French university Sciences Po where he teaches courses on media and politics,
Matthew Fraser
has lived in France on and off over the past three decades. His books include
Weapons of Mass Distraction: Soft Power and American Empire
(St Martin's) on politics and popular culture; and
Throwing Sheep in the Boardroom
(Wiley) on the social media explosion.
Home Again in Paris: Oscar, Leo and Me
is his most recent - and most personal -  book.
A Paris Writers News Interview
Matthew Fraser: There's a two-part answer to that question. In fact, it's the theme of my latest book, Home Again in Paris. As the word "again" suggests, this is the second time I've lived in Paris and considered the city as my home. I first came nearly thirty years as a young student. I eventually enrolled at Sciences Po where I took a graduate degree followed by a doctorate. So spent a chapter of my dissolute youth in Paris, which was an extraordinarily exciting place in the 1980s. When I left in the early 1990s, first to England then back home to Canada, I honestly never imaged that I might return to France to live again. In Canada I started working in government and then the media as a newspaper columnist and host of a television show. I was also married, my wife Rebecca was a lawyer and we had a small son David. I ended up being appointed editor-in-chief of a large daily newspaper called the National Post. So I was very busy. Paris seemed like a part of my past. Then my wife suddenly died of cancer. After a dark period of depression, I finally returned to Paris in 2006, this time with our little dog Oscar and another bichon I'd adopted called Leo. That journey is essentially what the book is about.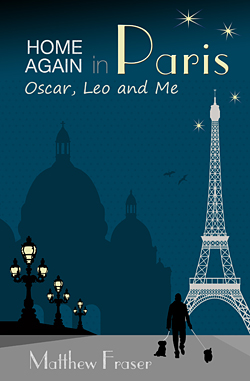 How did you get started writing?


I got started as a journalist. I was very lucky at a very young age because my first job straight out of university was a full-time arts critic on Canada's national newspaper, The Globe and Mail. It's sort like the New York Times, the paper of record. So in my early twenties I was writing reviews of movies, pop music, theatre — everything under the rubric "entertainment". It was quite a training and I was very fortunate. I remember racing back to the newspaper offices after Roxy Music and Eurhythmics concerts to write up my reviews. I was also doing interviews with huge stars from the theatre and cinema. They must have thought I was a child. I remember one interview with Kim Cattrall who was a very young actress at the time playing in a comedy called "Police Academy". That was a long time before "Sex and the City".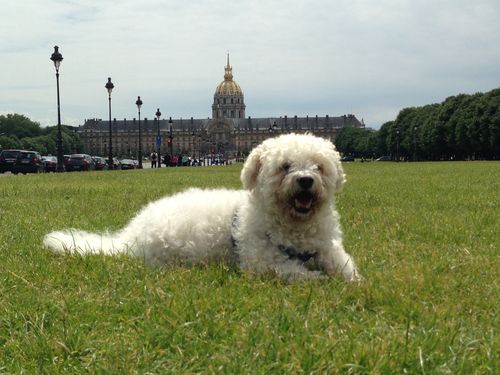 What is Poodleland?

Poodleland is my neighborhood in the 7th arrondissement of Paris where my book largely takes place. There are chapters on my time living in Fontainebleau and a holiday in Provence but most of the book takes place in Paris, ask the title suggests. I actually came across the word "Poodleland" in a New York Times article written more than thirty years ago. The article was about James Joyce, who lived just up the road from my place, he lived in rue Edmond-Valentin. The journalist described the neighborhood as "Poodleland".
Your previous books focus on politics (Weapons of Mass Distraction: Soft Power and American Empire) and social media (Throwing Sheep in the Boardroom). Home Again in Paris is much more personal. What inspired you?
Yes, that's correct, my previous books have been non-fiction, most of them extensions of my journalistic interests at the time. Most have been about the media and entertainment industries, generally speaking, because as a journalist and columnist I was writing mainly about the media — first as a critic, later as a business columnist, and then eventually hosting a television show called "Inside Media". Weapons of Mass Distraction is about the political influence of pop culture — everything from Rambo to  McDonald's and Disneyland. Throwing Sheep in the Board is about the social media explosion. It was published about five years ago just as Facebook and Twitter were taking off globally.  At the time there were hardly any books or serious analysis of the phenomenon, it was one of the first books into that space. I was a Research Fellow at the INSEAD business school at the time and so the book was written from a highly analytical perspective with an emphasis on business and organizations.




Home Again in Paris is, as you say, a very different sort of book. It's a personal memoir — in other words, it's a true story. Nothing is invented, except a few names I changed for reasons of personal privacy. It's a book that, for several years after I arrived in Paris, I felt that I needed to write. My return to Paris in my forties two decades after my first chapter here made me see France differently. That was the initial point of departure, how my "second act" in France was so different. I wanted to tell that story. And then there was the adventure with my two bichons, Oscar and Leo. I don't want to give away the ending of the book, which makes clear the motivations for telling the story.
What are the challenges of writing a personal memoir about Paris? What do you hope your reader will take away from this book? Who, for you, is the ideal reader?
The book was written mainly for a non-French audience — more specifically, for "Anglo-Saxons" as the French call all Anglo-Americans. I would hope that German, Danish, Norwegian - and even French - readers would find the book interesting too. But it's a book that gives an Anglo-Saxon perspective on French society by someone who, I believes, knows this country intimately after thirty years. The book also is a personal memoir and, as such, it's a story about a personal journey of rediscovery, in this case of life in France. It's a book, at the deepest level, about faith, hope and the meaning of home. But it certainly can be read as a book of observations about the French and how French society works — all its vices and virtues. Anglo-Saxons who already live in France will immediately identify with the situations and conundrums I describe. Those who live outside of France might be surprised by my descriptions of life in France, because I try to pierce through the the myths and provide insights into the realities.


Caring for a dog in Paris cannot always be easy. Does it change your perspective on Paris? How? Are Parisians who own dogs different in some way from Parisians who don't own dogs?


It's a funny thing, the cliché about Paris is that it's a dog-loving city and that Parisians adore their dogs. Well, like all cliché's it's only partly true. Paris is actually an exceedingly inhospitable city for dogs. Dogs are banned in most public squares and parks — you see those little signs everywhere. Look at London's great parks — dogs always running around freely. Not in Paris. Also, Parisians are very bad about picking up after their pets. There is a section in my book about this. Many Parisians clearly despise dogs. I get hostile looks all the time when I'm walking Oscar through the streets of my neighborhoods. Only the other day a very frail old lady astonished me by stopping and telling me that my dog was "dégueuelasse".  If you are letting a flat in Paris, as you probably know, it's best to keep mum about the fact that you have a dog. If you do, you might not get the apartment. To be nice about it, let's say that Parisians are schizophrenic about domestic animals — some adore them, others loathe them.  
Oscar accompanies you everywhere in Paris. What are his favorite places? Are they the same as yours? Is there a whole secret "dog Paris" that only the initiated know about (like a children's Paris)?
I take Oscar either to the Champ de Mars or the Invalides esplanades. Now that the banks of the Seine are pedestrian we can go down and walk along the Seine, which is lovely. I live right on the Seine so it's very convenient. Sometimes I'll take Oscar to the Tuileries gardens which he loves, I think that's his favorite place. Occasionally I'll take him to the Jardin du Luxembourg. When I had a car I took him to Parc Montsouris, which is a dog-friendly park, and out to the Bois de Boulogne. But I no longer have a car. The reason for that takes up an entire chapter in my book.

You do meet people through dog-walking in Paris, just as parents meet other parents through their children. One thing I've noticed, however, is that with Parisians you end up knowing their dog's name but never their name. It's considered rude to ask someone their name, at least in Poodleland. I now have long and extraordinarily personal conversations with Parisian neighbors but have no idea what their name is. But I know their dog's name. Imagine that in America or Britain. Impossible.

Over the thirty years you've known Paris, which changes shocked/impressed you most?


When I arrived in Paris in the 1980s it was, as I was saying, tremendously exciting. The French were still certain of their certitudes and self-important about the prestige of their national culture. That's gone. The malaise started to set in during the mid-1990s, around the time I left the country. When I returned a decade later, France was sinking into a morose combination of depression and denial. The country is in very bad shape today, largely due to three decades of mismanagement by both the left and right. As I say in my book, France is a nation betrayed by its own elites. The situation is bad at the moment that the best and brightest are leaving the country, especially entrepreneurs. It's almost as tragic as Louis XIV's expulsion of the Protestants in 1685, when hundreds of thousands of people left, many of them members of the economic elite. Today the difference is that the exodus is voluntary, they are leaving on their own volition. A lot of foreigners are still infatuated with the food, wine, fashion, and architecture — what I call the "museum" virtues of France. But the deeper social realities are grim.

How is Home Again in Paris being distributed? What are you working on now?

I released Home Again in Paris as an ebook mainly due to timing. When I finished the manuscript in the spring I started making contact with agents and publishers with the usual delays and ambiguous responses — to the point where I realized that this book was not going to get out by the fall as hoped. Then I was chatting with someone I know in publishing who said to me, "It won't be published till spring 2014 at the earliest, probably the fall". Oscar is now 13, he'll be 14 in January. I certainly hope he'll be around two years form now, but the whole question of timing made me decide to put the book out straight away as an ebook. I wanted the book to exist — for Oscar and Leo. Now it exists. As for a printed book, we'll see how that goes for 2014. In the meantime, I am posting photos and blog updates on the book on my author website. I'm an optimist about how the book industry is changing. It's rather like music CDs — we can now offer add-ons, bonuses, and updates via the Web. The story is always moving forward in some way.
 I'm very happy the book is out there now for another reason. It has freed up my time to get on with my next book, which is taking me in a completely new direction. The book I'm writing now is a murder mystery set in Paris
About : Matthew Fraser has lived in France on and off over the past three decades. He first moved to Paris in the 1980s to complete a doctorate – and returned permanently to France in 2006. He is currently a professor at the American University of Paris and a lecturer at the French university Sciences Po where he teaches courses on media and politics. Home Again in Paris: Oscar, Leo and Me is his most recent book.
Social media handles:
Twitter: https://twitter.com/frasermatthew

Goodreads author profile: http://www.goodreads.com/author/show/50168.Matthew_Fraser

Facebook: https://www.facebook.com/fraser.matthew

Instagram: http://instagram.com/matthewfraser

LinkedIn: http://www.linkedin.com/in/matthewfraser
Read an excerpt of Home Again in Paris here.