This month, news from Tatiana de Rosnay, Adam Biles, Charles Glass, Jennifer K Dick, Spoken Word, Gary Lee Kraut, Pamela Druckerman, Annik La Farge, Scott Hutchins, Siobhan Wall, Joanne and David Burke, Kathy D'Arcy, Ann Egan, Cliona O'Connell, Jennie Fields, Marilyn Hacker and Habib Tengour, Book Club at the Carmen, Moving Paris, IAN MONK, SARAH RIGGS, CHRISTOPHE LAMIOT ENOS, MARGO BERDESHEVSKY, RUFO QUINTAVALLE, WICE and more and more.... (update ongoing)!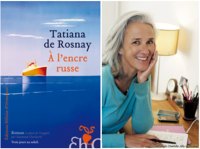 NEW BOOKS
 Tatiana de rosnay : A L'ENCRE RUSSE Franco-English Tatiana de Rosnay is the author of eleven novels including Sarah's Key (Elle s'appelait Sarah),  Boomerang (2009) et Rose (2011). She is currently the most widely read French author in Europe and the USA.
Pamela Druckerman: Bébé by Day, a primer on the wisdom of French parenting reported on in Bringing Up Bébé. 
 Adam Biles : GREY CATS released in paperback 14th April by @3AMPress, now available for pre-order from @GalleyBeggars! http://www.galleybeggar.co.uk/book-store/3am-press/grey-cats-by-adam-biles/ …  (See interview with Adam Biles here)
 Jennifer Dick: CIRCUITS from Corrupt Press (http://corruptpress.net) inspired by the popular science of George Johnson's seminal In the Palaces of Memory : "an extraordinary investigation into memory theory and the uncertainties of communication."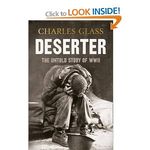 Charles Glass: Deserter: The Last Untold Story of the Second World War  "a breathtaking work of historical reportage, weaving together the lives of forgotten servicemen even as it overturns the assumptions and prejudices of an era." (see interview with Charles Glass on his previous book Americans in Paris here)
 SELECTED LITERARY EVENTS IN PARIS
(update ongoing...please see sidebars for venues)
2013 Young Authors Fiction Festival - Deadline for submissions APRIL 1

MONDAY NIGHTS : Open mic/scène ouverte every Monday. with David Barnes Au Chat Noir, 76 rue Jean-Pierre Timbaud 75011. Métro Parmentier/Couronnes. Sign up from 7.30pm in the bar. Poetics start from 8.30pm underground. Check out the Practical info page for more info. Click on the blue stamp on the right to sign up to the mailing list. Themes:  April 1st – Do/say something in the spirit of April Fool's Day; April 8th – Swedish girls; April 15th – Consequences; April 22nd – Strange; April 29th – Guilty pleasures;  May 6th – Danger
THURSDAY NIGHTS / Paris Lit Up Open Mic, held every Thursday at Culture Rapide, has become a stimulating mix of poets from all over the world, in languages ranging from English to Portuguese to Russian, Japanese and Korean! Swing by and check it out this week with Emily Ruck Keene as MC.
Tuesday 02 April 2013, 19:30 Annik La Farge, author of the new book On the High Line: Exploring American's Most Original Urban ParK AT The American Library in Paris

 April 2, 2013 @ 7:30 pm - 8:30 pm Ivy Writers – Marilyn Hacker and Habib Tengour @ Dellaville Cafe. More info here. 34 Boulevard de Bonne Nouvelle 75010 Paris
 Weds April 3, 2013 19:30 April Writer's Meetup AT Apparemment Café 18, rue des Coutures St-Gervais 75003
3 APRIL 7pm  SCOTT HUTCHINS ON A WORKING THEORY OF LOVE AT Shakespeare and Company
Saturday 6th April  17h-19h "Sound, Impro, Text" Atelier de théâtre en anglais" Niveau intermédaire.  35, rue St. Roch 75001. Veuillez confirmer votre présence au wordsaliveo@gmail.com ou par texto au 06 37 66 27 98
Sunday 7th April @ 12h30-14h30 at the bookstore Shakespeare & Co.  (37 rue de la Bucherie 75005  MAP)   Welsh Poet & Performer, Kate Noakes will be giving an open drop-in Creative Writing Workshop.  It is open to everyone, beginner to prize winner, and is designed to get you writing prose and poetry. Kate provides ideas and writing prompts on a theme each month. It is not a feedback workshop. The workshop cost is a suggested donation of 10 Euros. All you need to do is bring is writing equipment and something to lean on. Kate's website  www.boomslangpoetry.blogspot.com
Sunday 7th April 12-4 pm.  SOS Used book sale.  Orrick Law Offices 31 ave Pierre 1er de Serbie 75016 Paris   Experience first-hand an anglophone used book sale. Come browse.  Great way to stock up on books on every subject: paperbacks 1 euro and hard covers are 2 euros.
Sat & Sun 6th & 7th April.  Monthly Used Book Sale at The American Library, 10, rue du General Camou 75007.  Great titles and again low rates.  Books go for 1, 2, or 3 euros.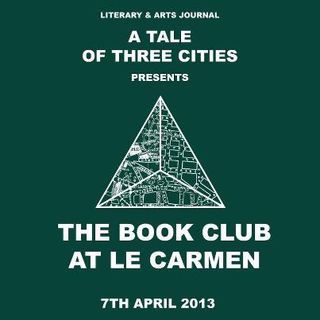 SUNDAY April 7 at 8pm : Book Club at Le Carmen!  Bring your friends, bring your sweethearts. And as ever, bring a book you love, and swap it for one someone else has loved. Get ready for a moveable feast of live music! DJs ! & the launch of issue 2 of A Tale of Three Cities, featuring Alain de Botton, Emanuele Fontanesi and Phoebe Collings-James. A hand-numbered, limited edition "journal you'll be proud to have on your shelves" (It's Nice That)  No book, no entry. Til then... AT  Le Carmen 34 Rue Duperré, 75009 Paris, France
Sunday, 7th April 2013 at 7.30 pm MOVING  PARTS presents  presents 3 one-act plays by Gwyneth Hughes: LOST IN THOUGHT, CIVICS LESSON, and FOND FAREWELLS with STEPHANIE CAMPION,  DOUGLAS ENGLISH TANYA GALLAGHER,  RACHEL ROUQUET AT Carr's Pub & Restaurant 1 rue du Mont Thabor, 75001 Paris Metro : Tuileries
Tuesday 9th April 2013 Signing 6-7pm Presentation 7-8pm   Siobhan Wall, author of QUIET LONDON and QUIET AMSTERDAM will present and sign her new book QUIET PARIS. AT WH Smith 
APRIL 10, 2013, 7pm UPSTAIRS AT DUROC LAUNCHES ISSUE # 14 !! Come join us for an evening of festivities with authors IAN MONK, SARAH RIGGS, CHRISTOPHE LAMIOT ENOS, MARGO BERDESHEVSKY, RUFO QUINTAVALLE At: BERKELEY BOOKS OF PARIS 8 Rue Casimir Delavigne, 75006 Paris, Métro Odéon.
Wednesday 10 April 2013, 19:30 Pamela Druckerman, best selling author of Bringing Up Bébé, presents her new book, Bébé Day by Day, a primer on the wisdom of French parenting. AT The American Library in Paris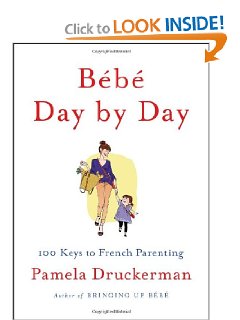 April 11, 6:30 p.m., Launch of Shades of the Other Shores, a combined artistic effort, that includes series of Ralph Petty's vibrant watercolors and Jeffrey Greene's sequence of prose, prose pieces, and dialogues. This book, number 20 in the prestigious Cahiers Series, is published by Sylph Editions in the UK and distributed in the US by University of Chicago Press. AT  AUP in the Grand Salon, 31 Avenue Bosquet 75007. http://www.sylpheditions.com/sylpheditionscahier.html
Friday 19 April 7:30 pm:  Kathy D'Arcy, Ann Egan, and Cliona O'Connell at the Centre Culturel. Readings will follow a wine reception. Address:  5, rue des Irlandais, 75005.  For further info see www.bradshawbooks.com. 
Tuesday 23 April 2013, 19:30  When African Americans Came to Paris by Joanne and David Burke AT The American Library in Paris
  Wednesday 24 April 2013, 19:30 Charles Glass discusses his new book, Deserter: The Last Untold Story of the Second World War (HarperPress).  AT The American Library in Paris 10, rue du Général Camou 75007 Paris
Thursday 25th April 2013 Signing 6-7pm Presentation 7-8pm  Jennie Fields will present and sign
her novel THE AGE OF DESIRE  based on Edith Wharton's mid-life Parisian love affair.  AT WH Smith
 PLAY READINGS AT CARR's
7th April  Gwyneth Hughes "Lost in Thought", "Fond Farewells" and "Civics Lesson" (3 one-act plays)
21st April Yair Packer "Love Her to Death" stage play)
 Contact Stephanie to book a reading of YOUR play
WICE
WA181 Tips and Strategies for Effective Fiction Writing  18 Apr 2013 2:00 PM • Maison Paroissiale, (Room16), 13 place Etienne Pernet, 75015 Paris; Métro: Félix Faure; Bus: 70 or 88.
June 24-28, 2013. Join American author and Huff Post blogger Ann Tashi Slater for a fiction workshop in lovely Noyers sur Serein.
Critique, revision, publishing tips. You'll come away with renewed inspiration and freshly honed writing skills. Tuition is 1000 euros. See
La Porte Peinte site
for details about this and other classes as well as housing options.
CALL FOR SUBMISSIONS
DEADLINE JUNE 1 THE AMERICAN LIBRARY IN PARIS BOOK AWARD is given to the best book of the year in English about France or the French-American encounter. The winner of the Award receives a prize of $5,000. He or she is invited to Paris in October, 2013, with air travel and accommodation at the Library's expense, for an award ceremony and other Library functions, including a public reading and a writing workshop. June 1, 2013 Nominations close. For more information on the eligibility and the nominating process see:
 http://americanlibraryinparis.org/events-programs/american-library-in-paris-book-award.html
DEADINE APRIL 7 Gary Lee Kraut is accepting submissions for France Revisited's upcoming "Cranky Resident/Cranky Traveler" issue in which all is not beautiful and tasteful and macaroon-perfect in the City of Light (or elsewhere in France). If you'd like to submit, send a 200-300-word description of your idea or a full text (500-800 words) to francerevisited@aol.com by Sunday April 7. Says Gary: "I'm not interested in accounts of a single bad experience or a specific business you don't care for but in short essays that show what's wrong with the state of architecture or fashion or service or food or whatever you're feeling cranky about. Please share this with fellow cranks who might be interested in submitting. No payment but much glory and a large audience for your crankiness."
Deadline Tuesday April 9 at 11pm Paris time:  France Revisited's Musical Vignettes Contest.  To Enter Write a 250-400-word a vignette that involves instrumental music in some way and includes the word Paris or France. The Prize Two tickets for Sinfonietta Paris's April 11 concert will be given for each of the two best vignettes as judged by the editor + publication on France Revisited. What's a vignette? It's a short text that focuses on a moment, a scene, a character, an encounter, an idea or a place. It is a snapshot, though perhaps a slightly moving snapshot, a sketch, a brief incident. It can be descriptive, impressionistic, poetic, dreamy…for more info see France Revisited website here
and from our friends in Geneva...
CALLS FOR SUBMISSIONS:  visit Poets&Writers  http://www.pw.org/content/literary_magazines  for updated list of over 800 literary journals, and Mslexia  www.mslexia.co.uk for listings updated weekly.
The American Library in Paris is pleased to announce the 2013 Book Award, with Julian Barnes, Adam Gopnik and Diane Johnson as judges. This new award honors the most distinguished book of the year in English about France or the French-American encounter. Nominations accepted until June1.  bookaward@americanlibraryinparis.org 
New Rivers Press is accepting submissions for American Fiction, Volume 13, twenty previously unpublished stories (up to 10,000 words), deadline June 15, www.newriverspress.com
Weave Magazine welcomes submissions of 3-5 poems, fiction and nonfiction (up to 3,000 words), flash fiction (up to 1000 words, drama in one act or monologue (up to 4,000 words).  Closing date May 31.  www.weavemagazine.net
The Dublin Review is a quarterly magazine of essays, memoir, fiction, and reportage, and is open to submissions of previously unpublished fiction and nonfiction. www.thedublinreview.com
Poetry Review is the Poetry Society's internationally acclaimed poetry magazine published quarterly. Accepts up to 6 poems at any one time. www.poetrysociety.org.uk
The 2013 Sonora Review Essay Contest is currently underway! Dinty W. Moore, editor of Brevity Magazine and author of Between Panic and Desire (winner of the Grub Street Book Prize for Nonfiction), will serve as the judge. http://brevity.wordpress.com/2013/02/12/2013-sonora-review-essay-contest/
Bellevue Literary Review's annual prizes recognize exceptional writing about health, healing, illness, the body and the mind, fiction/poetry/nonfiction, deadline July 1, submit on line, www.blreview.org
Call for submissions for the Mamilla Poetry Festival, A Dialogue with Memory, 7-9 September 2013, in Ramalah and Jerusalem, organized by ARCH (Alliance to Restore the Cultural Heritage in the Holy city of Jerusalem) in cooperation with the Mahmoud Darwish Foundation and Museum. For guidelines and submission forms, http://is.gd/mamilla.   For more info:   http://www.archjerusalem.org