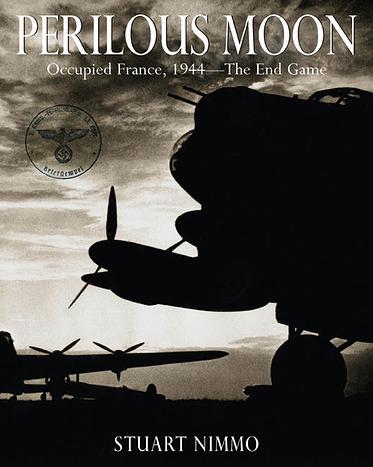 When Neil Nimmo hauled back on the joystick to point the nose of his RAF Lancaster bomber into the night sky on April 10, 1944, the average life expectancy for RAF bomber crew was just two weeks. Neil would be shot down over France that night., Along with the crews of six other Lancasters in a short but lethal airborne massacre, 38 international Allied airmen would be killed - and all by one man, Luftwaffe night fighter pilot Hauptman Helmut Bergmann. 
In Perilous Moon: Occupied France 1944
, Neil Nimmo's eldest son
Stuart Nimmo
tells the story of two determined, skilled young pilots at the moment when their lives crossed in war. It is a remarkable work of research and of memory by a son in an honest and beautifully illustrated attempt to understand what RAF bomber crews went through, and what it was that they were fighting: he discovers the complexities of fractured Occupied France and the deadly, but crumbling world of the Luftwaffe pilot who shot his father down.
For most of his life Stuart Nimmo has been a photographer, a cameraman, a BBC film editor, producer, director, and a documentary writer. But until he tackled his father's incredible story, not an author - this is his first book.
A Paris Writers News interview
___
Laurel Zuckerman: When did you start thinking about this book?

Stuart Nimmo: Well, a long time ago, I wasn't much more than seven years old I think!

Laurel Zuckerman: As your father told you the story?
Well yes, ... He told it just once when we were children – like my two brothers I was spellbound, it was enthralling - to us it was simply a huge adventure story. I guess that from then on I tried to persuade him to write it down, but he didn't - or rather I thought he hadn't. Many decades later, when he went down with Parkinson's disease and became very ill, we discovered that over the years he had actually been trying to write the story, it was on odd pieces of paper, quite literally the backs of envelops and so on. But it was fitful and sparse, there were many big gaps. Neil became a very great photographer, but writing this story rather defeated him. I think it reminded him of a highly traumatic experience.
 I read and re-read his notes, put them into chronological order, researched that period, and then tackled the project with him as I would a broadcast documentary. I sat in his hospital room, chatted and listened to him, gently asked questions, opened the story up, encouraged him on and fleshed it out. I took notes and audio recordings and typed it all up.  It took weeks, but it was a wonderful thing to do with him at the end of his life. Anyway, we both found it rather better than discussing price of grapes!
It was hard work at times because of all the involuntary speech pauses so common to late-stage Parkinson's sufferers, but in transcribing those recordings and removed the pauses and re-starts I discovered something very important, I found that what he was saying was perfectly clear and lucid; an important lesson to learn about Parkinson's sufferers, as by then even his Dr's and nurses were talking at him or over him; they were talking down to him as if he were demented - he wasn't at all.
Eventually my father died and I went back to doing a great deal of research about what was happening at the time. Many great historians have written about that period of course; so I just "marked" key events and set about finding little known or forgotten stories from that period. That was demanding, but as it turned out very rewarding as that information was there to be found and really helped to place Neil's experiences.
When was your father shot down?

It was the night of 10th-11th of April 1944.  One should remember that the RAF losses that winter of 43/ 44 had been horrendous. Just a few days before, (March 30/31) the RAF suffered its greatest WWII disaster, one way and another they lost over a hundred heavy bombers on the infamous Nuremberg raid. At that stage the life expectancy for RAF crew was down to almost nil. On being rapidly posted to the decimated 101 squadron, Neil found that even the sheets at his billet hadn't been changed; many of the previous pilot's personal things were still there. My father wasn't really expected to last you see, not for more than a few days. Electronics had much to do with it; the Luftwaffe had a key secret weapon.  Brutally speaking there were many more urgent things to attend to than clean sheets, and the horror is that they were right as after a brief spell of stormy, unflyable weather Neil and his crew were shot down on their second sortie. However, when he was shot down, and somehow escaped, it was just a few weeks before D-Day, the German secret would be discovered and everything was to change.


Did he receive much help from the French while evading the Nazis?

Yes he did, and that's interesting really, if one extrapolates the figures very many, aircrew who parachuted into Occupied France and avoided capture found help of some sort, often from farmers and peasants who didn't really consider themselves to be "Résistants" at all. I strongly susspect  that this sort of brave help has been seriously underestimated. There were a remarkable number of people who knew that they risked the Gestapo and a terrible end if the airman was caught and made to talk, but they were still willing to help.
 A day or so after my father Neil was shot down he spotted and made contact with a couple of farm labourers. He was wondering whether to approach them when the younger of them spotted him first. The two workers ambled over the field into bushy scrub, as if they were to have a lunch break, and called Neil over. They gave him clothes, boots, their food and their bottle of wine, (it was the first time my father ever tasted wine in his life!)  These two farmers helped Neil to bury his RAF kit, warned him that the area was crawling with Germans looking for resistance escapees as well as surviving RAF aircrew.  They explained that the RAF had bombed Amiens prison and a lot of resistance prisoners had escaped or were killed and that nearby Amiens housed a big Gestapo and SS HQ at the city's Winter Circus. These two farm workers risked a great deal to help Neil on his way - but they weren't "in the resistance" as such.
Neil was helped by other ordinary country folk too. I'm not for a moment underestimating how bad so many of the French were, there were plenty of French Nazi zealots, real killers and anti-Semites, I deal with them in Perilous Moon. French on French denunciation became endemic to the point where even the Germans were really shocked by what the French were prepared to do to each other. In fact in the end, some who hid my father were also known collaborators who were by now playing both ends at once, "Changing their coats" as the French say! Neil felt that roughly a third of the French were pro-Ally, a third actively pro-Axis and quite the most dangerous third that simply blew with the wind - looking after themselves at all times.

During your talk at WH Smith in Paris, you mentioned that RAF pilots had been told that if shot down in France they should seek help from priests, prostitutes and cheminots - railway workers.

Yes... But not necessarily in that order!   My father eventually did contact a cheminot - a stationmaster who turned out to run a resistance cell at a hamlet called Souplicourt. Neil went to earth there and was taken care of by this cell until he was passed on into central Paris, (it always has been safer to hide in the hornet's nest than in sparsely populated areas). Neil then witnessed quite extraordinary things going on as many French changed sides, he received wonderful help and refuge with Lucien Royez a fearless Paris garage owner, and when, in August 1944, Paris was finally liberated Neil was able to return to England to continue the war as an RAF Mosquito pilot..

He went straight back to flying bombers after he got back to England?

Yes he did, the war was far from over. He asked to be posted to Pathfinders... and there's a story and a half... his final raid of the European war was as part of a raid to bomb Hitler's "Eagle's Nest" at Berchtesgaden.

Your book is actually the story of two men: your father and the Nazi pilot who shot him down. Who was this German pilot?

He was a 23-year-old NJG 4 night fighter pilot who came from the much-battered Ruhr. At this time Hauptman Helmut Bergmann was based at Juvincourt, just north of Reims - things weren't going at all well there. By March 31, 1944 RAF Bomber Command may have been all but wiped out, but the Luftwaffe was in terrible shape too, they were much shorter of raw materials and supplies. The supply chain was what my father had been bombing that night. Neither the US nor the UK realised just how run down the Luftwaffe was.

How did you get access to Bergmann's papers?
I was positively driven to find out whom this pilot really was, I eventually discovered that his name was Bergmann, but that was it. But then I had the luck of the devil, I was getting my computer in order one evening when I came across a link that I didn't recognised, it was to a 'Helmut Weitze' in Hamburg. I was about to delete it but opened it instead to find that this Herr Weitz had just advertised Helmut Bergmann's original papers and photographs for sale at 30,000 euros.

For papers? Was he famous?

Yes, 30,000 euros for his 3rd Reich and personal papers and several photograph albums!  You see, that night Bergmann had shot down seven Lancasters in just 46 minutes by using a rather old fashioned method. He was in fact a Nazi and so was immediately showered with decorations and used for propaganda purposes. So while he was a minor ace, he was known. His extensive collection was considered exceptional and had only just come onto the market for the first time. So yes, I was to discover that it was very collectable.

Was finding these papers strange for you? 

Yes, you are right, it was very strange indeed, a thrill and unpleasant at the same time – very odd. I contacted Helmut Weitz, told him I was working on my father's story and had been searching for papers on Bergmann, but that a) I couldn't pay 30,000 euros for them, and b) I would not want to own them in any case, but I'd give a lot to briefly see and examine them. Weitz wrote a charming letter back inviting me to bring a scanner and camera to Hamburg and to copy whatever I needed. "But" he said,  "be quick! The papers are sure to sell soon..." And they did, rapidly disappearing back off the public radar.

However, before that happened I took a rapid day trip to Hamburg and walked into HW's gallery, to find that it was full of SS uniforms, and elderly gentlemen searching through Nazi medals. One of them went puce when he heard my British accent, but Helmut Weitz was charm itself - his own father had been captured at Starlingrad and not released by the Russians until 1955.
Herr Weitz brought out three milk crates full Bergmann's memorabilia... that was extraordinary.
It was very, very odd indeed to handle the original documents, particularly those carefully typed reports explaining exactly how Helmut Bergmann shot my own father and crew down.   As I went through Bergmann's original photographs, what I'd suspected was confirmed: German airmen were swapping photographs, sharing cameras and taking photographs for one another.

I was able to compare RAF papers with Bergmann's and to come up with exactly what had happened to all seven Lancasters that night. The book is able to say what happened to each of the crews; some from Australia, some from New Zealand and some Canadian, it was all very international. Even my father's Lancaster had a Canadian navigator and Australian bomb aimer his Lancaster was fitted with Rolls Royce engines but made by Packard Detroit.

Did you contact the families?

Yes, I did... some of them. Talking to a family member where their father had died that night was difficult. One nice woman's father, Eric Munslow, had been one of my father's crew… he didn't survive. The tragedy is that his only child (this woman) had yet to be born and so she and her father never met... I knew what had happened, but I couldn't tell her anything she would actually want to hear, it was heartbreaking.

What was the biggest challenge in writing this book?

Weaving it all together, I thought it would be interesting to tackle it in the same way that one approaches making a TV documentary, but the end of the book was difficult, this is where my editor Anita Baker was so invaluable, everyone needs an editor's input, it's a must.  At first, I felt that my father's story might simply make a chapter in someone else's book, or simply be something for the family. But when I found the Bergmann collection, I knew that it had become a very different matter. The question then was how to weave Bergman and Neil's stories together without interrupting one or the other?  I thought that period images would help, but where on earth to find them?  They didn't exist in France, in the end I hunted Germany for photos taken privately by German airmen and soldiers and bought them from German dealers (who really helped me). I suppose I've spent the last 2 ½ years on choosing the photographs and pruned them down to over 200 using the original 1940s prints or negatives. 
 Could you have written this book twenty years ago?

I doubt it. What's changed is that the Internet arrived. But you have to treat the Net with great caution, just use it for possible leads, there can be very useful information out there but it has to be to be thoroughly checked, I was very careful about that.

What are your hopes for the book?

I hope it's read and understood for what it is. Hitler was an absolute monster, but I tried to be scrupulously fair, objective in the way the BBC taught me to be. I want to know why people followed people like Hitler, and why and how Bergmann became the Nazi he undoubtedly was.    
As a producer, I also think that in the right hands this book would make a fabulous period film.


Will the book be translated into German?

I do hope so, and into French, German and French friends have read it in English, they tell me that they find the French (or German) and British side of the story new to them and how the French and British then interacted fascinating.

You've done a lot of work in photography and film before this. What's the craziest story you ever shot?

Oh Laurel!  Well yes, you are right,  there have been plenty of crazy moments, [shooting] from the cable roller cage above the top of a cable car while it's travelling up the mountain is quite exhilarating, I could get hooked on that.  And helicopter work can be special. On one occasion I was shooting above Monte Carlo for the Monegasque government and needed to shoot down in a tightish spiral (which meant that the helicopter was actually flying pretty well on its side while I was sitting on the floor [of the helicopter] with no door, and my legs dangling out in space (while I faced straight down). It went well, but on landing I just stepped out unhindered and found out that the flight engineer hadn't actually attached me to the helicopter at all... He'd made a mistake and attached me firmly to myself [laughter]. When you think about it centrifugal force very nearly prevented my father from jumping from his spiralling Lancaster. The very same force actually prevented me from falling out of the helicopter - it saved my life, and an awful mess 2000 feet below in Monaco...
 ___


Stuart Nimmo started in television at 16 years old and has worked as a a film editor, photographer, producer, director, screenwriter and cameraman for most of his life, but not until he tackled his father's incredible story of being shot down over France, did he tackle his first book.  He is is Neil Nimmo's son
 Perilous Moon, Occupied France 1944 The End Game by Stuart Nimmo is available at W.H. Smith in Paris and other fine bookstores world wide, as well as on amazon.
Praise for Perilous Moon 
 Steve Donoghue, Managing Editor Open Letters Monthly Arts and Literature Review http://www.openlettersmonthly.com/book-review-perilous-moon/
 Rob Hardy, Literary review The Dispatch Columbus Ohio http://www.cdispatch.com/robhardy/article.asp?aid=21582#ixzz2I4JP2bJd
 News about the book at www.Perilous-Moon.com