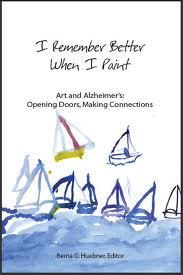 Berna Huebner's documentary film I Remember Better When I Paint, broke new ground in exploring how art can improve the lives of people with Alzheimer'. Berna and her co-producers have been advocating tirelessly in the past three years in the Alzheimer's community, screening the film in cities and on TV stations throughout the world.  This led to the publication of a book, I Remember Better When I Paint: Art and Alzheimer's: Opening Doors, Making Connections.  Atlantic Monthly and National Geographic recently featured I Remember Better, and this week the innovative @Irememberbetter twitter account is up for a prestigious social media "Shorty Award" fueled by hundred of nominations from twitter followers around the world. 
We are delighted to have the opportunity to talk with Berna Huebner on advocating for people with Alheimer's.
A Paris Writers News Interview
***  
Laurel Zuckerman: What inspired you to write I Remember Better When I Paint: Art and Alzheimer's: Opening Doors, Making Connections?
Berna Huebner: This book began with my mother's experience with Alzheimer's. It taught me to see how the power of the creative arts can change one's life, even after memory loss has changed one's normal ways of responding.  
 When I was trying to connect more effectively with my mother, a life-long artist who was then struggling with severe dementia,  I asked "Mother, do you want to paint"... and to my amazement she responded, "Yes, I remember better when I paint." These words became the catalyst. Art historian and friend Roberta Katz says the book describes how the worlds of art, science and medicine intersect and how that in my mother's case "victimization was turned into a victory by engaging with the arts."
 Who is it for?
This book as well as the information in the resources chapter is for people with Alzheimer's, families, and professionals who use art to turn some of the lights back on for persons with memory loss. I know they can find the inspiration in their own lives like I did with my mother.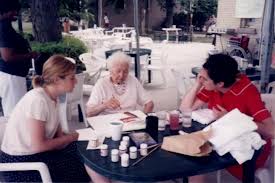 What are your hopes for changing how Alzheimer's is treated?
My hopes are that the power of art as being transformative will be recognized for people with memory loss.
Alzheimer's is the only disease in the top 10 cause of death without prevention, treatment or cure -- the creative arts are a way to help.
The transformative power of art is still inadequately understood by those afflicted with Alzheimer's and other forms of memory loss, their families, their caregivers, and the wider medical community. There is still much to be done to educate and advocate for this approach.

Does the book offer any suggestions for caregivers?
Yes! There are many suggestions for how families and caregivers can use art to deal with the reality of dealing with memory impairment. 
Conduct a bio-psycho-social evaluation of the patient as Dr. Lazarus recommends in Chapter 4.
Video and other records of the person should be made and preserved before the disease develops too far as Dr. Cohen suggests in Chapter 2.
 Get help. Because consistent, persistent engagement is the key ingredient for progress and family members may not be able to stay engaged all the time, look for help outside your family. Volunteers at nursing homes and senior centers, art students as described in this book, and practicing artists in the community may be among the available resources.
Allow time and be persistent. Be prepared for the process to take time. It is obvious from Jenny Graf Sheppard's story of working with my mother (in Chapter 6) that progress didn't occur quickly or evenly. In addition, institutional skepticism, even outright opposition, may need to be overcome. Persistence is required.
 Other tips in the book include create a variety of activities linked to the creative process, adapt your expectations, know that the brain can re-wire and re-learn, and understand the dynamics of Alzheimer's and memory loss. Painful though that may be, to the decline in lifelong capacities and satisfactions that have characterized the person. Some of the books and websites described in the resource list will help you make this difficult adjustment.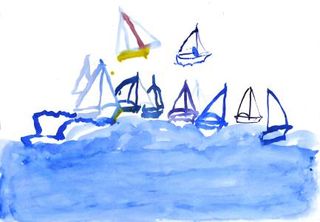 Your film has been attracting notice throughout the world of Alzheimer's caregivers – and now beyond with articles in The Atlantic and the National Geographic Science Blogs What is the message that you would like to convey ?
 A key message is how the worlds of art, science and medicine intersect which is conveyed both in the book and in the documentary.  Other messages are well expressed from some of the endorsements about the book: 
 Author and journalist Gail Sheehy has said the creative arts  offer "an entirely new pathway for engaging with a loved one you thought was lost."
Marc Wortmann, CEO of Alzheimer's Disease International notes the book conveys "a message of hope and contributes to changing the way people look at Alzheimer's disease."
Sam Gandy, M.D., Ph.D. of Mount Sinai Chair in Alzheimer's Disease Research shares that "Alzheimer's typically hits memory areas of the brain early while sparing areas responsible for creativity.  Art and music are perfect modalities for stimulating these creativity areas.  This strategy is also an effective way to relieve agitation without sedating drugs" and that the book presents a "comprehensive and compelling account of how the arts can help change the quality of life for people with memory impairment."
And a message of hope well expressed by Yasmin Aga Khan, President, Alzheimer's Disease International and daughter of actress, Rita Hayworth who had Alzheimer's: "This is an inspirational story of an artist who finally was able to paint again. The idea is that the creative arts are helpful for people who have Alzheimer's now. It opens a pathway that connects to the non verbal emotional place in the person."
 I understand social media have been crucial in getting the word out – so much so that your Twitter feed @irememberbetter has been nominated for a Shorty Award. Could you tell us about this award (and where interested readers can vote?)
 Social media, in particular Twitter, has been instrumental in helping to raise awareness about Alzheimer's and how the creative arts can help people who have the disease. We are dedicated to helping the Alzheimer's caregiving community, and through Twitter have helped to connect many caregivers from around the world.
 We are humbled that the Hilgos Foundation, created in memory of my mother to advocate the use of creative arts in dementia care, has been nominated for a Shorty Award in the Charity category. 
 The judging panel will choose the recipient of this award from the top six most voted. Voting closes on February 18, 2013 and votes must come from people who are active on Twitter.  If chosen for this award, it will be dedicated to the many Alzheimer's caregivers and their loved ones with this disease. To win this award which provide much needed awareness of Alzheimer's and how the creative arts can help.
 Please cast your vote at: http://shortyawards.com/category/charity  We are also humbled to have been recognized as a PayitForwardFriday post on why people should vote for us.
***
About Berna Huebner: 
Berna G. Huebner is the founder of the Hilgos Foundation in Chicago, Illinois which supports and encourages the ongoing process of artistic creation with people who have different forms of dementia including Alzheimer's. She is the co-director of I Remember Better When I Paint, a 2009 international documentary film which examines the positive impact of art on people with Alzheimer's and shows how the creative arts can help Alzheimer's patients re-engage in life. Huebner also serves on the Boston University School of Medicine Alzheimer's Board and is Director of the Center for the Study of International Communications in Paris, France. She is the former Research Director for Nelson Rockefeller when he was Governor of New York and then Vice President.