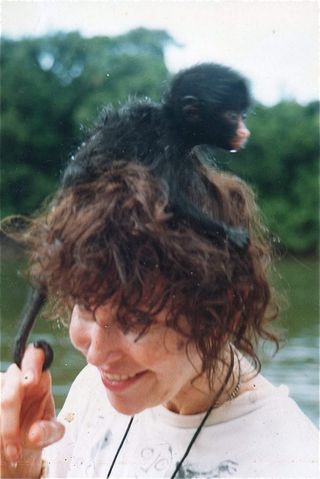 Barbarro Navarro is a Paris based artist whose decades-long interest in the peoples of the Amazon rain forest inspired her first illustrated book for children,  "Amazon Rainforest Magic: The Adventures of a Yanomami Boy". Based on her experiences with the Yanomami communities living in the jungles of Venezuela and Brazil, Amazon Rainforest Magic relates the journey of Namowë, a thirteen year old Yanomami boy, as he seeks a cure for his baby sister. 
 A Paris Writers News interview
____
Laurel Zuckerman: Where are you from ?
 Barbara Navarro:   Originally I'm from San Francisco, but I've been living in Paris since 1977. I first studied art at R.I.S.D. and then got my BFA at San Francisco Art Institute.
  How did you end up in the Amazon rain forest writing a children's book ?
     For decades, I've been interested in knowing why people in subsistence cultures create art. I traveled first to the Dogon people of West Africa to study their végétal pigments, then received University support for obtaining permits from the Venezuelan government to spend time with Yanomami communities to learn more about their painting techniques for body painting and painting on ritual and shamanic implements. I spent several months each winter for twelve years in the Amazon Rainforest. Over the years, I had two exhibitions of my art work (including a burning sculpture performance to protest the ongoing destruction of the Rainforest) in Puerto Ayacucho, the regional capital of the Venezuelan Amazonas state.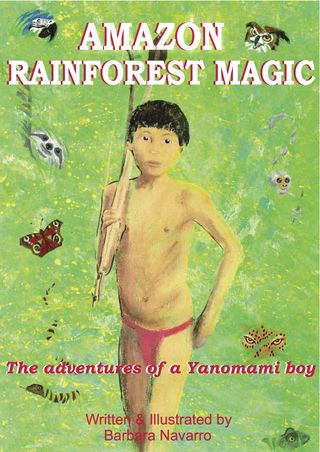 Where did the idea for the book come from ?
      I was so shocked by the degradation of the Rainforest and the lives of the Yanomami when I visited communities in Brazil that it transformed my painting into a more abstract style and I created the first of my (eight so far) burning sculpture performances.
The idea of writing a book for children about the Yanomami and Rainforest issues evolved from my need to speak out about these issues threatening their existence.
 When did you start writing ?
      While I was in Brazil and seeing the devastation myself. The book project took on a life of its own and an urgency.
 How do you write ?  
     It seems to be dreaming itself to me. I help nurture it along, but it's an irresistible force in my life !
  What was the most suprising thing you discovered writing the book ?
     I've been amazed by the way these books seem to inhabit me. I'm woken up in the night by conversations between the protagonist and the shaman or animals speaking and I have to get out of bed to write it down. I have to have a notebook with me everywhere I go.
 How did you get along with the Yanomami ? Will they be able to read your book too ?
      Interestingly, my art created a bond with the Yanomami immediately that has grown over time with return visits to the same communities. Instead of me observing them, they loved observing me drawing and painting. Their generosity in including me in their lives was incredible.
    The book is being published in English and French first, then later in Spanish. The communities that I'm closest to don't read in any language, not even Yanomami, but the book could be read to them out loud in Yanomami translated from Spanish.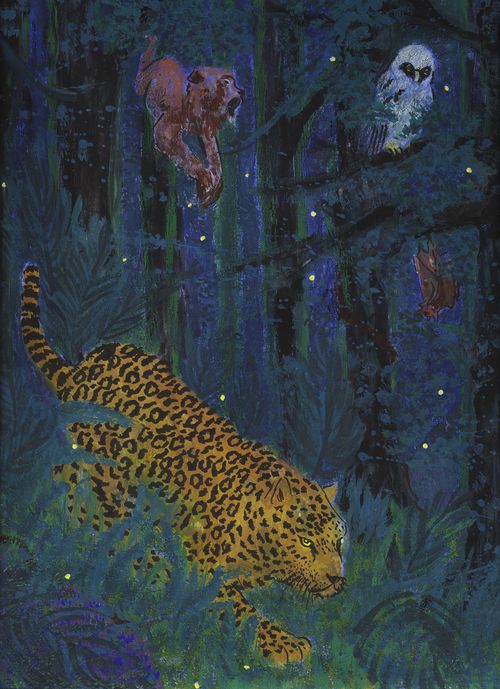 You have a background in art. Did you also do the artwork ?
      Yes !
 Was it difficult to find a publisher ?
      I'm working with a small publisher who specializes in e-books and on-demand printing through Amazon.com and Kindle.
 How are you getting the word out about your book ? Who would you like to reach ?
      People like you ! There's been a lot of word-of-mouth momentum. This issue is also in the news at the moment because the destruction of the Amazon Rainforest is accelerating and the indigenous peoples affected by that are speaking out.
 What are you working on now ?
     I'm working on the second volume of the series as well as quiz books to accompany the different volumes in English, French and Spanish.
 About Barbara Navarro
Barbara Navarro is a Franco-American artist who has lived in Paris since 1978.  She studied at Rhode Island School of Design and the San Francisco Art Institute. Her exploration of techniques and natural pigments took her originally to West Africa and particularly to the Dogon people of Mali. Over several years, she studied the techniques of traditional « Bogolan » painting. The pigment is  made using a mixture of plants that are dried and crushed and then mixed with mud and applied to canvas dyed an ochre color with boiled bark from the wolo tree . 
Since 1997, voyages to the Amazon Rainforest in Venezuela and in Brazil have informed several series of paintings created while living among the Yanomami. The support used is roughly woven canvas prepared with acrylic medium then textured with a mixture of sand from the river bank and lava. This supple canvas is then rolled and easily transported on expeditions into the Amazon Rainforest. They are  then painted using a mixture of acrylic colors and roucou, the plant-based pigment used by the Yanomami for their ritual paintings. 
Her concern for the ongoing devastation of the Amazon Rainforest has inspired her films and installation projects. Since 2005, she has created a performance and film project « Fire Sculpture » to bring urgent attention to the Rainforest and the indigenous cultures that it sustains. To protest against its continuing destruction, she has been publicly burning her totemic sculptures. These burning sculptures symbolize the degradation of nature and the annihilation of indigenous cultures that depend on the forest for their survival
.