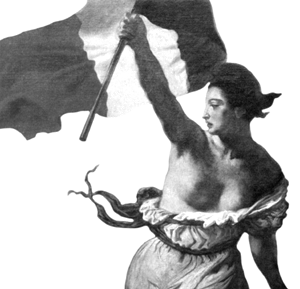 Once a year, in November, the elected councilors, their spouses and key city functionaries dress up fancily and climb in a bus together to be whisked (if a bus whisks) to an undisclosed location to visit something of interest and to dine together. The purpose is to encourage good fellowship and cooperation, and, not incidentally, to offer a treat to largely unpaid, rudely criticized volunteers.
Thus at 4:30 p.m. one Saturday, with the riots apparently under control, we met on the cobblestones in front of our Town Hall and doubled kissed each other in the frigid, darkening air. But the time we had all taken our seats, a mist had descended, obscuring the view of the road in front of us and cars to either side.
"Good evening ladies and gentlemen," said Mr. J. His job for thirty-five years before he retired and got elected was to ensure that the vast military cemeteries by the Normandy landing beaches were kept impeccably green and serene. "This evening we shall be visiting the noteworthy town of Bourron-Marlot, on the edge of the Fontainebleau forest. Now, if you look quickly to your right there is a beautiful castle which, because of the darkness you can not see, but which, I assure you, is quite remarkable."
Laughter greeted this remark.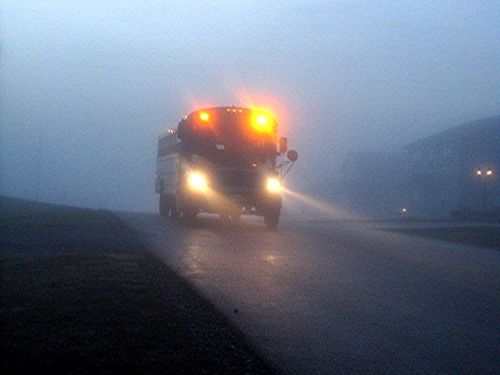 Mr. J continued his announcements.
"Another piece of good news: the toilets on this bus are in working order!"
Some clapping. The leader of our leftist group, who is nearing seventy, immediately started down the stairs to the facilities below.
"And they are already being inaugurated!" called out the town's second in command, a man of the right and one of the few truly political members of the council. Hoots and laughter.
"Oh, that was low!" hissed Cyril to his wife, from the row in front of my husband and me. No one would dare to use the bus bathroom, now.
"The town we are visiting hosted many artists in the late nineteenth century, including Renoir," continued Mr. J. "It has the unusual distinction of an economy based on the production of very high quality sand—we will tour the chateau of the family which owns the sandworks—and grass."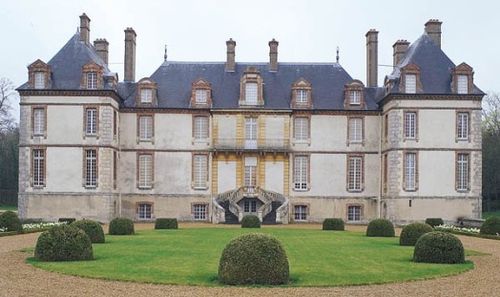 Now I knew why M. J had picked this place. All his life he had focused on elaborating the ideal maintenance regime for thousands of acres of perfect lawn. "It takes months to grow, must be mowed a hundred times. Then it is cut in strips and rolled up to be transported, before being unrolled and planted." At this piece of intelligence, a couple of councilors broke into a well known French song—the one whose last two stanzas end with the lines: "et les hommes sont des cochons" ("men are pigs") and "et les femmes aiment les cochons" ("and women love pigs)."
It was not unlike a fifth-grade field trip. Forty, fifty and sixty-year olds joked and giggled. My husband, who loves car rides, gazed contentedly out the broad window of the bus into the black mist, pierced by the occasional red or white light.
At dinner in the chateau that night, after the tour of the offices of the Bourron-Marlotte town hall which is indeed as packed with nineteenth century art as a museum, we talked travel and sports and art—anything but riots, despite the presence of our town's police chief seated to my left. At least until desert.
"We were lucky," the chief said, passing the plate of miniature pastries, "our men stopped two cars with trunks full of gasoline, bottles and rags.
We shook our heads at this.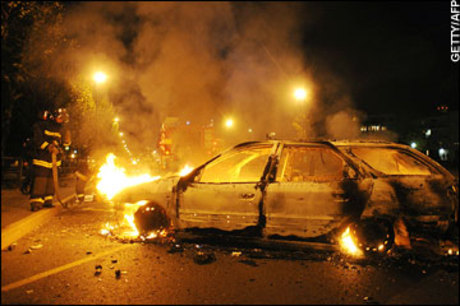 "What'd you do with them?" someone asked.
"Arrested them and turned them over to the Commissariat in Nogent."
After that, we talked of nothing but the riots, their causes, their solutions, weighing each element as openly, honestly, and politely as we could—until coffee arrived. Could we not have had this conversation before? I wondered: might we really need a riot from time to time?
It was midnight before we had all taken our places for the bus ride back home. After a few more rounds of "and women love pigs!" people settled in to sleep. Unseen hands slipped Austin Powers, International Man of Mystery into the bus audiovisual system and turned up the volume.
The bus rocketed forward though the darkness towards home, as the exhausted city councilors snoozed to the gentle encouragements of Austin Powers shouting "Groovy, baby, yeaah!"