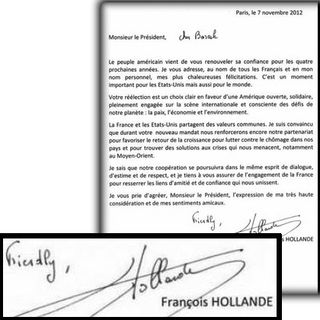 IN A LETTER OF CONGRATULATIONS to Barack Obama, François Hollande decided to add a personal, handwritten touch in English. So at the bottom, he added a polite 
                Friendly,
                Hollande
Of course, as all native English speakers know - as well as anyone who's ever worked in an American company - this does not actually mean anything.
It is, however, in keeping with the great tradition of not really caring a fig about what real Americans might say or write, (who are they to impose their hegemonic practices on us!)
And also in line with the practice of not actually checking with real English speakers for anything related to the language.
Still, it is the President of France. And not just any President of France, but a graduate of HEC and ENA, therefore by definition a brilliant President of France, as infallible as the Pope.
 Out of respect and deference, therefore, I shall from now on sign all letters "friendly" too.
(Really, it's just like picking up the little fork when your social superior picks up his. )
Besides, I was getting bored with signing off with "Best" (or "Bests" - which I guess in progressive Elysée French would be simply "Meilleur" - or "Meilleurs")
So:
     Dear François,
     Thank you for congratulating our new president.
             Friendly,
            Zuckerman
 ps: If you missed it you might want to watch TF1's report Pourquoi est-on aussi nuls en anglais.