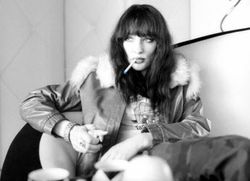 A while back I wrote a humorous account of  French women's tricks for staying slim. Savvy commentators pointed out an important - and deadly - omission: cigarettes.
French women smoke.
And not just a little.  
What better way to keep the kilos off?
Relentlessly targeted by tobacco companies, who understand only too well their desire to seduce by staying thin, women in France - in particular adolescent girls - smoke. 
In middle school, ONE IN THREE French girls smoke (bravo Philip Morris!) That's more than the boys.
Between the ages of 18 and 34 HALF  of all young French people smoke (boys and girls).
Pregnant women in France smoke at higher rates than pregnant women elsewhere - despite overwhelming evidence on the dangers for the fetus.
French girls are pressured to stay slim - or lose weight - from the earliest age. French diet guru make-a-lot-of-money Dukan actually proposed awarding extra points on the bac for slimness!
What is the link between cigarettes and women?  In the old days, during the Women's Liberation Movement, cigarette companies linked their products to "independence' and "freedom".
Now, in the Age of Obesity, cigarettes are popular as legal and socially acceptable appetite suppressants - like the deadly Mediator.
So: French women don't get fat? 
True. Unfortunately, this is partly because food isn't the only thing they put in their mouths.