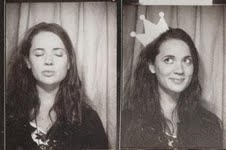 Harriet Alida Lye, editor of Her Royal Majesty
Her Royal Majesty will launch Issue 12, the Exotic, in Paris on May 11.  We talk with founder and editor, Harriet Alida Lye, an energetic and innovative force for literature in France - and beyond.
 Issue 12 can be purchased online or, in Paris, at either Shakespeare & Company or Galerie Yvon Lambert. A full list of international locations is on HRM website.
Laurel Zuckerman: How did Her Royal Majesty start?
Harriet Alida Lye: The first issue was anonymous and was distributed for free in bookshops and libraries, coffee shops and universities. My roommates and friends and I folded and stapled the pages – all 500 copies – ourselves because it was cheaper. The magazine quickly grew from a for-and by-locals publication to something larger,more encompassing. We started publishing online and accepting submissions from all over the world. This (2009, issue 6) is when I moved back to Paris.
Issue 12 is very special for several reasons. Can you tell us about it?
 For the launch of Her Royal Majesty on May 11, you've got your choice between seven parties  held simultaneously in Paris, London, Berlin, New York, Montréal, Halifax and Toronto. (The Paris party will be at 59 rue de Rivoli from 6-11 pm.) Also, we're publishing the first story ever written by Alice Munro, as well as a collection of excellent literature and visual art curated around the theme of "The Exotic."
Alice Munro! How did you get the rights?
I love Alice Munro and got in touch with her agents and publishers. We communicated back and forth for months – I had lawyers and literary editors help me draw up contracts – but, finally, they just said no.
A while later, after having more or less given up, I was talking to a friend about it and he suggested I try contacting the University of Western Ontario directly. Since the story was published there first, he informed me that they hold the rights to it – not Alice Munro, not her agent, not her publisher. The University staff gave me the permission required to publish the story and I wrote Alice Munro a letter asking for her blessing.
Launch parties in seven different cities - that can't be easy. What's the biggest challenge to orchestrating this international mega-launch?
 Time!
And connections. It's necessary to know lots of people and trust them to take the reins.
I rallied friends, acquaintances, and long-time readers of the magazine (some of whom I have never met) to help me with the global launch party. Ideally, once each person is committed to organizing the party, they handle everything. I'm amazed, really, at how well it's going so far.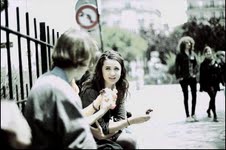 Why so many parties?
It's an international magazine, and parties help spread the word. They bring people together and make events more of a "happening" than the publication of a journal.
Also, people are more willing to spend money on drinks and entertainment than on books and magazines—and once they've had a drink and been enjoying themselves, they'll buy a copy of the magazine.
What's your publication process?
Four editorial advisors read through all the submissions and make notes and vote on the final selection; a poetry editor reaches out to more established poets to solicit new work; and I solicit fiction and art from writers and artists I know or admire. Once the submissions have been refined to what we collectively like (I tally the votes), the Paris team makes the final selection, according to how the works relate to the theme and each other. Then I work with the designer to put things into an order that works, considering rhythm and flow of the overall publication.
 What are your goals for Her Royal Majesty?
I would like to get to the point where sponsorships and sales give us the means to pay the team and contributors. I'd like us to start representing the artists whose work we publish and sell their art through the website. We want to continue to organize global events for each issue and develop the theme of publishing the earliest work by now-established artists. I think it's important to create community and encourage young, talented writers and artists.
You're only 25.  How did you manage to get so much experience in so many different professions -- photography, modeling, health, children's charities, publishing... -- so fast?
One of the wonderful things about being in a creative community is that you meet lots of people doing wonderful things. The creative life is not a straightforward one, and being freelance means you have to say "yes" to all opportunities that are presented. As you get more experience, you can start to refine and curate a schedule in a more selective way. Despite all that, I love to be able to do lots of things at once - I get restless, and doing lots also feels like you're never really "working" in the way one imagines, going to one place all day every day. 
What kind of skills are involved in publishing a literary magazine these days?   Is the future of publishing the domain of the young? 
The main skill required is just the desire to make something and get it done. It's not a skill so much, I guess, but without it, nothing will happen. That need to connect is incredibly important too, and in this sense, many young people do excel in - and understand - that domain. With a 2.0* existence, "work" is less straightforward and you need to be connecting all the time. I think that the world of publishing is not dissimilar to all other worlds: it is there for the young, the hungry, the curious. And we're all still learning. 
Is Her Royal Majesty accepting submissions? Or interns?
We are not yet accepting submissions for our next issue but submissions will be open in a few weeks. I have four interns lined up for the summer but we will be accepting new people in the fall. 
Harriet Alida Lye is a Canadian writer and editor living in Paris. 
Paris launch of Her Royal Majesty: May 11 from 6 -11 pm at 59 rue Rivoli with Le Son du Metro.
 ---
* 2.0 refers to using web techologies for collaboration and sharing (see article). Young people appear to know what this means.