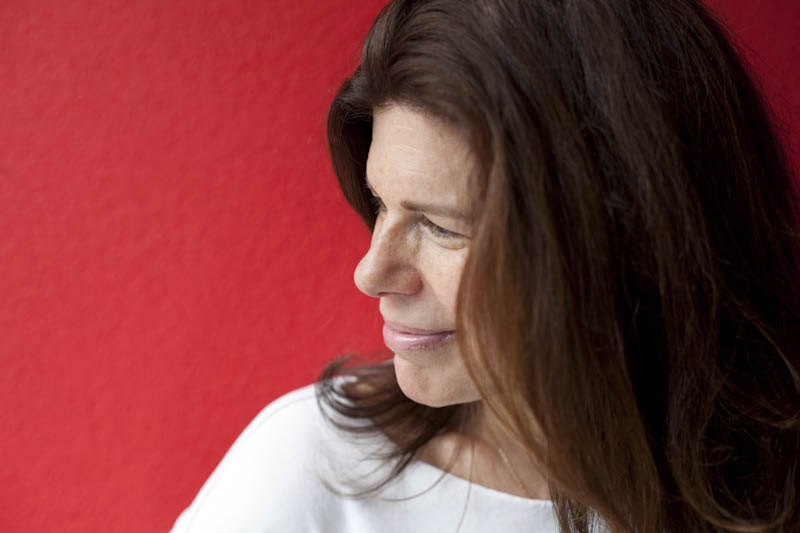 I first met Anne Korkeakivi in C. Michael Curtis' short story seminar at the Paris Writers Workshop and was immediately struck by her sly humor, kindness and obvious literary talent. Since then, Anne has published many wonderful short stories in literary magazines such as The Yale Review and The Atlantic.  Recently, to our delight, she served as a distinguished judge for Best Paris Stories.
 Her outstanding novel, An Unexpected Guest, has just been released to critical acclaim and reader enthusiasm.  Foreign rights have  been sold in Australia, Italy, Russia and Serbia, and numerous literary publications have singled the novel out, including starred reviews and a Publisher's Weekly Pick.
Here, then, is Anne Korkeakivi, former Paris expat and author of An Unexpected Guest.    
***
Laurel Zuckerman : You're an American married to a Finn living in Geneva. Where are you from?
 Anne Korkeakivi : I was born in New York City, and was raised there and in western Massachusetts.
LZ : Do you remember that feeling of falling in love with a book as a kid? Who were your favorite authors…
AK : I can't recall a pre-reading time. As a child, I read a lot of classic authors, both American and British, and also magical authors. I re-read the entire Narnia series by C.S. Lewis annually, and was crazy about D'Aulaire's beautiful illustrated Book of Greek Myths.
LZ : What started you writing? How did you learn?
AK : I'm not sure I recall a pre-writing time either. I used to lie awake at night as a very little girl writing stories in my head, a new scene every night. I was a mini-insomniac.
 LZ : Your short stories have been published by The Atlantic, The Yale Review, The Bellevue Literary Review, The Brooklyn Review, and others, and you were recently a Judge on the Best Paris Stories contest. What do you look for in a short story? How to distinguish the banal from something really special? In short, what makes a story great?
AK : It takes more than craft to make a short story great for me. It also takes heart.
LZ : An Unexpected Guest is your first novel. What inspired you to tell this story? 
AK : Basically, the idea sprung from a perfect storm of a visit to Paris at the height of the Iraq War that had me walking down the Rue de Varenne (the eventual epicenter of the novel's action), thinking about the ramifications of a series of news items then making headlines, and an uneasiness I felt as an American expat.
LZ : How did you get into Clare's thoughts? Is she based on someone you know?
AK : Clare is entirely her own person. I think about my characters for a long time before I start writing. By the time I do, they pretty much have lives of their own.
LZ : Could you tell us about your research process? (ED note: The author once sent me to the Central Police Station of Paris to check details for a certain scene!)
AK : Well, I rely on clever generous friends for starters...  Before I cornered you, I cornered an acquaintance who had worked at the British Embassy in Paris. I research endlessly when I write: books, articles, interviews, travel, the internet, etc. Sometimes I just listen to people from certain places talking - to hear cadences.
LZ :  You recently wrote about the challenge of dealing with multiple languages in a Wall Street Journal article. How did you solve this in An Unexpected Guest, where so many different nationalities come together?
AK : Clare, my main character, is a translator by profession, which came in handy on several occasions. But, quite seriously, I gave this question a lot of thought. It wanted the book to be realistic, which demanded the use of some foreign language. But I didn't want it to be opaque or appear pretentious. There is a sprinkling of French in the book, and also a couple phrases in Italian. But nothing, I hope, that doesn't feel natural and clear. 
LZ : You tend to be a perfectionist. At what point were you able to say to yourself, it's done! and let your agent read it?
AK : Are those two things supposed to be the same? For me, it was more like "it's ready for me to bear to have it looked at."
LZ : Reviewers have compared An Unexpected Guest to Virginia Wolff's Mrs. Dalloway. What thoughts does this inspire?
AK: Gratitude.
 LZ : Are there writing retreats or workshops you could recommend?
AK : I've participated in two week-long workshops at the Paris Writers Workshop and was granted a month-long stay at Hawthornden International Retreat for Writers in Scotland. These were very rewarding experiences for me. But I can't claim to have much expertise on the subject, as I don't have anything to compare them with.
 LZ : What are your goals as a writer? Have these evolved?
AK : To write the best books I possibly can.
 LZ : Do you force yourself to read a book to the end once you've started?
AK : I used to, but lately I'm learning to just say no.
 LZ : Is it true that you loath ebooks?
AK: Not at all. I use a kindle often when I travel. But nothing substitutes for the experience of visiting a brick-and-mortar bookstore and browsing the tables and shelves and, in an indie bookstore, chatting with the bookseller. Or of holding a real book in my hands, admiring the cover, feeling between my fingers exactly where I am in a book. What a huge gaping void if we were ever to lose those things. Go visit your local bookseller, everyone. Please! Support them!
---
 Anne Korkeakivi was born and raised in New York City but currently lives in Geneva, Switzerland, with her husband, who works at the United Nations, and two daughters. Her short stories have been published by The Yale Review,The Atlantic, and The Bellevue Literary Review, among other magazines, and she is a Hawthornden Fellow. She has also lived in France and Finland, as well as in a few additional corners in the U.S.
Praise for An Unexpected Guest: "With this seemingly slight day-in-the-life tale, Korkeakivi produces a knowing comedy of manners, a politically charged thriller and a genuinely moving study of the human heart.' -Kirkus, Starred Review