I am delighted to announce the launch of Paris writer Barry Kirwan's first novel, the sci-fi thriller The Eden Paradox.  The English book launch and signing will take place October 15 in London.  Congratulations to an exciting new talent!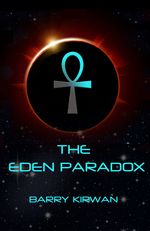 A murder… a new planet mankind desperately needs… a thousand-year old conspiracy… What really awaits us on Eden?
In a world beset by political turmoil, environmental collapse, and a predatory new religion, a recently discovered planet, Eden, is our last hope. But two missions have already failed to return. Blake and his crew lead the last attempt to bring back good news. Meanwhile back on Earth, Eden Mission analyst Micah Sanderson dodges assassins, and tries to work out who he can trust, as he struggles in a race against time to unravel the Eden Paradox.  
Praise for The Eden Paradox
"The reader is pulled into an all too real future with memorable men and women leading the way. An excellent story, leaves the reader craving more." Lydia Manx, Piker Press 
 "Move over Michael Crichton! Couldn't put it down!" - Joan Devine, Head of Safety Culture, FAA
 "Characters whose inner lives inform their decisions". - SF author Gary Gibson.
 A world-renowned expert on Human Reliability Assessment, Air Traffic and Nuclear Safety, author Barry Kirwan applies his scientific knowledge about how human catastrophes occur to write thrilling science fiction. The Eden Paradox is the first volume in the Eden Saga. Eden's Trial and Eden's Revenge coming soon. (For more on Barry Kirwan, see his website and  Paris Writers News interview.)
Paperback now available to order from all major booksellers
Amazon.com  -  Amazon.co.uk  -  Amazon.fr -  Barnes & Noble  -  Waterstones -   Blackwell's  
ask your local bookseller (distribution  by Gardners, Ingram, Bertrams and other major distributors)
Pages : 432
BOOK LAUNCH LONDON 15 OCTOBER 2011  6-7pm at the Royal Overseas League (ROSL), Over-seas House, Park Place, St James's Street, London SW1A 1LR(nearest tube Green Park, near the Ritz)