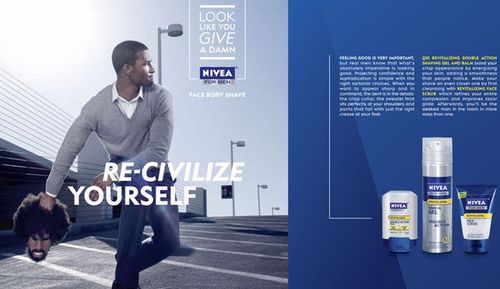 Brilliant new ad from MAD MEN at Nivea
Observe:
One bearded afro haired head, detached (yes, detached).
One sporty and neatly dressed black man about to hurl said afro head over goal posts (head throwing, a sport?).
Two terrific slogans: "Look Like You Give a Damn" (by wearing sweater?) and "Re-Civilize Yourself" (by throwing head?)
Nivea, a German manufacturer of skin and body care products, just hit the top ten.
For offensive, racist advertising, that is.
Even us non-PC folk can't help but stare.
Racist? Or just plain stupid and offensive? 
What do you think?