Writers on Writers
This week, we talk with Paris expert Thirza Vallois, whose elegant series Around and About Paris has just been updated and issued as an e-book!  
Thirza has lived in Paris most of her life and holds the agrégation* and several other post-graduate degrees from the Sorbonne. In addition to Around and About Paris, she is the author of Romantic Paris and Aveyron, A Bridge to French Arcadia as well as the Paris entry to the Encarta Encyclopaedia. Thirza lectures on Paris and France worldwide and has appeared on the BBC,  PBS, the Travel Channel, the French Cultural Channel, Discovery, and CNN, the French Cultural Channel in France, BBC Radio 4 and NPR among others.
When meeting for a coffee in Paris, I am always delighted to let Thirza pick the place.
(*agrégation: an exam so difficult I wrote a whole book about it)
 ***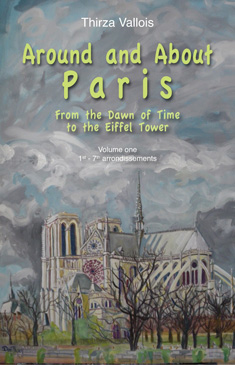 Thirza Vallois:
As far as I recall it just happened and was part of me. Some people express themselves through painting, for example, and I am a useless painter, so I paint with words. As a child I always wrote (but also tried my hand at many other creative things, as children do, including painting, writing music, planting gardens, whatever). As an adult It was Paris that first triggered in me the need to deliver the dormant baby within, though not Woody Allen's sugary Midnight Paris, but the real Paris that exasperated me and with which I had a very complicated relationship. Actually, my first attempt was writing about the educational system, but it got me so depressed that I decided to get to the bottom of the French by going another route, hence my books which, beyond being travel books, are, at the end of the day, an exploration of the French people. 
LZ: Who or what were your biggest influences?
TV: I have no idea. But for a start my mother who was my lifeline. She taught me how to look and observe, how to travel, how to understand the world and those that populate it. It so happens that we also shared the same tastes, in fashion, food, literature, music, landscape, hiking, the English countryside, architecture, and on and on. By her bedside when she died was a copy of Madame de Sévigné's letters, Colette, Virginia Woolfe's Mrs Dalloway and Charles Lamb's Shakespeare, all of which are now on one of the shelves in my own bedroom. 
LZ: How do you work?
TV: I
t depends on the nature of my work. Writing an article is a different proposition from writing a book. What they have in common (in my case) is that I start out the way you start beating an egg and oil into a mayonnaise. I don't structure beforehand. It is as I go along that things get organised in my brain and aquire consistence, texture and shape in my story. At some point (and sometimes after long frustrations) the inspiration, muse or flash, whichever you wish to call it, comes to my rescue and and my story  falls into place. My work is always rigorously structured by the time I finish my work, although when I start it, I never  quite know where I am headed. It's like in life,  it's a journey that carries you.
Writing Around and About Paris, however, was complicated beyond the imaginable, and looking back I honestly don't know how I did it. I myself am overwhelmed by the quantity of information that I wove into a work that I wanted easy on the reader, and enjoyable. It was like working on a horrendously complicated jigsaw puzzle (in pre-computer days), with thousands of pieces of paper piled up according to their subject matter, literally all over one of my rooms, on both floor and furniture. This went on for years, as I went on beating the yokes of my eggs. The final polish and delivery of each arrondissement was a laborious delivery, even up until that final point I worked simutaneously on all the arrondissements simultaneously.
Romantic Paris
, on the other hand, was a book I did structure ahead of time, because several of its chapters are listings and that didn't require much thought on my part. It was easy.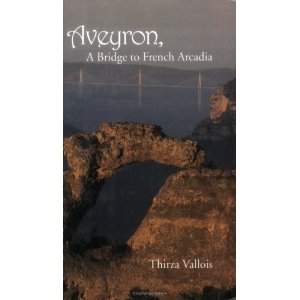 Averyon, A Bridge to French Arcadia was a different experience. Here, I embarked unintentionally on a profound spiritual journey, although at the outset the book was about exploring the most quintessential corner of rural France. I knew nothing about the Aveyron before I went there, which gave me a childlike perspective, open to receive everything. The structure is rigorously circular, which of course is obvious, but then, to my delight, so is Paris, so willed in its very layout whether accidentally or by some mysterious hand. I am alluding here to the layout of its arrondissement, the celebrated "escargot de Paris." I love the fact that it starts out of the water on the central island, and then we go to sleep in the 20th arrondissement, where Paris ends. Of course there are other cemeteries in Paris, but le Pere-Lachaise is the emblematic one.   
LZ: What is the concept of Around and About Paris?
TV: The title, which took me seven years to find, speaks for itself. It may seem simplistic, like a column/rubrique in an inflight magazine, but as a matter of fact it points exactly to the content of the books. The books are about Paris and whilst walking the reader around Paris, though all its arrondissement, so as to grasp the story better. Obviously, if you can't, you can read it from the comfort of your armchair and use your imagination. Which you are encouraged to do in any case, because as you walk in the present it's for you to "see" the past (sometimes the future...) which I try to help you bring alive. It's as if Paris becomes a theatre, a stage or a film, with lots of flashbacks woven into the story line, allowing the reader to travel back and forth in time, Paris as it was, Paris as it is, Paris as it is dreamed, all participating in the narrative.
LZ: Can travel writing be a form of history?
TV: 
Yes of course, but  only partly, since history is about the past. Travel writing is also about the present, and if you are the kind of writer who is intuitive and perceptive, you can glimpse the future on occasion and touch on budding trends. Besides, history is based on facts that have been verified. I also rely on writers and other witnesses for my information. I think the real truth is a combination of both. A letter written by Madame de Sévigné is not a historical document, but it teaches me miles about the life in the Marais in her days. Thackeray's description of the atmosphere in Paris on the morning of a notorious culprit's scheduled execution teaches miles about the Parisian mob. When Alfred de Musset gives us an almost identical description of the mob, I deduce that  I can rely on their impressions. I also refer to the medium of the cinema. So many wonderful movies have Paris as their star. 
In short, I would say that travel writing emcompasses history among other components. Travel writing is about life, and history is an important  part of it, but not the whole of it. 
LZ: Tell us about your lectures.
TV: 
When my books were first published in England, they were launched by the French Embassy. There was a lovely reception and I gave a little speech. Among the people present were staff of the Alliance Française who approached me and claimed I was "a born speaker" and asked me if I would consider giving lectures on Paris and French culture and art. This is how it began. Before I knew it I was lecturing all over the world and my list of topics started stretching as I continued my research. I love lecturing because it's a different experience from writing, and I love the variety and meeting different audiences. It's a lot of fun.But also a lot of work. I lecture to clubs, arts institutions, libraries, museums, universities, Alliance Française, bookshops, and on and on. Mostly with visual aids, but also on more political and social issues without visuals. The variety is part of the pleasure and the challenge.
TV: I  think integrity is important in all fields of life. Integrity goes hand in hand with truthfulness. I think travel writers should strive to give as truthful a depiction of the place they are describing as they possibly can, to the best of their knowledge.  
LZ: Who are your favorite writers and travel writers?
TV: 
I find it difficult to quote favourites. I have several faouvrites of everything, and they sometimes change according to my evolution and growth. Besides, I may quote names and then forget others. But I do enjoy a lot Bill Bryson because he combines serious research with a great sense of fun. When it comes to literature, I really can't quote a favourite, but of course all the great giants of world literature would fit in that category. That doesn't mean to say one is always in the mood to read them. And then, one may have some favourite books of given writers without the writer per se being your favourite. Among such books that I loved were Helene Hanff's 
84 Charing Cross Road
 (not the movie) and Alan Bennett's 
The Uncommon Reader, 
both of which are charming and touching.
LZ: What for you is the impact of new technologies on travel writing and reading? (e-book, apps...) 
TV: 
Although I like to hold a book in my hand, and haven't read an ebook so far, and although I am old fashioned and not very savvy about using new technologies, I immediately sensed the importance of the ebook and its inevitable conquest of the market. Years ago, when people were still reluctant about shopping through the internet and many thought it would never catch on, I used to argue back that it was only a matter of time, that it was still a bit early in the day but eventually it would happen. How can something that is convient and less costly NOT take over eventually? It is bound to. 
I therefore never resisted having an ebook version of my hard-copy books, quite the contrary. Especially because of the nature of my books, which, ideally, those who own them and are physically in Paris, can use to walk and explore the city. They don't have to fill their suitcase with a set of three books, they have them on their little device. How convenient!  For the publisher too the ebook is a godsend. An ebook is less expensive to produce and one  cap scrap a lot of the overheads. No commissions to distributors  for example. The only losers, for the time being, unless they manage to adjust, which they can, but it's not easy, are the bookshops. Some are riding the waves, but others are folding up. 
LZ: How is Paris developing today? Which changes are successful? Unsuccessful?
TV: I am not happy about the most recent changes.
For one, the lifting of the ban on the height of buildings is very worrying for the future. As is the inconsistent policy on environmental issues. Some monuments and gardens are shamefully neglected and the city is not as clean as it was a few years ago. It's also less safe. Suburban trains don't run as efficiently as they used to. I certainly see a deterioration in the last few years. Mass tourism isn't helping, including domestic tourism. It's increasingly invasive,  cluttering chunks of the city that used to be quiet havens until recently,   all of this with the blessing of the authorities. I have actually written an article about it for France Today magazine and one can  find it on the internet. It's in their April 2011 issue.  
I am particularly concerned about the increasing automobile congestion (and pollution) from July 2012 on, once they are banned from the lower quai of the Left Bank  and the installment of  sets of traffic lights on the lower quai of the Right Bank.  It's very nice to want to replace them with bicyles, but they'll still have to make their way through the city. As things stand today, the suburban commuters' trains cannot absorb their users. 
TV: Despite the above, Paris remains one of the world's greatest cities, perhaps the greatest. It still has plenty of beauty to gratify the beholder,  it has a vibrant street life, great streets to walk through, fabulous window shopping, endless culture and still some good food (but also lots of not so good food).
LZ: What is your next project?
Unfortunately, I can't leave a job unfinished and I still have two three years of work to revise and update volume 2 and 3 of Around and About Paris. It's an overwhelming undertaking, much longer and more tiring than I had anticipated when I embarked on the revision of volume 1. That alone took me a year and the half. So I don't dare to start writing something else (although I want to), because I feel obliged to go ahead with this. That being said, I write articles on a regular basis, which allows me to keep moving forward.
***

 
About Thirza Vallois
 Thirza Vallois is an expert on all things Parisian. She has lived in Paris  most of her life and holds the agrégation and several other post-graduate degrees from the Sorbonne. She is the author of  the Around and About Paris series, Romantic Paris and Aveyron, A Bridge to French Arcadia. She has also written the Paris entry to the Encarta Encyclopaedia.
Thirza Vallois lectures on Paris and France worldwide and contributes to the international press, television and radio, notably BBC,  PBS, the Travel Channel, the French Cultural Channel, Discovery, and CNN, the French Cultural Channel in France, BBC Radio 4 and NPR among others. She is also the author of the award-winning Three Perfect Days in Paris story, published in United Airlines' Hemispheres and aired on their international international flights and cable television worldwide.
 About Laurel Zuckerman
Laurel Zuckerman is the author of Sorbonne Confidential and the Editor of Paris Writers News.  An HEC graduate and long-time resident of France, Laurel caused an uproar here with her wickedly humorous account of her attempt to pass an elite exam for English teachers. Her essays and interviews have appeared in Hommes et Commerces, Cahiers Pédagogiques, The Paris Times, Le Point, Le Monde, Le Monde de l'Education, The Guardian, The Times, as well as on France 24, TF1,RFI, and the BBC.