I have followed Sarah Towle's career ever since our common interest in education first brought us together several years ago. The story of her journey from "print" writing to writing apps is a fascinating one--and, I think, especially exciting for travel writers. It's a whole new world out there. And Sarah is one of the pioneers.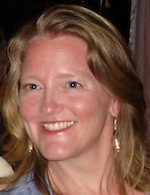 From Print to Digital Media: Why I Made the Shift by Sarah Towle
This is the story of my own writer's journey from dreaming of seeing my words in print to realizing them in electronic media.  Bref: it goes like this…
 In 2006, after putting aside my career to live in France for "one or two years" only to discover that I was never going to be let out again, I took up the writer's life.  I'd been turning an idea around in my head for some time to write an interactive travel series for kids.  But not just any travel series, mine would be different: It would be chock full of treasure hunts and map challenges and other games and, most importantly, it would illuminate history through story.  The series would be delivered in individual pochettes that would all fit neatly into a single box no bigger than a typical guidebook.  Each pochette would represent a daylong itinerary based not on geographical location, but on relevance to a seminal moment in history.  What's more, each itinerary would be led by a historical character whose actions played a part in shaping his or her time.  Hence the title of the series: Time Traveler Tours.  I was off and running.
 I spent the next three years researching Paris and taking guided tours of my new adoptive home; writing sample itineraries and sitting through critiques; studying the market and following the "competition"; preparing a proposal and searching for the perfect editor and/or agent.  By 2009 I was ready.  But what I failed to plan for was the collapse of the global economy and the up ending, wrought by the Internet, of the publishing industry model as we then knew it.
 Still, I would not be shaken.  I sent out round after round of query letters and you know what? I achieved a 25% positive response rate. Encouraged, I packed up my proposal and sample chapters and sent them off; I went to conferences and perfected my pitch; I submitted my writing for review after review.  Over and over, I received the same message: every potential future editor and agent loved my concept, thought the execution was excellent, but felt the project was too new (read: too risky) in the current economy.  Come back to me in a few years, said one after another.
 I considered self-publishing.  I looked into the costs and decided to do my own mocked-up book first to pilot with real kids.  I bought a MacBook Pro, taught myself how to do graphic layout, and produced a nice spiral-bound A5 booklet, just the right size for a backpack or pocket.  Forty-eight willing guinea pigs marched off one chilly afternoon to give it a go.  They loved the "voice"; they appreciated traveling back in time with a real historical figure; they enjoyed the treasure hunts and games.  But it didn't work.  They did not like stopping at each location to read aloud from a book.  It was too cumbersome.  It was too much like school. 
 I considered giving up, chalking the last now four years of my life up to an expensive experiment and getting a "real" job again. 
 Then, I picked up an iPhone. 
  Tout d'un coup, I realized the project was never meant for print.  That's when it became my mission, about a year ago now, to be the first to provide excellent content for mobile device targeted specifically to youth and families. 
 June 2011 brings the launch of my prototype interactive StoryApp tour, Beware Madame la Guillotine, for iPhone and iPod Touch.  The daylong itinerary takes users to the French Revolution in the company of Charlotte Corday, murderess.  You will follow her trail as she buys her weapon, hunts down and kills Jean-Paul Marat, is imprisoned at the Conciergerie and finally loses her own life by guillotine at the Place de la Revolution.  As Charlotte spins her personal yarn, she leads users on treasure hunts for existing historical artifacts dating from the Revolutionary era at the sites visited along the way: the Palais Royal, Café Procope and Conciergerie.  Audio narration is accompanied by archival images with the option to turn the text on and read alongside the audio or turn the audio off all together.  "Chapters" are delivered in short segments and in addition to treasure hunts, include interactive trivia and map challenges as well as optional additional information (like a book "text box") that serve to engage users in a fun way while providing them a vivid understanding of the era they have visited.  
I now have a production team that includes an editor, an art designer and an iOS developer.  We're working together, through peaks and pitfalls, to try to figure out the Wild, Wild West that is electronic publishing.  It's been slow going, and at times fiercely frustrating.  I would not say that this is the right direction for every project, but it is the only direction for the Time Traveler Tours.  And I look forward to the launch of the English version of Beware Madame la Guillotine by month's end with the French version to follow in September.
Wish us Merde! and may it be so!
For more information, check out my website and blog, FrancoFilesFunFacts, at www.timetravelertours.com.  Please leave comments!
Like the TTT on Facebook! http://www.facebook.com/#!/pages/Time-Traveler-Tours/116571481712373]
Follow TTT tweets on Twitter!  @ParisAppTours